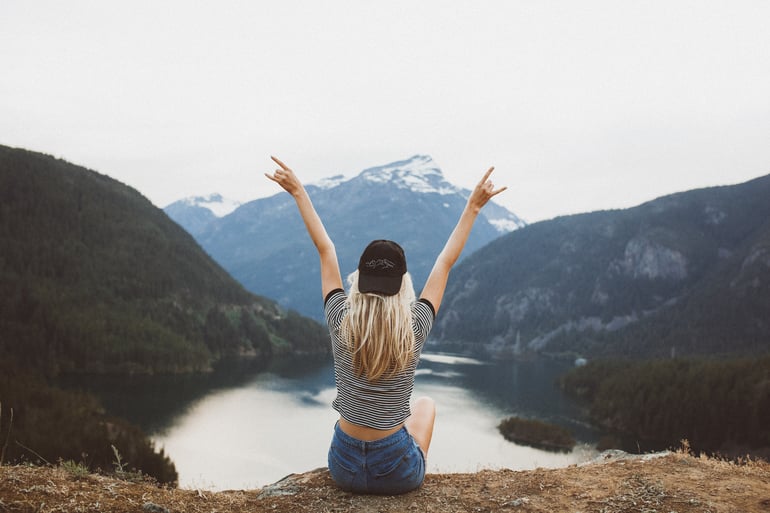 We wanted to title this how to authentically grow your following the ethical way, but unfortunately, no one wants to search for this. Sorry for the clickbait. And while you might think this blog is about to give you the golden ticket to growing your follower list to the tens of thousands - let's hit the brakes. Sometimes when things sound too good to be true that's because they are. But don't be discouraged. Here are a few effective ways to gain 10,000 followers without sacrificing your brand's integrity. Keep in mind, it's going to take some time.
Don't Cut Corners
These days, it's not hard to buy a few thousand followers for your social media accounts (we hear the going rate is about $3 for 100 nowadays). Purchased followers will likely be a mixture of empty accounts and bots that haven't been deleted by Instagram yet. For a small business, it can be tempting to go the route of "beggars can't be choosers" and shell out the cash for followers who probably won't be interested in what you have to offer. We hate to break it to you, but people know fake accounts when they see them. Not to mention, if your real followers catch wind of you buying fake followers, it'll be a major turn off.
The only way to get real followers is through hard work and patience. By growing your following through your content and your relationship with your audience, you're bound to attract people who will become loyal customers. Plus, people really do love brands that are authentic and have integrity.
Here's What to Do
If you're ready to put in the elbow grease, there's a few steps you can follow to get started.
1. Take Pride in Your Content
It's pretty simple—people will want to follow you and will remain a follower because of your content. Post engaging, high-quality content that interests and inspires your target audience. Switch it up with photo posts, videos, Instagram Stories and Instagram TV. Posting authentic content helps establish your brand's social media presence and serves as a way for you to connect with your customers.
2. Engage with Your Audience
Your content could be perfect in every way, but never underestimate the importance of your captions. Don't waste that valuable space with a few emojis or a simple statement that won't generate a response. The key here is to use captions to start a conversation with your audience. Ask them what they think of the products featured in the post or how they would use them. Captions that encourage a discussion are guaranteed to get more engagement. Plus, when people see that you're a brand that not only cares about your followers' opinions, but also replies back, they'll want to follow and be a part of the Instagram community you've created.
3. Post Consistently
People become followers because they want to see your content. The worst thing you could do is hit them with radio silence. It's important to deliver well-made content fairly frequently so that you stay top-of-mind and top-of-feed. To learn more about how often your brand should be posting on Instagram, click here.
4. Use Relevant Hashtags
Hashtags are important, period. They're how people find new brands to follow based on their interests. These tags will show potential followers what you're all about and the kinds of content you post. Be sure to use specific hashtags that really laser in on who your brand is. Are you an organic snack brand? Use targeted hashtags like #organicsnacks and #eatorganic so your posts are found by other quality-conscious foodies.
5. Pay for Ads, Not Followers
If you're looking to really ramp things up, utilize and pay for Instagram ads to target people to follow you. Ads are a great way to extend your brand's reach and get in front of new audiences. Instagram ads are also a great way to give potential new followers a taste of your content. Whether you're running photo, video, carousel or Story ads, this is an opportunity to showcase your best assets and gain some followers along the way. Running ads is a much more effective (and ethical) way to spend your marketing dollars to gain followers.
6. Partner with Influencers
Almost every major brand on Instagram is utilizing influencer marketing to get their products in front of new audiences. Influencers are amazing at getting their followers excited about what's new on the market, and interested enough to try for themselves. Influencers are successful because of the loyalty and trust their followers have for them. For brands, the key here is to work with a handful of quality influencers whose audiences match with your target audience. This way you're being introduced to people who are likely to become new customers.

Speaking as a brand with just over 3,000 followers, we couldn't be happier because they're engaged and authentic supporters of our brand. In under 2 years, we've built a community from the ground up through our Instagram (without paid ads), and you can too.

Don't get us wrong, building your follower base will feel like a lengthy process, especially with all the competition on Instagram. You'll just have to keep at it because once you have a loyal following, they'll stick around for the long haul. If you're ready to grow your following the right way, influencer marketing is the way to do it. Contact Statusphere and get the right influencers posting about your brand today!