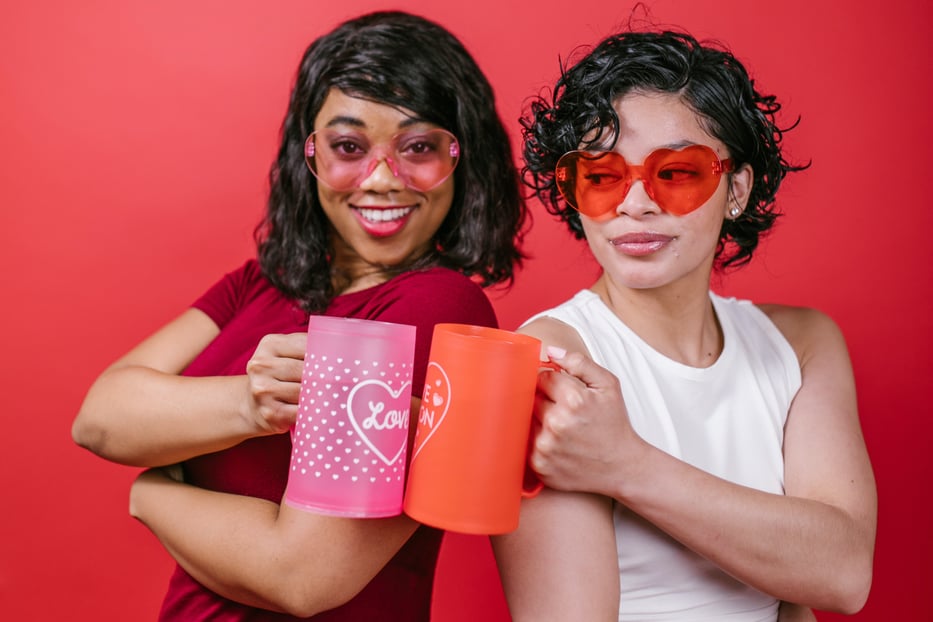 With the halt of social gatherings, getting our much needed girl time has been pretty much impossible. It has been difficult to create meaningful connections and have the same level of fun we were having before everything moved online. Just because we are no longer able to see our girls in person, doesn't mean we can't find a way to celebrate with each other! Here are 5 ways that you and your girls can have an amazing virtual Galentine's day.
Have a Virtual Happy Hour
Grab a computer, your favorite beverage, and you're all set to have a fun night with your girls! With many bars and clubs being closed, a virtual zoom night is a safe alternative and there is no designated driver required! You can stick to your usual beverage of choice, or try a new recipe. There are tons of cocktails, and for those under 21, mocktail recipes online so everyone can partake in the fun! You could even make a cute e-vite to send to your girlfriends!

Virtual Photoshoot
Getting ready to go out and taking tons of fun pics for Instagram used to be a highlight of any girls night! We don't have to let the distance stop us from all cute pics! Having a fun virtual photoshoot, where you can each set up your own cute backgrounds and take screenshots of each other over Zoom or Facetime, is a perfect way to spend your Galentine's day. There are tons of themes, pose ideas, and diy backdrop ideas one search away on Pinterest!

Power Point Night
If you're looking to have a good laugh, or you have a friend group that is very passionate about a certain topic, then a power point night is perfect! You can pick an overarching theme, or give everyone free reign on the topic they like to discuss. You can even elevate the event by adding on fun costumes or doing a Q & A section. Once on the virtual platform of choice, participants can take turns screen sharing their powerpoints.
Create a Virtual Scrapbook or Moodboard
Relive all your favorite memories by creating a virtual scrapbook. You can create a theme and go from there or just put all your memories in one book. Websites like Canva, Mixbook, and Poster My Wall allow you to create a scrapbook without the mess, can be edited in the future, and can be printed later. Grab some drinks and get creative!
Have a Self-Care Night
Times are crazy, especially on top of our already busy schedules. Between work, school, and everything else going on in the world, what better way to destress than with a spa night! Break open the wine, light those candles, and open up a face mask. You can even put on your favorite Rom-com to watch together for a fun self-care relaxation movie night!
No matter how you celebrate Galentine's day this year -- make sure to show the ladies in your life some love!