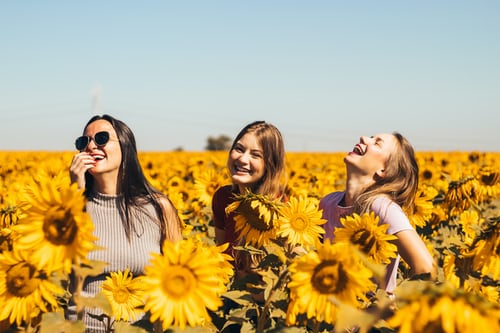 TikTok is a video-sharing platform that continues to grow. If you are looking to explore this platform and showcase any form of content about brands or specifically your brand while also presenting personality to followers, you've picked the right app. There's no shortage of ways to use TikTok, so the next step is to grow your following so users can actually see your content. Here are 8 ways to get more followers on TikTok (from people actually doing it).
Tip #1 Be Authentic and Original
TikTok videos that tend to go viral are almost always original content. (You can thank the TikTok algorithm for that!) This is your time to shine and take to a public platform to showcase who you are, what you love to do, how you do it and in a unique way!
Popular influencer @zzzachariah posts about Dunkin' often, in this video the coffee didn't taste that great and he told the truth but still shared his love for the brand. Eventually, his authenticity landed him in a commercial for them!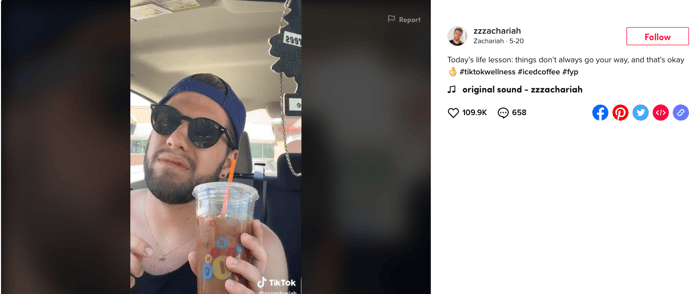 If you are wanting to stand out, think ahead before posting. How much creativity can you put into your next video and what does that say about you? Click here for a few more content ideas that work well on TikTok if you need some more inspiration.
Tip #2 Post Daily
If you aren't posting, how will they find you? A crucial part of building a following is presenting content for people to see. If followers are not viewing consistent contact to engage with, they will not follow at all or unfollow and look elsewhere. While posting daily isn't necessary, try finding a schedule that allows you to post at least every other day.
Tip #3 Use Popular Trends
Hashtags on TikTok are used to show off the latest trends. You can still be creative while partaking in challenges taking over TikTok's "For You Page." Or, you can create your own trend like Aussie. The brand recently created a trend #CurlsCheck accompanied by an original song. This sound is now at the top of trending and widely used among TikTokers.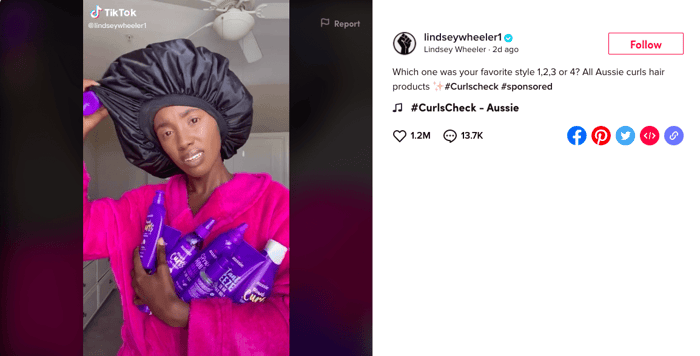 Pay attention to what trend is popularized at the moment, how people are acting on it and place your own twist so you still stand out.
Tip #4 Duet People
When you duet someone on the app, you are able to act alongside them without being in-person. Utilizing this allows you to reach out to larger audiences. Followers of the person you duet will most likely see the video, opening up your platform to a potential influx of followers.
Tip #5 Follow Others
Following others immediately gains their attention. Most times if you follow someone, they want to know who you are and why you may have followed them. This gives you a greater chance of spreading awareness for your account.
Tip #6 Use Popular Music
Popular music can also be found within the hashtags used on TikTok and on the trending tab when looking through sounds. Using this you will be able to add the most popular music on to your videos, catching the attention of followers loving that sound.
Tip #7 Interact Often
This is a general rule to follow on all social media platforms. It's a given that if you interact with your current followers often, you are more likely to attract even more wanting to join the community. People want to follow you because they know you will connect with them and value their support.
Tip #8 Collaborate with Brands/Influencers
Whether you are a brand in search of influencers or an influencer wanting to connect with brands, it is beneficial in gaining followers. An example is HP only having three videos but because of their #HPCoachellaDreamland challenge partnering with top influencers on the app, they grew an immediate following.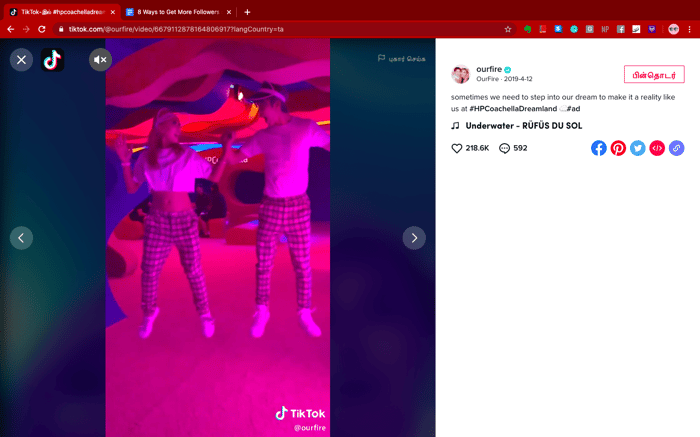 How to Get More Partnerships: Brands
If your brand is looking for more partnerships on this platform, following each tip above provides you with a good starting point. To successfully find influencers to partner with, you need to be as active as possible with the latest trends and grow your following. By posting your own content that showcases your brand's personality, you might hit the radars of other popular TikTok creators. Start nurturing those relationships by reaching out to potential influencers in the comments, it will make outreach much more authentic and natural.
How to Get More Partnerships: Influencers
As an influencer, you're probably wondering how to catch a brand's attention on TikTok. You may be hoping that you will end up on their FYP. The tips above showcase direct ways that you can be proactive in landing more partnerships. Use your favorite brand's products in the latest trends and get creative with it. Continuously reach out to these brands by commenting and sharing honest feedback. The more engaging and unique you are with your content, the more likely you are to catch their attention!

Collaborations get both names out there and help TikTokers find people with similar interests as them. Though having to navigate through a new social media platform and figure out new ways to stand out can seem overwhelming, Statusphere can help. Contact us if you're ready to partner with talented TikTokers on the platform or need more tips for your next campaign!