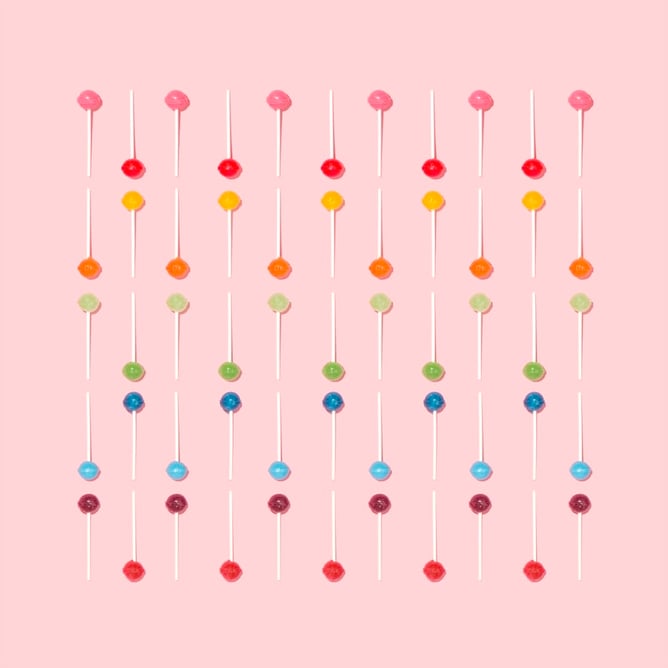 June is Pride Month and brands are taking measures to represent the community in a variety of ways. Your brand can implement fun retail marketing strategies to bring in your audience and use its platform to garner support for a cause or organization of your choosing. If you are looking for some inspo to celebrate this month, look no further. We're sharing 8 brands doing really cool things for Pride Month 2020:
MeUndies is partnering with the It Gets Better Project. They are a nonprofit organization that uplifts and connects the LGBTQ+ worldwide! This month MeUndies is supporting the project by making a monetary donation, it won't be tied to sales. Simply by shopping for some super soft undies on their site will help donate to the cause.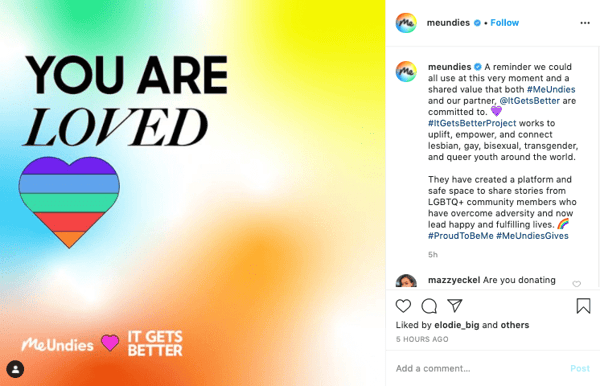 While some brands are adding their rainbow, Skittles is doing the opposite. As part of their Give the Rainbow campaign, they will have a Pride Pack that is grey with a light red outline. Their goal is to show solidarity by raising awareness for the community. A dollar per pack sold will be donated to GLAAD, a media advocacy organization.

Looking for ways to express yourself this month through your beauty products? Hempz has what you need! Hempz released a pride collection that helps benefit the LGBTQ+ Resource Center. Their key ingredient is hemp seed oil and they focus on sustainability and using natural ingredients. The collection features lip balms and body moisturizers splashed by colors, livening up their packaging. One of their products being the limited edition Pride and Passion Fruit Punch Herbal body moisturizer as showcased below!
Photo Courtesy of @jasminnbauer
Herbivore is a skincare brand that focuses on producing organic and food-grade ingredients. Their latest product is the Prism 12% AHA + 3% BHA Exfoliating Glow Serum, leaving skin smooth and exfoliated. This year they are partnering with The Trevor Project and every $1 per sale of Prism will be donated to them throughout the rest of the year!
Ready to knock your socks off? HappySocks and The Phluid Project have partnered to curate a line of socks focusing on acceptance and self-expression so that you #alwayswalkwithpride! 10% of net sales on any pride-related products purchased will be donated to The Trevor Project.

If you're a lover of candles, this is perfect for you! Boy Smells has released a bundle of pride, consisting of 6 candles that showcase the full spectrum. Boy Smells specializes in making candles and intimate apparel—all proceeds for the month will be donated to The Trevor Project with their minimum donation of $26,500.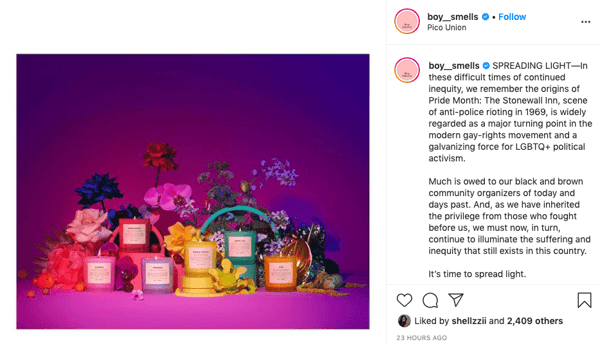 Bing is supporting The Trevor Project with an initiative called Give with Bing—if you're looking to celebrate Pride Month beyond making a one-time purchase, this is for you! All you have to do is turn on 'Give Mode' before searching on Bing, once you do so you can join their Microsoft Rewards. All donations will be matched through June 30!

Rejuvenation is an American home goods store that has partnered with The Trevor Project to create The Trevor Project Leather & Canvas Tote Bag. 20% of the purchase price of each tote bag sold will be donated to the organization.
If your brand is doing something cool for Pride Month 2020 and needs to get the word out, contact Statusphere. Our highly-experienced team can help figure out what campaign is right for you and match you with on-brand influencers who align with your mission. Happy Pride!