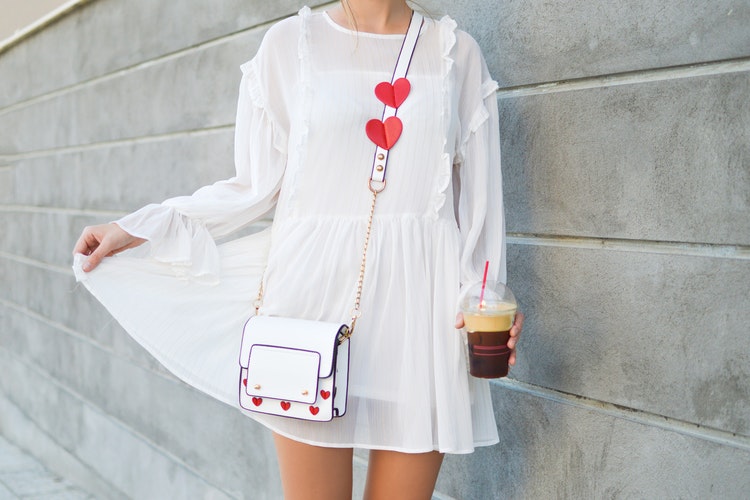 We've all seen the trendy clothing brands worn by all the popular influencers, and how those brands blow up in popularity over time. Having brand ambassadors consistently posting about new items in their shops has changed the way clothing brands advertise. Now, people learn about what's new, what's trending and where they can buy it all on Instagram. Here's a few examples of brands teaming up with clothing brand ambassadors, and how you can find ambassadors of your own.
Revolve
If there is one brand almost every influencer is obsessed with, it's Revolve. Known for their luxurious international influencer trips and star-studded Coachella parties, Revolve is a brand that has thrived from working with brand ambassadors.
The brand is an OG in the world of influencer marketing as they've been doing it since 2009. Now, they have a whole squad of influencers who stand by the brand and show up for every trip, party and festival. Note how you'll see the same influencers always posting about the brand. These influencers don't just participate in one-off campaigns. Instead, they've stuck around for the long haul due to Revolve's unparalleled (and expensive) methods for keeping their brand ambassadors well-dressed and entertained.
Love Your Melon
Started by two college students, the founders of Love Your Melon knew that college students have the great ability to influence one another. In fact, most of the brand ambassadors for Love Your Melon are college students. They go around campuses and into classrooms talking about the brand.
Their charitable side also serves as a benefit, as their brand ambassadors are eager to share how Love Your Melon donates every hat sold to a child with cancer. Brand ambassadors continue to work with the brand because they're contributing to a meaningful cause while they create content.
Vans
The popular shoe and apparel brand is known for catering to the gritty adventurer in all of us. While they're still known for their ties to the world of skateboarding, Vans has grown to new heights through sponsorships and brand ambassadors.
Vans periodically sponsors skateboarders, surfers and other extreme sports athletes. Whether they're shredding pavement or catching a wave, their brand ambassadors help promote the functional and fashionable sides of the brand.
How to Find Brand Ambassadors
Finding brand ambassadors can differ from partnering with social media influencers. The difference here is the longevity of the relationship. Typically, brand ambassadors stick around with brands for multiple campaigns and posts. They become a frequent advocate for the brand. They'll often have their own affiliate links and codes to share with their followers too. Like Vans, brands will often sponsor their brand ambassadors and pay for them to go to events.
Brand ambassadors can be found a couple of different ways:
Applications: Brands will often have pages on their websites for influencers to apply to be a brand ambassador. Listed will be info on what it means to be a brand ambassador and what the role entails. Having a designated application is great way to avoid email inquiries slipping through the cracks.

Social Posts: Might as well use your own platform to get the word out, right? Making a post on all your social media accounts stating you're looking for brand ambassadors is sure to get a good response. Your followers might even tag their favorite influencers in the comments to notify them that they should apply. Include a link to the application on your website to make signing up hassle-free.

Insta-Stalking: If you've got the time, scroll through the Instagram Explore Page and search key hashtags to look for potential brand ambassadors. When you find influencers who look like they'd be a great fit, shoot them a DM! This process is long and tedious, so you might want to recruit some interns to help out.

Full-Service Influencer Marketing Platforms: If you're looking for an efficient solution, using an influencer marketing platform is your best bet. They'll help you find the perfect brand ambassadors to post about your brand.
Brand ambassadors are like cheerleaders for your brand! Treat them well and they'll be an advocate for you beyond a one-off Instagram post. To learn more about how Statusphere can help you partner with ambassadors and influencers fit for your brand, click here.