Is Your Influencer Marketing Campaign Outdated or Primed for Success?
The influencer marketing industry is swiftly changing – and to brands, its value is only becoming more apparent.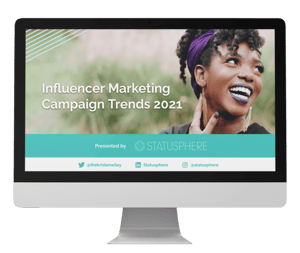 According to Instagram, 87% of people said influencers have led them to make a purchase. As marketers allocate more of their budgets toward influencer marketing in 2021, they'll need to keep a close eye on where influencer campaigns are headed and how they can be leveraged for success.
During this free webinar, we'll share our insights on the influencer marketing campaign outlook and trends for 2021 and beyond.
In this webinar, you'll learn:
The tactics and trends we have seen perform best in the last year.
Tips for staying up on the latest trends.
How to join trends while staying on brand.
How social trends impact purchase decisions both online and offline.
Our predictions for where the influencer campaign landscape is headed.
And more!