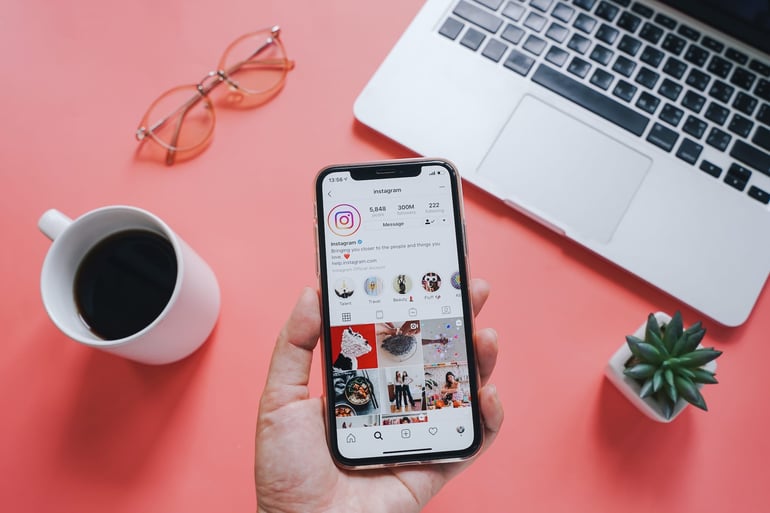 UPDATE: Although this article was written during the time Instagram was testing hiding likes, Instagram officially started hiding like counts for most users in the US as of March 2, 2021, but then announced that it was an accident. See their tweet below: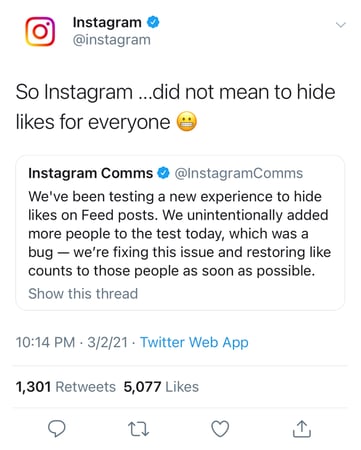 Instagram's initial test with hiding like counts on the platform in Canada has since expanded to six other countries — and now it looks like it could come to the U.S. as soon as this week. While this update is still being tested and not all users will see their like counts disappear right away, it's possible we may soon have to say goodbye to public displays of likes. Users will still be able to privately see a list of people who have liked or viewed their content. But what does that mean for brands and influencers using this platform?
Instagram's recent move towards hiding likes is a reaction to criticism that the platform encourages unhealthy competition and a desire for approval from others. Some users may even find their mental health negatively impacted by the platform — especially young people who have grown up online and feel the need for digital validation from their peers. Adam Mosseri, the head of Instagram, described the motivation for the change at a developer's event in April:
"We don't want Instagram to feel like a competition," Mosseri said. "We want people to worry a little bit less about how many likes they're getting on Instagram and spend a bit more time connecting with the people they care about."
What does this mean for brands?
Brands will need a new way of assessing influencer's value on product collabs. No longer being able to rely on vanity metrics, such as likes, will push brands to vet for the overall quality and authentic engagement an influencer receives. For other valuable metrics to look for when evaluating your influencer marketing efforts, check out this blog.
Ad spend might need to increase to get more people exposed to your brand. Specialized content creators can be used to combat hefty ad costs. Micro-influencers can be a valuable source of great content with a highly specific audience.
What does this mean for influencers?
Influencers will have a motivation to upload more authentic content since they won't need to worry about how many likes a post has received. The connections and community they've built on their page will be more significant and receive more attention.
Smaller influencers will see a more level playing field. Micro-influencers (typically defined as active content creators with 5,000 - 25,000 followers) won't need to focus on getting a set number of likes on their posts to be able to partner with brands. This helps eliminate the need for fake followers and bots used to "boost" engagement rates.
We recommend that all influencers start screenshotting their analytics to share with brands to provide any necessary campaign metrics.
All in all, we're interested to see how this new change will affect the overall quality of content on Instagram. Hopefully, by taking the emphasis away from the number of likes a photo receives, users will post more authentic content that they feel a genuine connection to. In turn, that content will help foster a connection with an audience that it resonates with. If you need help finding and partnering with authentic influencers for your marketing campaigns, contact Statusphere today.