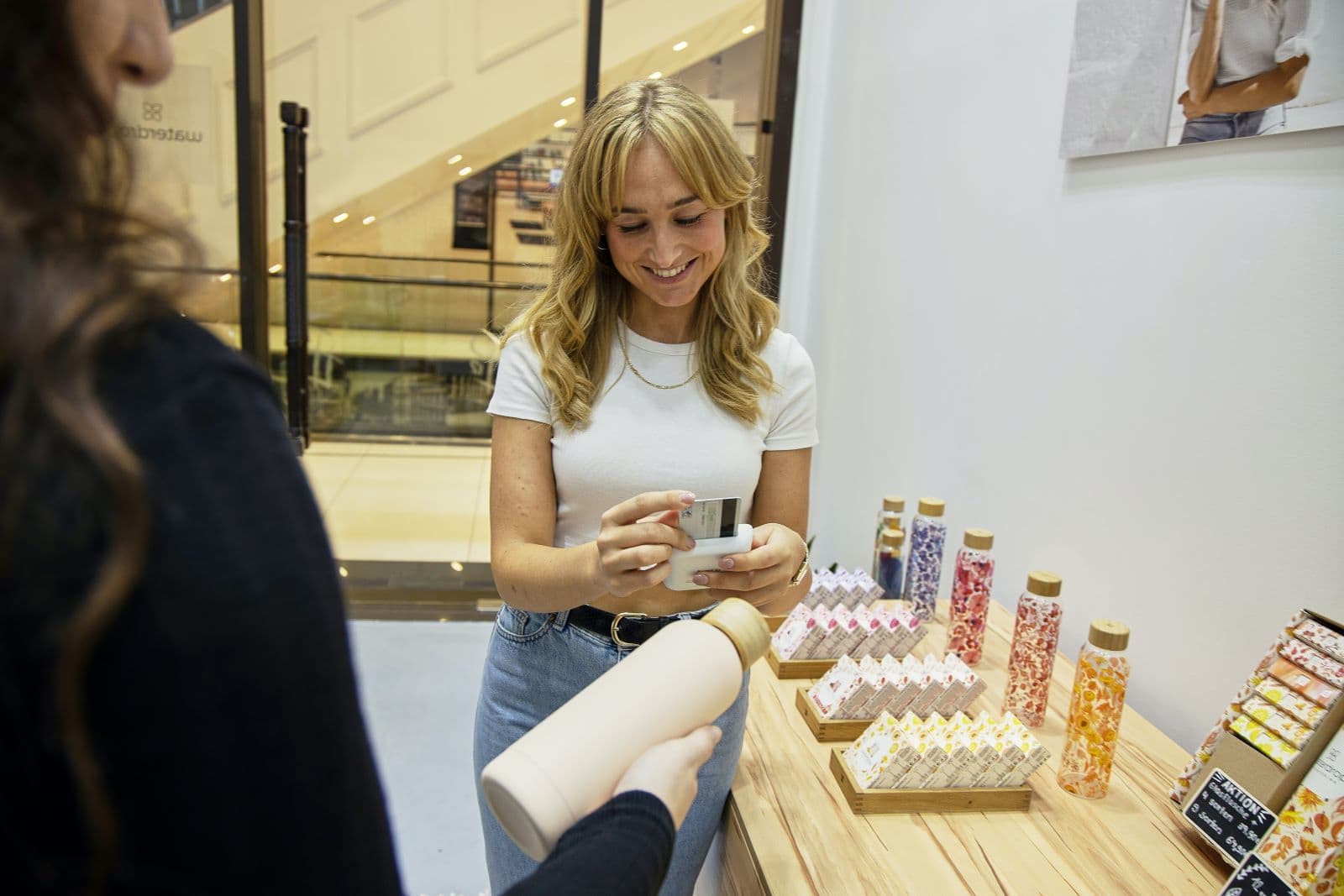 Social media apps like Instagram are switching their focus to better facilitate shopping and selling, which means if your brand isn't already focusing on it's Instagram marketing strategy, it should be. If you're looking to maximize your retail strategy on Instagram, there are a number of things you should keep in mind, ranging from basic account setup to long-term content creation. Below, we're breaking down 16 Instagram marketing tips to give your eCommerce and retail goals a boost.
1. Switch to a Business Account
The first step to any successful Instagram marketing strategy is to optimize your account. If you haven't already, switch over to a Business Account by connecting a Facebook page. This will allow you to see more valuable insights on your page, sell products on Instagram and run promoted posts and ads.
2. Optimize your Name and Bio
You should also look over your Instagram handle, name and bio. Names are a searchable field in Instagram, so if you're a smaller or newer brand and your business name doesn't already give a clear indication of what you do, consider working a keyword in. For example, if you're a bakery called simply "Amanda's," you may want to change your Instagram name to something like "Amanda's Cookies & Cupcakes" or "Amanda's - Local New York Bakery" to give new visitors a better overview of what you do, and possibly drive more traffic to your page.
3. Add a Link to Your Bio
Even business accounts are limited to just one website link in their bio, so use it wisely. Connecting to your website homepage is always a good idea, but you may also choose to employ a service like Linktree or Linkin.bio to get around the one-link limitation. Brands do this often to promote various social channels or new product launches simultaneously.
4. Set up an Instagram Shop
Setting up an Instagram Shop will put your product catalog at customers' fingertips without forcing them to leave the app and go to your website. Importing your catalog to Instagram allows you to add product tags directly into your posts, giving potential customers fewer roadblocks to purchasing. If it's available to you, you may also want to sign up for Instagram Checkout as well, so customers can buy your products without ever leaving the Instagram app. The fewer taps a user has to make to complete their purchase, the better.
5. Make your Grid Aesthetically Pleasing
Keeping your page interesting is crucial to staying relevant. Instagram began as a way to share static photos, so maintaining a clean, aesthetically organized grid of photos is still a major part of curating your brand's online presence. There are a variety of tools and apps available to help you plan out your grid and preview how it will look before you commit to a post. If you're an Apple user, try the Preview app.
6. Create Engaging Reels Content
Grid posts are not the be-all, end-all of Instagram. The social media giant recently announced that they were shifting away from photos and leaning into videos, as evidenced by layout updates that put a Reels tab in the dead-center of the bottom menu.
Interspersing your static posts with relevant Reels is a good move. We now know that the algorithm behind the Reels tab rewards content that is funny or entertaining, so flex your creative muscles and show off your good humor. You can also capture attention by running a quick product demonstration or tutorial as a Reel, as long as it's engaging.
7. Add In-Depth IGTV Videos
For video content longer than a minute, your best bet is IGTV. IGTV can be a helpful tool for, say, publishing a 20-minute discussion panel hosted by your brand, or an in-depth tour of your manufacturing warehouse. Depending on your content, you may wish to post IGTV videos with a similar frequency as you do Reels, but it's best to first consider the pros and cons of both.
8. Create Stories (and Use them to Cross-Promote)
Another format often used to connect with your audience is Stories. Stories are generally used for less polished content that people still enjoy, such as behind-the-scenes action or just-for-fun quizzes. You can also answer questions from customers on Stories (or a Live, if that's more your style). While Stories do disappear after 24 hours, saving them as a highlight on your profile lets new visitors accessing them later learn all about your company.
You can also share static posts, Reels, Guides and IGTV videos to your Stories. Don't do this for every single post, as this will overwhelm your audience, but using this feature for valuable content you hope to get as many eyes on as possible can help boost it to your audience.
9. Use the Swipe Up Feature
If you have 10,000 Instagram followers OR are a verified account, you have access to the Stories swipe-up feature which allows you to include a website link in your Stories. If you're lucky enough to have it, use it! Link to a new product, or your latest YouTube video, or wherever you wish to drive more traffic. If you don't have access to it but are chomping at the bit, you can pay to promote your Stories, which gives the Story in question a swipe-up option.
10. Utilize Ads
Slide your brand seamlessly into the endless scroll by taking advantage of Instagram's native advertising tools. There are various formats your brand can choose from, from static photos and videos to carousels and even Story ads.
When deciding which ad type to use, consider the type of product you're selling, and what medium would capture it best. When in doubt, diversify your ad content and see which gets the most conversions. You can even promote an existing grid post, so consider boosting any announcement of big sales or new product lines.
This is also a great time to check in on your analytics: what kind of posts does your audience respond to most? Maybe carousels get the most traffic, or maybe static photos seem to resonate the best. This will give you a great indication of how to direct your efforts.
11. Inform your Strategy with Analytics
One of the many perks of having a professional Instagram account is the level of analytics you get. You should be able to access your analytics by clicking "Insights" directly on your profile, but you can also get there through the hamburger menu in the top right corner. Once there, you can take in lots of data about your existing audience, including gender breakdowns and top locations, as well as data about your potential new audience (i.e., their profile clicks, website clicks, etc).
You can use this data in any way you want: if you notice your Reels are doing consistently better than your grid posts, you may take this cue to invest more energy into them. Or if you're getting lots of profile clicks from an ad but it's not translating into new followers, you may decide to perform a profile audit to ensure your content and bio are both aligned and delivering value to your target audience.
12. Have a Consistent Posting Schedule
Consistent content is one of the biggest keys to Instagram. Depending on your brand and target audience, you might have to experiment a bit before settling on the ideal posting pattern, but Instagram head Adam Mosseri himself suggests only posting two feed posts a week to best grow your following. To make things easier on your marketing team, you may even consider a third-party scheduling tool. These tools can be game-changers, but make sure you're using one that's legitimate so you don't accidentally lead Instagram to lock your account.
13. Interact with Your Followers
Interacting with your follower base is more than just observing them as a set of numbers. Engage with them by replying to their comments on your posts. Also, check your tagged photos frequently — if someone went out of their way to tag your brand for no reason other than enjoying your product, liking and commenting on the post is a great way to show you appreciate their business.
Keeping tabs on your mentions and post comments can also help you up your customer service game. If customers feel they aren't being heard through your usual troubleshooting channels, they're likely to take to social media to air their grievances, sometimes by commenting on your posts. Rather than ignoring such comments, take the time to reply to them, and reach out privately in an effort to solve the issue. Not only will you (ideally) mend one customer's relationship with your brand, but anyone who stumbles upon the public comment and sees your concerned reply can come away with a good impression as well.
14. Conduct Giveaways
Conducting occasional giveaways can benefit both you and your followers. For them, a lucky winner (or several!) gets free products, and for you, you could gain a decent uptick in followers, as well as an engagement boost (if you orchestrate the rules carefully). Common giveaway rules include liking the post that announces the giveaway, commenting underneath (and usually tagging a couple friends to increase your reach) as well as sharing it to their Stories as an extra entry. You can get as creative as you want with these to benefit your specific marketing goals, but try not to make them too complicated or social media users may lose interest and keep scrolling. Keep in mind: the more required actions you include, the bigger the prize should be!
15. Spice Up Your Grid With User-Generated Content
User-generated content is a jack-of-all-trades in the social media world. Not only can it add variety to your grid and cut down on content creation time for your team, but it can also help add social proof to your brand. A survey conducted about fashion retailer Aerie's Instagram account revealed that 60% of respondents were more likely to buy from the brand's UGC than a branded post.
You can generate UGC organically by stealing a page from Aerie's book and creating a UGC hashtag such as #AerieReal that encourages users to post their outfits with the hashtag for a chance to be featured on your page. Whatever you do, just make sure you've secured the proper photo permissions before posting.
16. Run a UGC Campaign
People trust product recommendations from influencers more than traditional advertisements or big-name celebrity endorsements — 92% of consumers agreed. By getting consumers in your target audience to create UGC for your brand and post it to their Instagram accounts, you can expand your reach and get guaranteed UGC all at the same time.
Creators can even help drive retail traffic in-store to your brick-and-mortar locations by creating content at the point-of-sale, or by geotagging a store where products are sold. Looking to grow your online sales instead? No problem. Provide your content creator partners with a promo code they can share with their followers, plus a tracking link so you can attribute clicks.
We know Instagram marketing has many moving parts, and keeping up with all of them can be exhausting. Let Statusphere take over your influencer campaigns, so you can focus on the rest of your Instagram strategy. Our reliable network of vetted content creators are ready to post about your product — all we're missing is your brand. Chat with one of our marketing experts today to find out how we can help boost your Instagram marketing strategy.