Whether you want your skin to glow, your cheeks to gleam or your lips to pop, look no further to find the perfect iridescent products. These glimmering beauty products inspire us to get more luminescent and daring with our beauty routine. From a dream glow mask to diamond dust sunscreen, we found all the cool products that will soon be in your shopping cart!
Below are 13 rainbow-flashing holographic beauty products that caught our attention. Read on to see our favorite products from this emerging beauty trend.

1. Winky Lux- Glimmer Lip Gloss($16)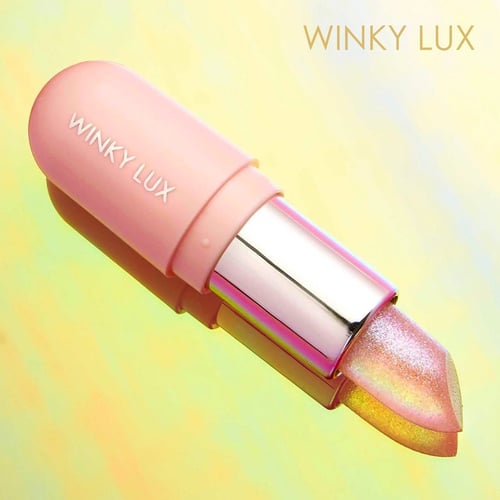 What's more magical than a unicorn? A Unicorn Glimmer Balm that merges with your skin's pH levels to create the perfect shade of pink that will have heads turning. Get your glittery lips and an A-list smile with this balm online here or at Ulta Beauty!
2. Fenty Beauty x Rihanna- Match Stix Shimmer Skin Stick (Iridescent) ($25)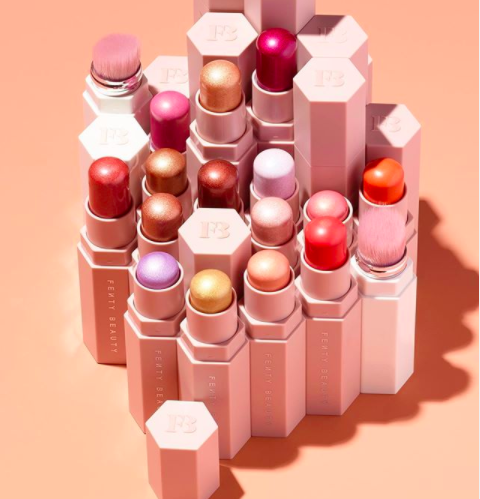 Shine bright like a diamond with these amazing sticks that highlight cheeks for the perfect radiance. Which ones do you love to glow in? We love shades such as Confetti for its shimmering Opal shade and Unicorn for its perfect platinum lilac color. Find your best match online here.
3. Freeman Beauty- Holographic Peel-Off Mask ($1.99)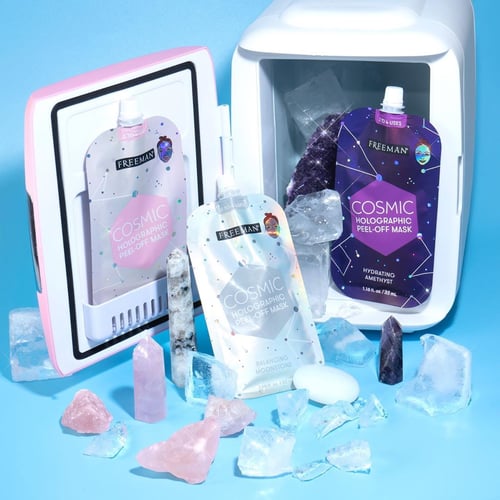 Boost your aura and get glowing with this crystal-inspired holographic peel-off mask. Freeman's hydrating cosmic peel-off mask calms skin for a luminous complexion and is perfect for dry skin. Store them in your skincare fridge for an extra refreshing skincare treat. Get glowing with yours from Ulta or Amazon.
4. Makari De Suisse- 24K Multi-Purpose Dry Oil ($39.99)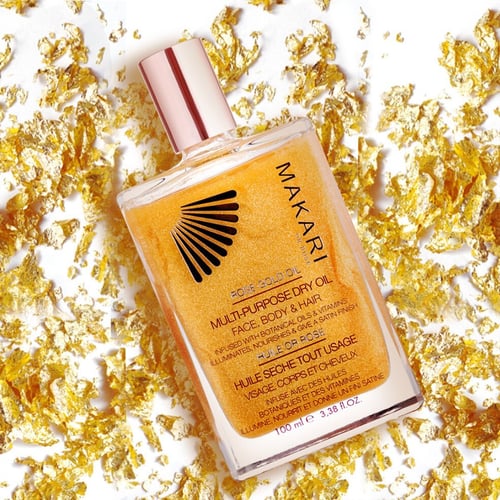 Keep your glow glimmering all year long with this shimmering multipurpose dry oil. This will give you a radiant finish when you apply it all over your body, and yes, your hair too! Plus its compact size makes it perfect to take it with you on your future travels. Find it online here.

5. Birchrose + Co.- Glow Serum Unicorn Dust ($18)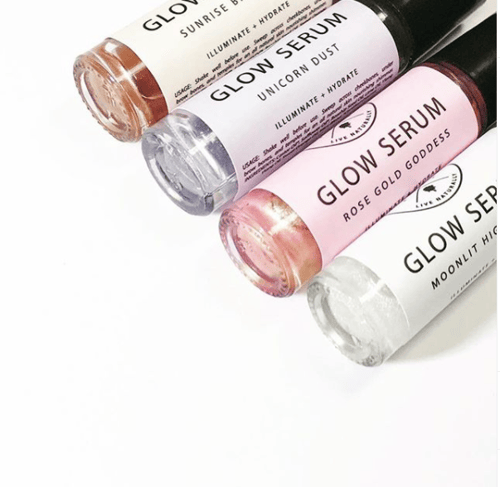 Illuminate and hydrate to get that GLOW factor! A quick swipe under the cheekbones, under the brows, or along the temples adds that subtle shimmer that nourishes your skin. Our favorite is of course, Unicorn Dust to give you that feeling of iridescent magic with a glow as rare as a unicorn! Grab your glow stick online here and show us your brightest glow!



6. Stila- Shimmer & Glow Liquid Eye Shadow ($24)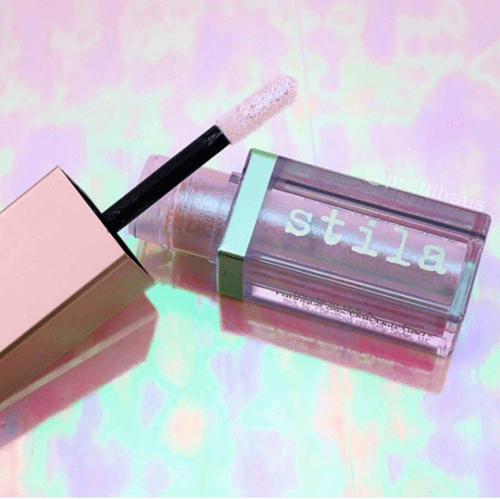 Light-weight and long-lasting is the best way to add major glam to your gaze! No fallout, no creasing, just straight gleaming! Check out our favorite shade, Cloud, for the perfect luminescent lavender look with hints of gold pearl here!
7. Cosmedix- Lumi Crystal Lip Hydrator ($35)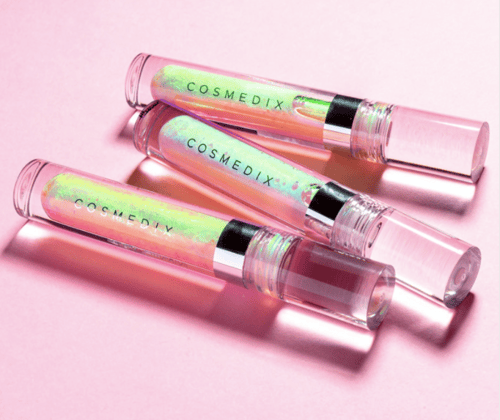 Give your lips a little extra love with this awesome lip hydrator infused with liquid crystal technology! Not only will this make your lips shine, but it will also plump and soften the look of fine lines and wrinkles to give you that perfect MUAH! Find this lip hydrator online here!
8. Femmue Dream Glow Mask ($48)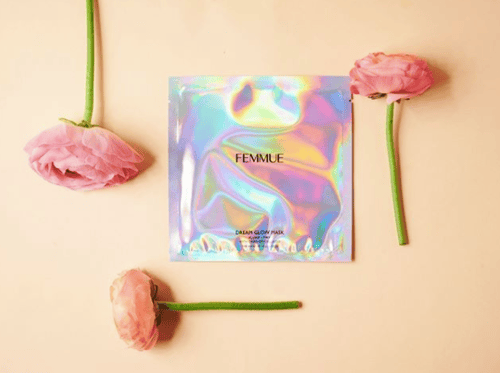 Treat yourself with this dream glow mask made of natural bio-cellulose and anti-aging botanical extracts to have your skin looking and feeling younger and brighter! What's not to love about that? Check out this iridescent mask on OLIVELA!
9. Bare Republic– Mineral SPF 30 Holographic Shimmer Sunscreen Lotion- Diamond Dust ($14.99)
Reflect your inner sparkle with this Bare Republic holographic shimmer sunscreen in Diamond Dust! Non-nano zinc oxide is blended with sustainable, light-reflecting mica for a healthy glow in the rays. Keep your summer shine going into fall. After all, the UV rays aren't going anywhere. Find it on their website here.
10. Pacifica– Sugared Crystal Supercharged Body Scrub ($16)
Supercharge your bathing ritual and leave your skin feeling soft, smooth, and more energized with this sugared crystal body scrub! Ingredients we all love include sugar, watermelon, and quartz while 100% vegan. Purchase your scrub online here.
11. Skinnydip- Dazzle Travel Iridescent Makeup Bag ($21)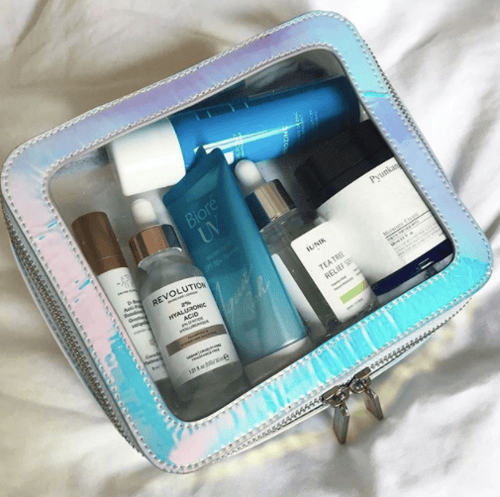 Handy and hella' cute! The perfect travel makeup bag equipped with transparent panels so you can find everything you need without the hassle. Snag yours here for your next vacay!
12. I L N P- Summer Nights Collection ($10-$60)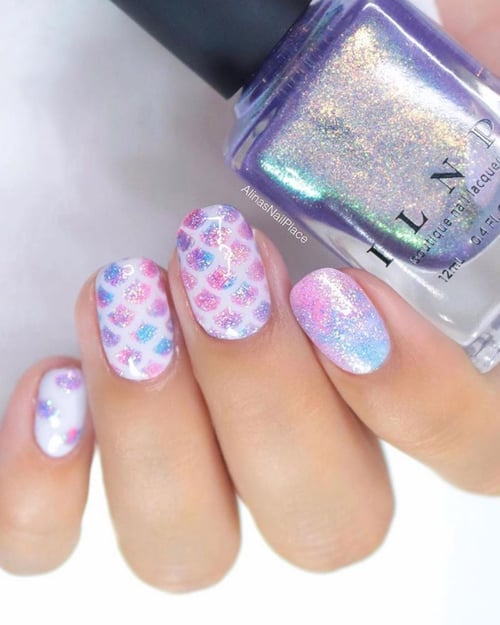 This pastel teal holographic nail polish gives you the perfect iridescent shade to wear this summer! This sparkling shade shifts depending on the angle the sunlight hits. Find this one-of-a-kind summer polish for the iridescent nails you have been looking for online here.
13. Masque Bar- Holographic Foil Peel Off Mask ($19.95, 6 pack)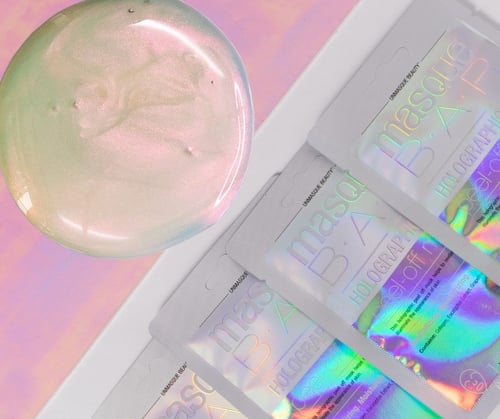 Revitalize, illuminate, soothe, and moisturize with this futuristic looking peel off mask. Enriched with Vitamin C with the benefits of collagen this mask is the perfect way to get your glow on! Available at Target stores and online here.