We recently attended the Winter Fancy Food Show, which showcases the latest and greatest food products from across the globe. But of course – we beelined for the sweets section.
We were pleasantly surprised by all the pink confections that were (almost) too pretty to eat. Just in time for Valentine's Day! Whether you plan on smooching your sweetheart on February 14th or celebrating self-partnered bliss, you'll fall head-over-heels for these Instagrammable pink foods.
Pucker up! These are our favorite pink treats to satisfy your sweet-tooth. XOXO
Ruby Chocolate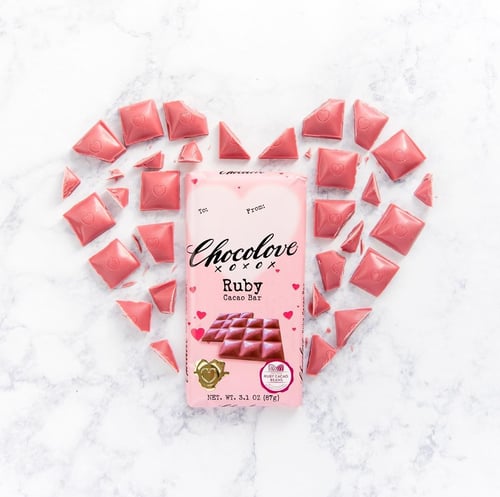 This is something straight out of Willy Wonka! The chocolatiers at Callebaut concocted a new type of chocolate. There is milk, dark, white – and now Ruby chocolate!
Ruby chocolate is made from cacao beans, but its processed in a way that brings out a fruitier taste and a naturally occurring pink color – without any flavoring or coloring. How is this not headline news?!
You can find this new type of chocolate rolling out in Magnum's Ruby Ice Cream Bars and Chocolove's Ruby Bar.
2. Gelatys – Raspberry Heart Popsicle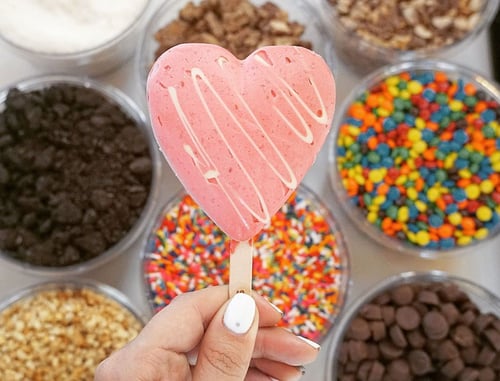 So much goodness, this raspberry heart can't take it! The perfect blend of cream and fruit, this delicious treat is made with fresh raspberries, filled with condensed milk and topped off with a white chocolate drizzle. This pink treat has our mouth watering! Find these all-natural gelato treats on shelves at Whole Foods.

3. The Konery – Pink Ice Cream Cones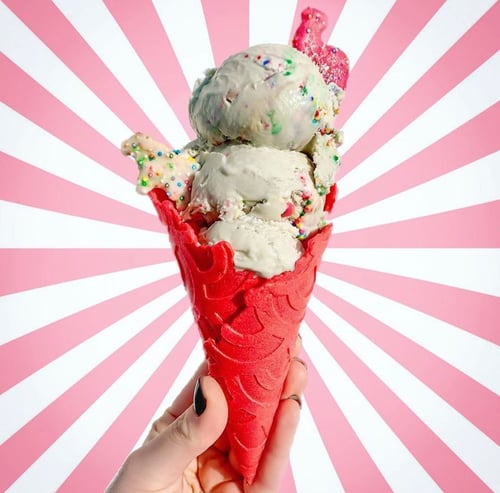 Pink makes everything pretty – especially your ice cream cone! These artisanal cones are made with gourmet ingredients and are dairy free. These Instagrammable ice cream cones are on shelves at The Fresh Market, and maybe even at an ice cream shop near you.

4. Maggie Louise Confections – Kiss & Tell Collection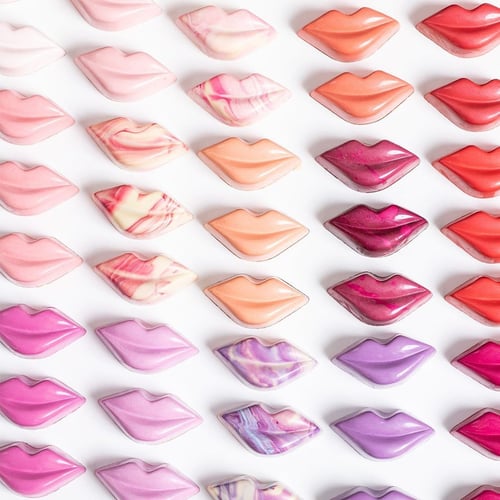 The only thing better than kisses on Valentine's Day are ones that you can eat! These gorgeous hand painted chocolate lips come from the artisan chocolatiers at Maggie Louise Confections in Austin, TX. You can order these lip-smacking chocolates on their website.
5. Sugar & Spun – Strawberry Shortcake Cotton Candy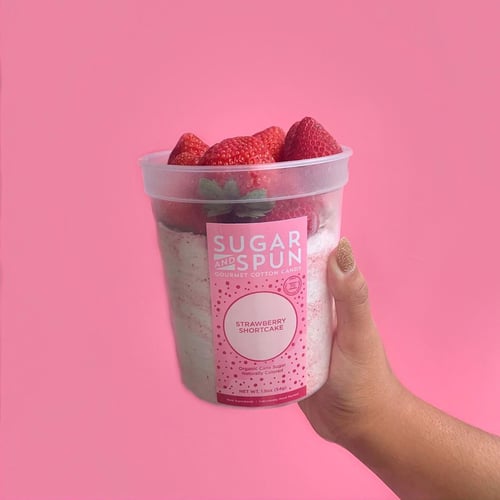 So much flavor in one container! This vegan strawberry shortcake cotton candy tastes just like a fresh pick. The gourmet cotton candy brand uses only organic sugar, fruit and other natural ingredients. Check out all of Sugar & Spun's fun flavors.

6. Alice's Sweet Tooth – Raspberry Meringues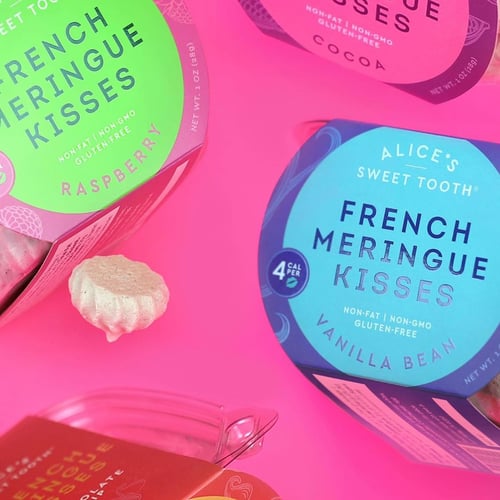 Pucker up for a French Kiss! Alice's Sweet Tooth's meringues are made with flavorful and organic ingredients. Snag these meringues kisses on Amazon.
We love going to the Fancy Foods Show and getting to see all of the new products. If you attended Winter Fancy Foods Show or have any new favorite product launches, let us know!