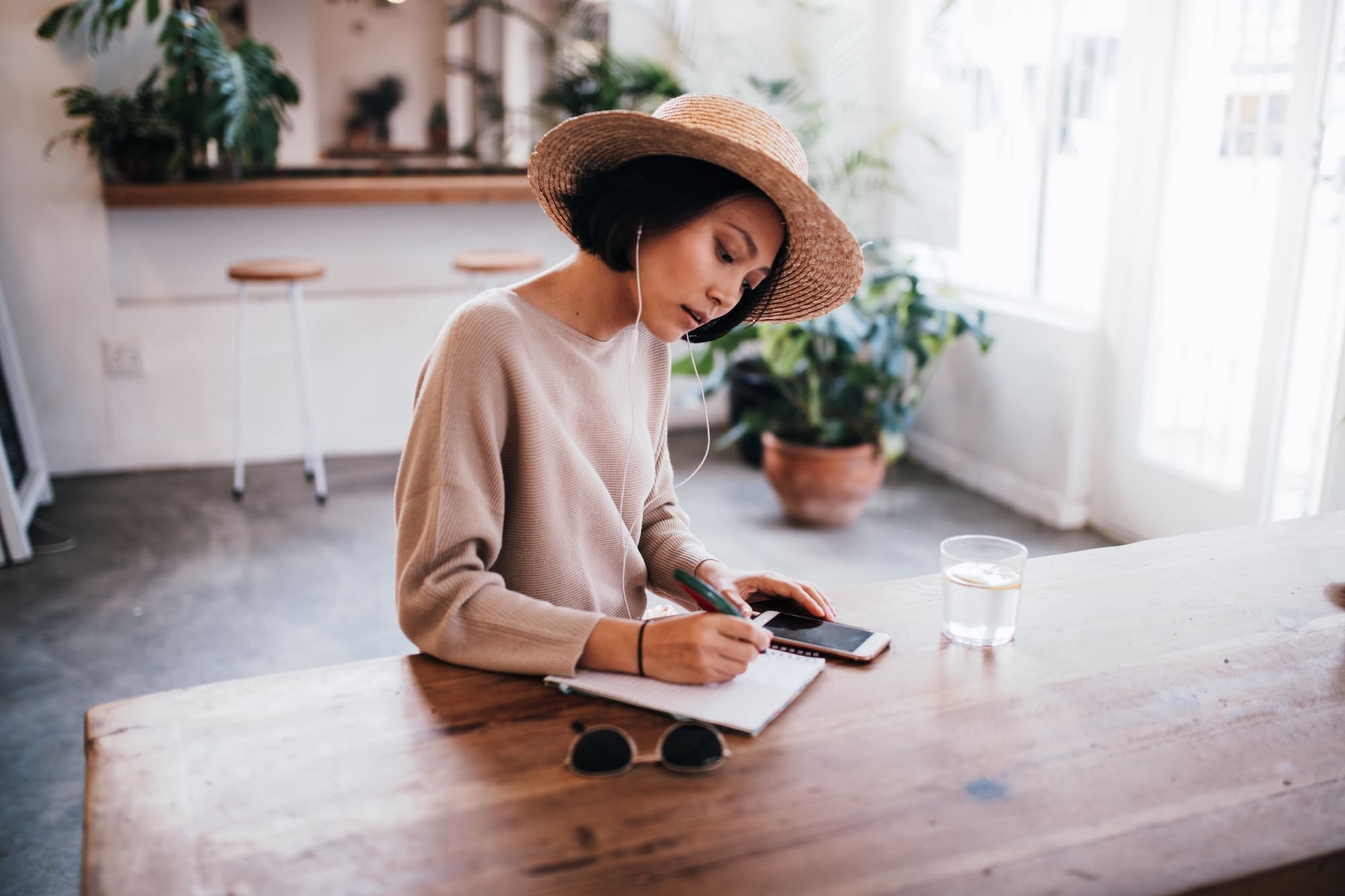 The possibilities are endless when it comes to Pinterest marketing. And for a site built on the premise of creativity, uniqueness and engaging content, that's exactly what your brand should aspire to when building out your marketing strategy. After all, 70% of Pinterest users say that they discover new products on the platform - so be sure your brand is one of them! Get the most out of your Pinterest marketing efforts by following some (or all) of these 9 tips:
1. Maintain a Branded Profile
It should be clear to users that this is your company's profile as soon as they reach your account. Your bio and profile photo should be consistent across your other social media channels, so that part should be easy. Following the same fonts and color schemes throughout your profile is essential and you should choose a cover board that best represents your brand. Most importantly, verify that your website is displayed on your profile to drive traffic.
2. Post High-Quality Content

With 90% of Pinners saying that Pinterest helps them decide what to purchase, it should come as no surprise that your Pinterest marketing must include high-quality photos and videos that show your products in the best light. Make your photos eye-catching and brand-centric so that pinners become interested in learning more. If your brand is looking for some product photo tips, check out this blog.
3. Create Boards for Your Brand

Pinterest boards are used to organize your pins and curate related content. These can be made public so that other Pinners can find your board in search results when on the lookout for new ideas or products. Whether you establish your board as a place for your own products or simply as a space for inspiration, Pinners can choose to follow your board and see new pins your brand adds on their feed.
You should create boards that make sense for your brand. For example, if you're a hiking gear company, why not create a board for beautiful trails your brand hopes to hike? You could also have a complementary board with new products that would be great for summer camping trips. Be sure to interact with Pinners who save or comment on your content to boost brand recognition and listen to the needs and wants of your target customers.
4. Schedule Content

Always be consistent with your posting by scheduling content up to two weeks in advance. Find the amount that works best for your brand by starting with a few pins a week and gradually work your way up - adding pins consistently versus all at once is always ideal.
Be wary of any holidays coming up that your brand can take advantage of by creating seasonal boards and content. Pinterest recommends saving pins such as these as early as 30-45 days in advance, with activity growing steadily the closer it gets to the holiday. Here's a list of 20 holidays to add to your social media calendar that we wrote.
5. Keep Up with Your SEO

Your profile should be optimized with keywords that Pinterest's algorithm can pick up in searches. If you're a business that specializes in indie beauty then be sure to include that in your name and bio. You can also take advantage of your individual pin and board descriptions and provide a helpful explanation as to what users will get when clicking through to your pin. This marketing strategy helps boost engagement around your products and brand.
6. Utilize Pinterest Widgets

Take your Pinterest marketing efforts one step further by including widgets on your site. Not only does this help users engage with your brand's content, but they make following you and saving content from your website much quicker. Here are a few of the widgets and buttons available that you'll want to add to your website or app:
Save button
Follow button
Embed pins and boards
For example, on the Urban Outfitters website, you can easily save a product image by hovering over it and hitting the Pinterest save button. You'll then be prompted to choose which board you'd like to add it to via a popup from Pinterest. Now it's easier than ever for people to find your content!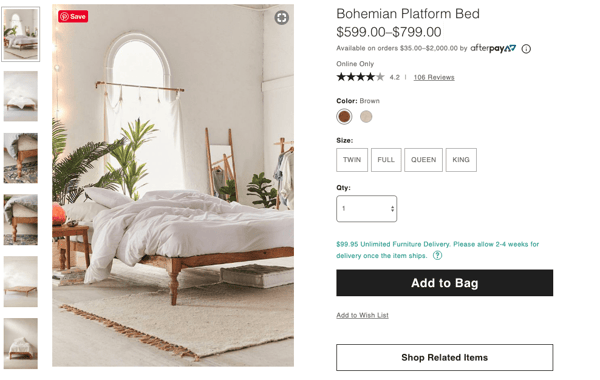 7. Include an Ad Spend Budget

With the analytics available on your business account, it's well worth running promoted content to amplify your Pinterest marketing campaigns. Pinterest offers a wide variety of content formats - so be sure to see what content type performs the best for your brand and what your target audience prefers. Here are some of your options:
Standard Pins
Video Pins
Rich Pins
App Pins
Carousels
Pro Tip: Be sure to add the Pinterest tag to your website. Once someone clicks through from any ads your running on Pinterest, you'll be able to see what they do on your site such as page visits or checkouts. Track conversions and campaign success in a breeze!
8. Make Your Pinterest Shoppable

Pinterest offers brands the option of utilizing product pins that contain pricing info, availability, product title and description. These pins can originate from two sources: catalogs and rich pins. Catalogs allow brands to upload a data source of all products. Product pins from catalogs can be added to product groups and promoted as shopping ads. Rich pins, on the other hand, are saved directly to Pinterest from a brand's website. This is a simpler method, although product pins originating from rich pins cannot be added to product groups or promoted as shopping ads.
Lulus, a modern fashion brand, showcase their product catalog on their Pinterest page. Each pin links back to the product's webpage so it can be easily and quickly added to a shopping cart and purchased: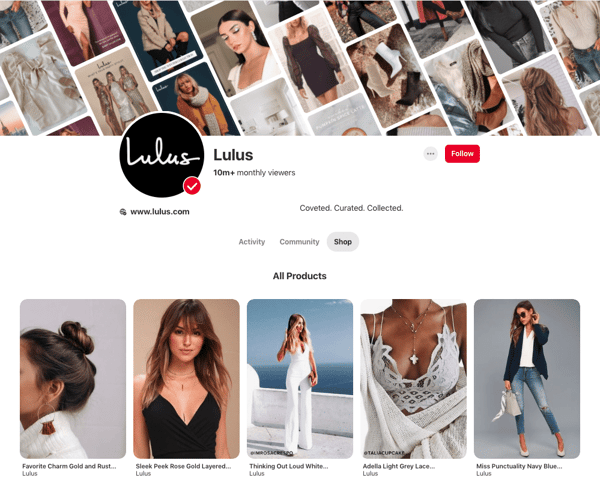 9. Partner with Influencers on Pinterest

Find and partner with influencers who align with your brand to maximize your Pinterest marketing efforts. These influencers can be bloggers or anyone who has built up a decent following by being active on the platform. If you're a food or CPG brand, you can get some amazing user-generated content and recipe pins from these creators. If you're a home goods brand, consider collaborating with a designer to do a styling tutorial or DIY project.
By having these influencers incorporate your products into their pins or custom board, you're building brand awareness among their followers and you can tap into the 66% of Pinners who buy something after seeing a brand's pins.
If you've made it this far, trust us, your Pinterest marketing efforts won't go unseen. With the 322 million active monthly users on Pinterest, your brand will meet the eyes of more than one interested Pinner when following these marketing strategies. And when you add influencers to the mix, it can only get better. If you need help finding and pitching the right influencers to support your Pinterest marketing goals, Statusphere can help. Click here to chat with one of our experts!