With Halloween quickly approaching, many of us are feeling the urge to indulge in sweets and treats—but options can be limited for those who follow a gluten-free, keto or vegan diet. Thankfully, there are many brands who are alleviating the struggle and releasing delicious fall-themed goodies that are gluten-free, vegan or keto-friendly. Check them out below!
1. Good Good Cookie Dough (GF, V)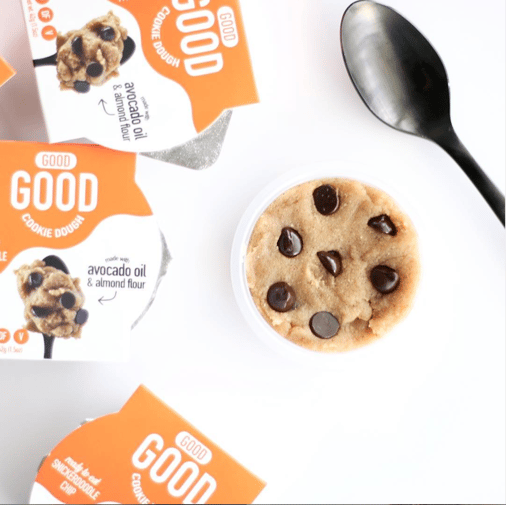 Fall is the beginning of cookie-baking season, and there's always the temptation of eating the dough. Good Good Cookie Dough is gluten-free, dairy-free, paleo-friendly and vegan... and totally safe to eat! The Snickerdoodle Chip Dough is a cinnamon-y spin on chocolate chip—perfect for fall!
2. Frönen (GF)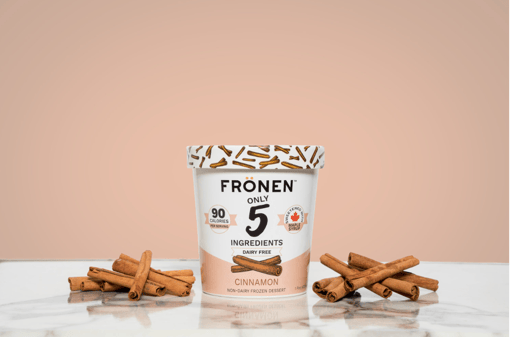 Another delicious cinnamon-flavored snack, this frozen treat from Fronen is dairy and gluten free, and includes only 5 ingredients. With only 90 calories per serving, we'll be eating this seasonal flavor all autumn and into winter!
3. Fat Badger Bakery (V)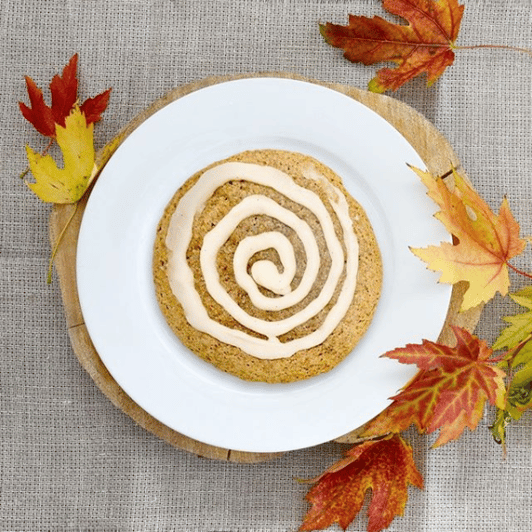 Fat Badger ships boxes of delicious vegan cookies around the world. In honor of their favorite season, the bakery has released a Fall Flavors Box with new creations like maple glazed pumpkin and caramel apple. And of course, they threw in everyone's favorite traditional chocolate chip. Each assorted Fall Flavors Box includes four of each cookie and is only available for a limited time!
4. UnReal (GF, V)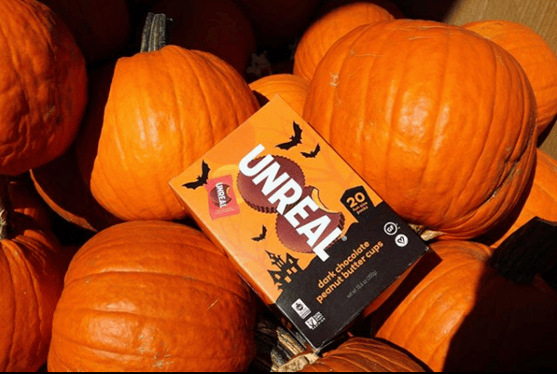 UnReal is known for their gluten- (and guilt-) free vegan candies and snacks, and for Halloween they have released individually wrapped dark chocolate peanut butter cups. These are perfect for trick-or-treaters, or just as an alternative to sugary, non-vegan Halloween candy.
5. Bakeology (V, GF)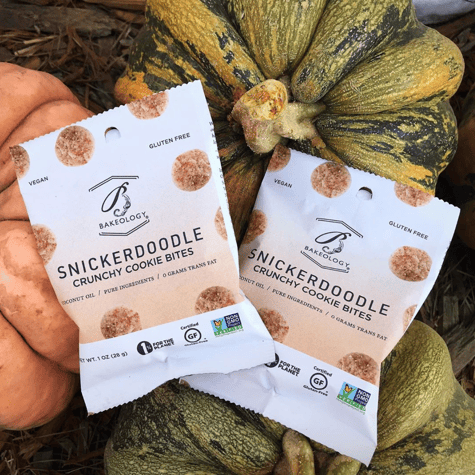 Autumn is here, and these mini bags of Snickerdoodle Crunch Cookie Bites from Bakeology are our vegan and gluten-free comfort food of choice! The smaller portions are perfect for a quick fall snack, or to hand out to trick-or-treaters on Halloween night.
6. Crazy Richard's (GF)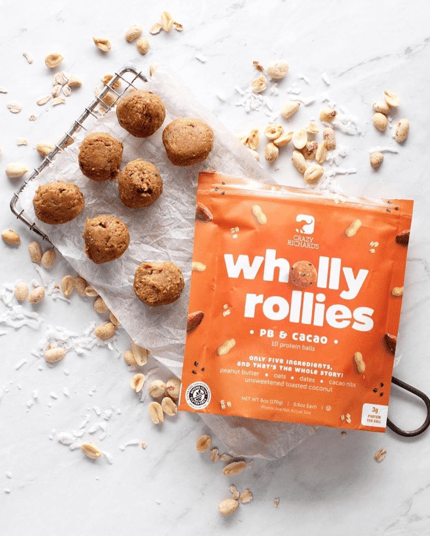 Crazy Richard's Wholly Rollies are delicious protein balls, and the PB & Cacao flavor only has five ingredients! They are gluten-free, plant based and don't include any added refined sugars. Most importantly, they are an easy and yummy way to get all-natural protein this fall.
7. Know Brainer (K)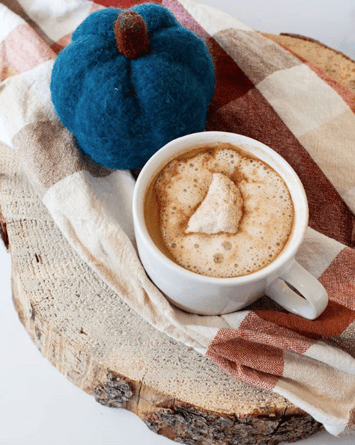 Know Brainer's Burnt Caramel Max Mallows are a quick and easy way to snack on something sweet while staying within Keto guidelines. They are also paleo, sugar-free and dairy-free. Pop one in your hot cocoa or snack on these when you have a sugar craving—at only 90 calories a package, these are guilt-free!
8. Pure Batch (GF, V)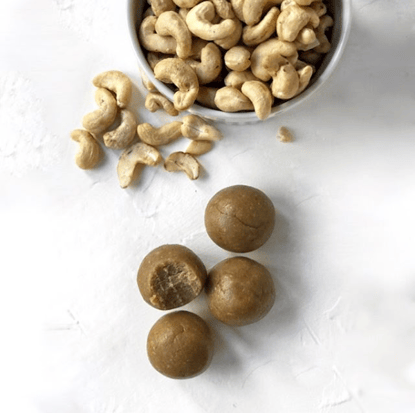 Pure Batch's Cookie Dough Truffles are good-for-you cookie dough balls. They are vegan, gluten-free and soy-free, and contain 8g of protein in each serving. A great option for when you have that cookie dough craving you just can't shake!
9. Lopaus Point (GF)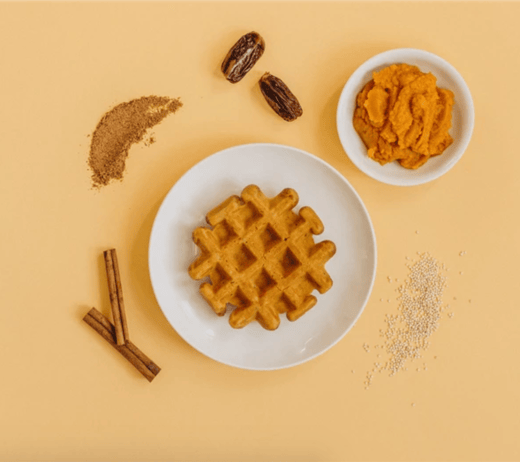 Lopaus Point has created delicious gluten-free waffles, delivered straight to your door. The Pumpkin Spice flavor is made from organic pumpkin puree from a family farm in Washington State. Pumpkin is high in antioxidants, vitamin A and fiber. For added sweetness, Lopaus Point adds in date paste, cinnamon and nutmeg. We'll be popping these in the toaster when the temperature drops outside.
10. Whoa Dough (GF)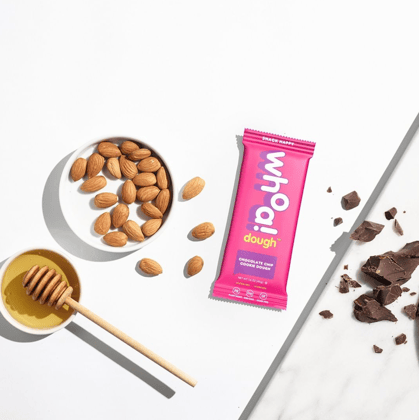 Whoa Dough's Cookie Dough bars combine delicious cookie dough with the ease of a bar. The bars come in 5 flavors, and are gluten-free, dairy-free, plant based, non-GMO, egg-free, and soy-free. We'll be snacking on the Sprinkle Sugar Cookie Dough bars this fall in anticipation of holiday cookie decorating!
11. High Key (GF, K)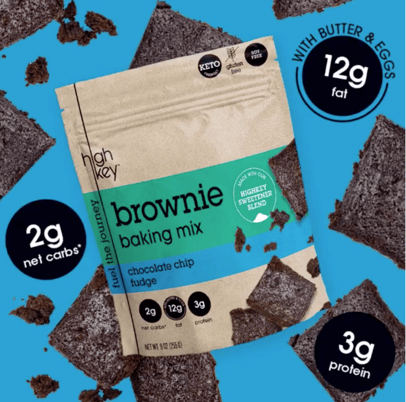 Just in time for Halloween, High Key has launched a keto-friendly Chocolate Chip Fudge Brownie Baking Mix. The mix has no added sugar, and is also gluten and soy-free. Enjoy fresh baked brownies while staying keto!
Thanks to the brands above, there will be no shortage of delicious gluten-free, vegan and keto treats this season. What are some of your favorite gluten-free, vegan or keto-friendly snacks this fall? Let us know!