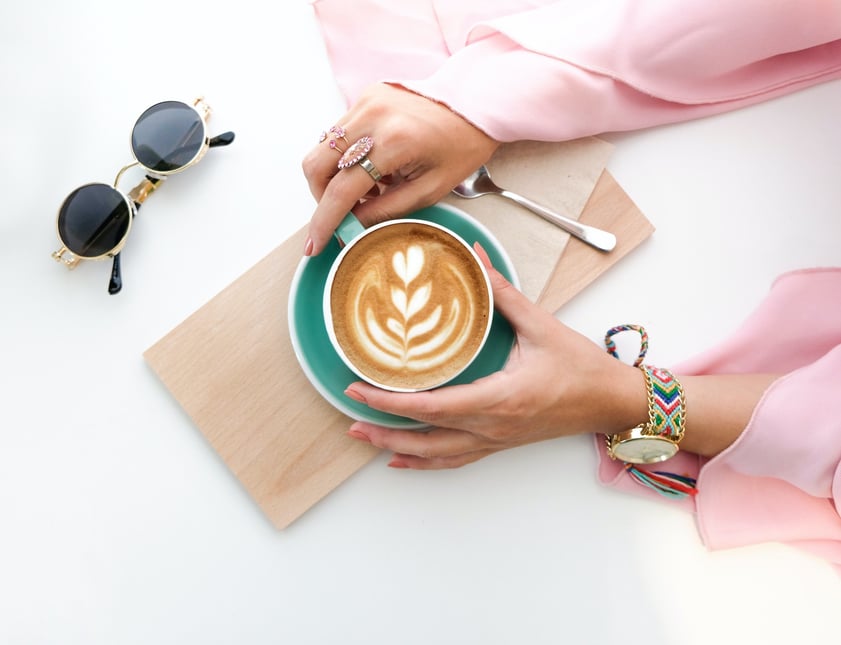 The impact of word-of-mouth marketing on sales is a valuable one. Ninety percent of consumers trust the recommendations of family and friends more than advertising. But, finding new, interesting and effective ways to get more people talking about their experiences with your brand, product or service can be a challenge. With the help of micro-influencers and user-generated content, your word-of-mouth marketing efforts can reach large, targeted audiences and scale more efficiently. Here we share some tips and ideas on how to scale your word-of-mouth marketing strategy.
1. Influencer Marketing
Social media is the ultimate platform for word-of-mouth marketing. By involving influencers in your word-of-mouth marketing strategy, you can tap into their targeted, highly engaged audiences. Even better, their content is known to drive sales. According to Instagram, 87% of people say influencers have convinced them to buy a product. Here are some tips on how to find influencers and work with them to get more word-of-mouth recommendations, and increase their reach:
Find micro-influencers who are sharing content that relates to your brand and its niche by using a full-service influencer management agency, browsing hashtags or searching through your existing followers.

Get influencers posting about your brand

by sending them your best products and offering incentives, like coupon codes they can share with their followers.
Encourage them to utilize your custom hashtag to increase engagement.
Try out more than one platform. You may find influencers in your niche across more than one social channel, like Instagram and TikTok. Get influencers posting on each channel your audience frequents so more people see their word-of-mouth recommendations.
Re-share some of the best influencer content to your brand's social channels and website (assuming you have permission).
2. User-Generated Content
More than 86% of companies utilize user-generated content in their marketing strategies–and for good reason. Consumers prefer getting product information from other consumers as opposed to brands, with UGC earning 28% higher engagement than company posts.
There are many ways user-generated content can help you scale your word-of-mouth marketing strategy. For instance, you can incorporate user-generated content into your paid advertisements. Ads featuring user-generated content receive 4 times higher click-through rates and a 50% decrease in cost-per-click compared to ads without.
Encouraging users to share your content or their own pages is another great way to increase word-of-mouth marketing, and if they create their own content about your brand–even better. Here are ways you can encourage user-generated content:
Run giveaway contests and hashtag campaigns on Instagram and TikTok to get more real users posting about your products/brand. Add incentives to increase participation and clearly state what actions are required in order to enter so the user-generated content will feature your brand, the products you're promoting or any other key information. This is a great way to encourage UGC, boost brand awareness and increase engagement.
Create a custom audio or filter on TikTok that other users can use in their content. TikTokers love using filters and sounds in their videos, so if you create ones that they like, they'll be excited to use them in their own content. Pairing your custom audio or filter with a hashtag campaign,

TikTok ad

or influencer marketing campaign is the perfect cocktail to build hype around your sound/filter and encourage other TikTokers to create their own content using it.
Encourage more UGC by regramming/reposting content your followers have posted about your brand. Re-posting user-generated content shows your audience that you appreciate that they have taken the time to post about your brand and encourages potential customers to post about your product when they test it out, for a chance to be featured on your social media page. Fenty Beauty is an example of a brand who does this seamlessly on all of their social media platforms, from Pinterest to Instagram.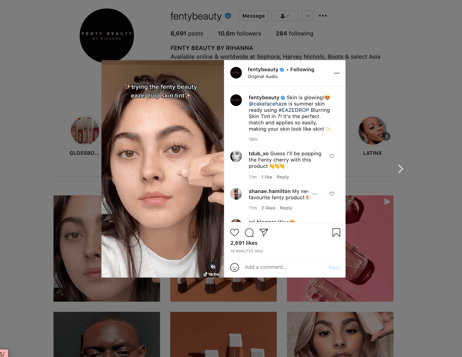 3. Encourage customers to leave reviews
Reviews are a powerful word-of-mouth marketing tool. Good or bad, they have a big impact on consumer purchase decisions. In fact, 94% of consumers said they'd be more likely to make a purchase from a business that had positive reviews. And with e-commerce shopping higher than ever, it's important that you have online reviews. Here are some tips to grow your online reviews:
Send the customer an email after they make a purchase with a link to review the product on your website.
Offer users incentives like a discount code for after they leave a review.
Use product gifting to encourage positive customer experiences that lead to reviews. For example, include a free sample product with your customer's purchase to improve their experience and increase the chance of them leaving a positive review. You can also

gift a new product to influencers

and ask them to post reviews on their social media channels.
Post screenshots of reviews on your social media pages and on the homepage of your website so consumers considering your product won't have to search for them.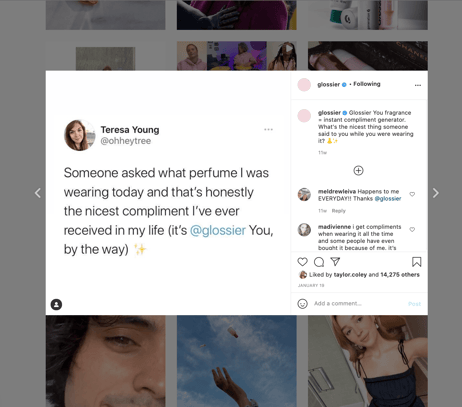 Creating positive word-of-mouth about your brand doesn't have to be hard. With the help of these strategies, you'll have influencers and everyday users posting about your brand for the world to see in no time. If you want to scale your word-of-mouth marketing campaign quickly, utilizing influencer content is the way to go!
Interested in adding micro-influencers to your word-of-mouth marketing strategy but have no idea where to begin? Let Statusphere do the work for you. Contact us to chat with one of our influencer marketing specialists about your goals and get started today!