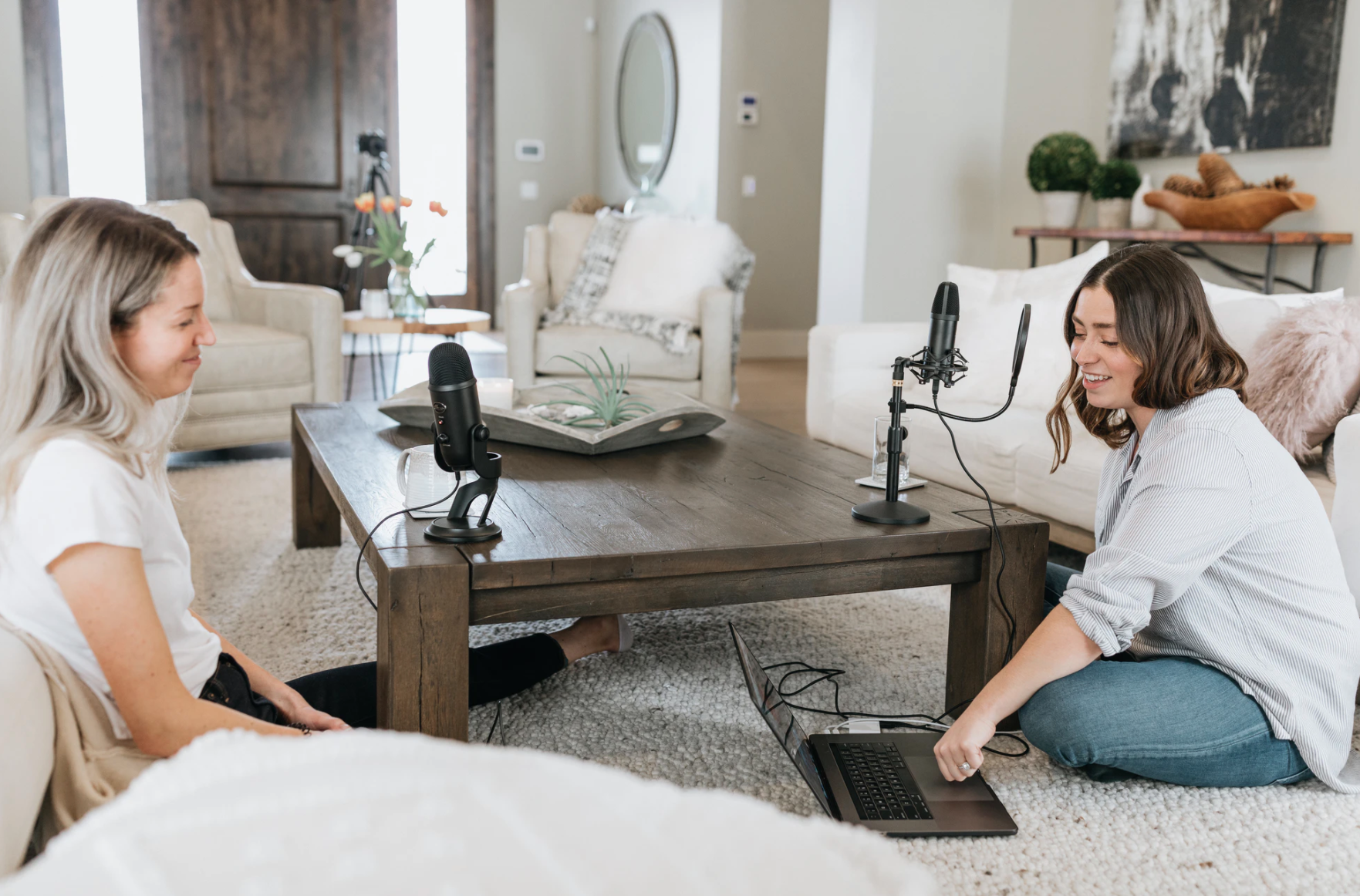 You may or may not have heard of it. It's the hot new social app that has sparked a buzz among influencers, entrepreneurs and celebrities. The Clubhouse social app is an up-and-coming social networking app that your brand needs to join today. If you're sitting there wondering what exactly it is, how you can join, how many people are using it, and how your brand can leverage it -- we have the answers to all of your questions below.
What Is It?
The Clubhouse social app is an invite-only, audio-only social networking platform that allows people to host live audio chat rooms that users can join, listen in on and participate in. The app, which has already been downloaded over 10 million times, serves as a virtual clubhouse and allows for open discussions among its users.
Listeners who want to ask questions or add to conversations can raise their hand and get called to the Stage to speak.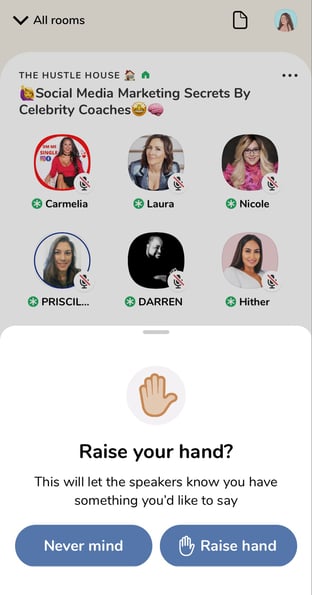 Users can jump in and out of chats freely and check out other discussions that are related to their interests (which they'll select during the account setup process).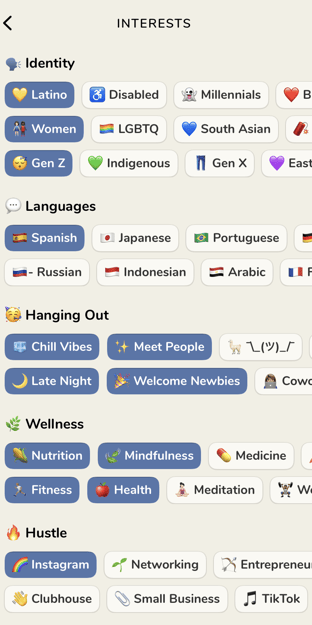 The app is simple to use and is perfect for networking, creating buzz about product launches and giving listeners an inside scoop on what your brand stands for.
How to Join?
Clubhouse is invite-only, at the moment, meaning that anyone who wants to join has to be invited by someone who already has a profile. If you don't have an invite, you're still able to download the app (which is currently only available for iPhone users) and put your name down on a waiting list, but unfortunately, that doesn't guarantee you a spot in the app.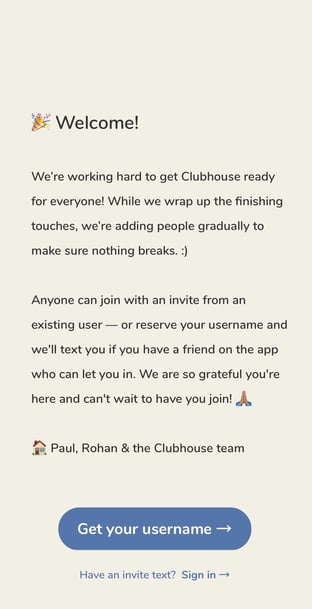 After getting an invite through text, you will:
Set up your account by inputting your phone number, profile picture, name, and bio
Pick your interests in each section (examples include identity, languages, hustle, etc.)
Follow accounts you're interested in
Explore the app and join a room!
How Many People Are Using It?
The app went from having just a few beta-testers to a whopping total of 2 million people per week using the app in January. Clubhouse welcomes people of all backgrounds and careers, from musicians and creators to real estate agents -- anyone can host chat rooms and connect with like-minded people. The app doesn't appear to have any filtering softwares as of yet, so users can speak about any topics they wish. It's even drawn the interest of celebrities and given users access to them that they typically would not have. Some celebrities using the app include:
Elon Musk, whose appearance on the app surpassed the usual

5,000 people limit

in a room.
Mark Zuckerberg
Oprah Winfrey
How Can Brands Use It to Their Advantage?
Clubhouse is the perfect way to target your ideal audience based on your niche, as the platform allows you to listen in on chat rooms based on the interests you picked as you set up your brand's account. According to Social Media Examiner, an intellectual property attorney who hosted a chat room for 2 hours ended up with approximately 20 new clients by the end of the discussion. The possibilities for making deeper connections with your target audience, making your brand's CEO/owners more accessible to consumers, and connecting with potential influencers are endless! Make sure to:
Pick interests that relate to your brand and target audience in order to keep up-to-date with your industry and be able to talk to users in your target market
Write what your brand has to offer in the first three lines of your bio (remember that this will show up in

search engine results

)
Follow as many accounts as you can that relate to your brand, from creators and influencers you're interested in partnering with to celebrities you wish to host a room with.
Link your brand's Twitter and Instagram accounts in your profile -- this helps grow your social media presence and attracts potential consumers to get more information about your brand.
Join Clubs related to your brand, as it helps connect you with people interested in your industry. Clubs are networking groups that users can follow to be notified of future chat rooms that relate to the club's topic. Say your brand works with influencers and you want an inside scoop of influencer marketing. The Influencer Marketing Secrets Club can connect you with like-minded people who are going to chat about the industry.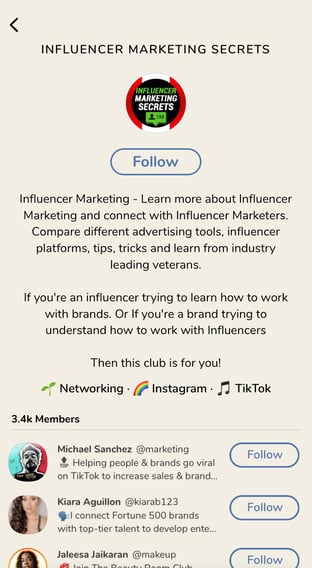 Some Ways Clubhouse is Expanding:
Brands are already sponsoring some rooms so Clubhouse is planning on making that process be more formal-- with adding branding, URL links, etc.
Clubhouse is investing in options for a creator fund, through features like tipping, tickets or subscriptions.
Clubhouse plans to start a Creator Grant Program to support emerging Clubhouse users.
Because of its up-and-coming nature, there are still features that could be updated (like the lack of Analytics) but joining the app in its beginning stages gives brands the opportunity to build up their following quickly, even before the app officially launches.
Some tips on how to use the chat rooms in favor of your brand according to Forbes:
Round table discussions work the best, because they allow everyone to speak if they wish to
More moderators = a larger room
If your brand is a guest in a room, raise your hand to speak-- this will move you onto "the stage" where you will have the opportunity to speak to the audience.
Participation is the key to success
60-90 minutes is the sweet spot for hosting a room
Essentially, while the future of the app is still unclear in terms of its growth, Clubhouse is doing and focusing on all of the right things by helping users create more long-lasting connections. So should brands join? If they want to build meaningful connections with their target audience, influencers, creators and partners -- we'd say yes, and especially yes while the app is still new and there is so much room for growth. The great thing about Clubhouse is that it doesn't feel like marketing and advertising efforts don't feel like marketing and advertising, instead they feel natural and casual.
If you want to find even more ways to connect with influencers, Statusphere can help. Click here to learn more about how we can connect you with a network of influencers in your niche and manage your influencer marketing campaign from start to finish.