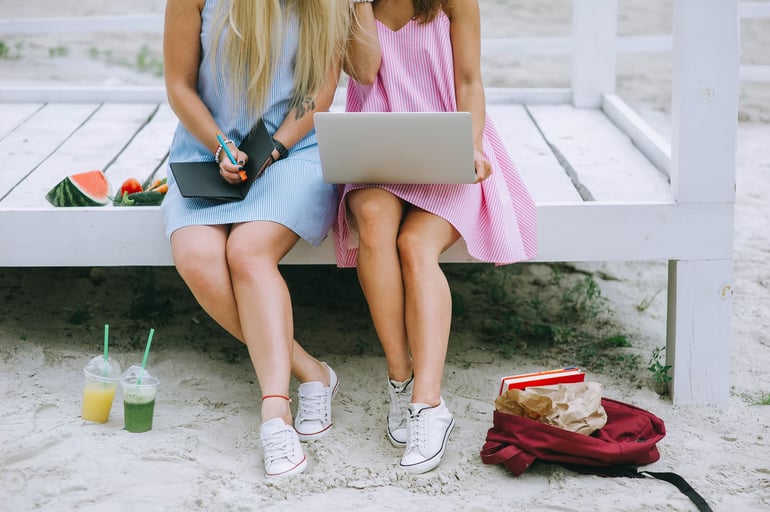 A great first impression is the perfect starter to a lasting partnership with influencers. They get tons of messages from brands every day, and it's important to be one of the few who stand out with a well-crafted pitch. Using proper pitching etiquette can go a long way with blogger outreach, so make sure you take the time to get it right. In this blog, we're filling you in on what good outreach looks like, and how it can turn ugly.
The Good
The first step to successful blogger outreach is contacting them through their preferred method. Some influencers hate emails but love the convenience of DMs, and vice versa. You can often tell which option works best for the individual by checking their bio, website or if they've added an email option.
You can throw in a compliment and even discuss briefly your brand's story to engage them (just don't overwhelm them with too many details.) And be up front with them, letting them know what they should expect out of the deal and what you would like in return.
Lastly, be personable. Treat them like you would as if you were talking to a friend, not just someone you want to use to get to their followers. Influencers appreciate this and it will make you stand out to them. After all, the influencers you are trying to target have a full inbox of other brands trying to do the same thing.
The Bad
This should go without saying, but when reaching out to bloggers don't spell their name wrong. It makes you look as though you don't really care enough to get to know them. This is a simple mistake but various influencers have sent out annoyed tweets talking about how frequently brands do this.
While doing blogger outreach, get to the point of your message right away in order to receive a timely response. Sending a message saying, "Hey girl," is pointless and won't get you far. Don't be too vague about what your brand/product is and what you want the blogger to do as this can come off as illegitimate. For some more tips on sending that perfect pitch, check out this blog!
And again, don't pick bloggers who have nothing to do with your brand or products just because of their follower count or engagement ratio. Make sure the people representing your brand are on the same page as you. If you don't, it comes across as dishonest for both parties involved and intentions will be questioned.


The Ugly
The first rule of thumb is not to send copy and paste messages. Sending the exact same message to a bunch of influencers is obvious and insincere. By doing this, you may also forget to change their name, which can be quite embarrassing for your brand.
Spamming them with frequent messages isn't a good look either. It's okay to send short check-in messages every couple of days, but definitely take a hint if you're not getting a response. If this does happen, definitely don't become rude or patronizing - this is the easiest way to burn bridges and lose potential connections.
Instagram blogger outreach can be a great way to engage with potential bloggers if used correctly. Knowing how to connect with them is just as important as actually maintaining those relationships once you acquire them. Start off on the right foot, approach them as a person (not just another dollar sign), and avoid being clingy. Interested in seeing some more influencer marketing mishaps so you know what to avoid? We have a blog for that, too!
At Statusphere, we match you with the right influencers for your brand, click here to chat with one of our influencer marketing specialists!