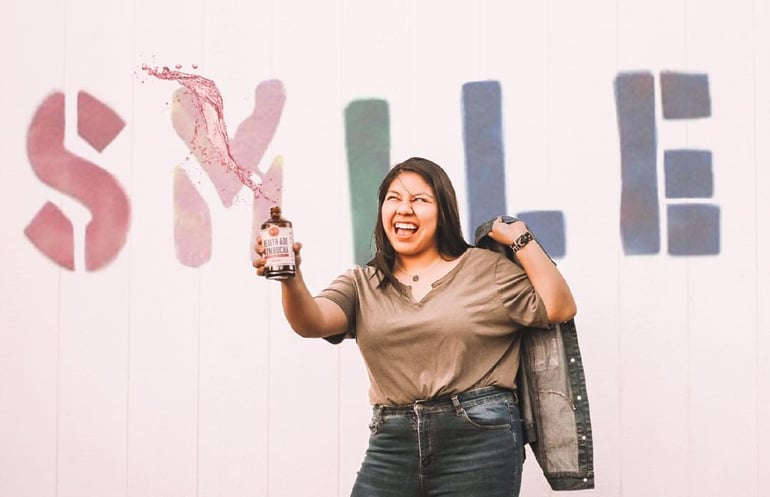 Photo credit: The lovely, @shelly_pineda
As a brand, keeping your social media on point may not be at the top of your to-do list, but it definitely should be. And while your brand's own content and creativity can go a long way, so can partnering with influencers. Utilizing influencers on Instagram can bring in fresh content and help social proof your brand. Before you dive into the world of influencer marketing, here are the main things to know when working with influencers:
1. Find the Right Influencers
Spending the time to find the right influencers for your brand can save you headaches down the road. Make sure the people following your influencers fall into your target audience. If you're having trouble finding them, try out these tips:
Make sample sets of influencers you like and go through the hashtags they use to find similar accounts.

Look through your sample set's follower list for other related content creators.

Check out the explore page! Instagram does a good job of highlighting related content for you.

Check the geo-tag of trendy locations that influencers visit often for other influencers who have posted photos there.
2. Create the Perfect Pitch
After finding the right matches for your brand, draft up a pitch to send their way. Take the opportunity to tailor your message and communicate your brand's mission and goals accurately.
Keep your pitch short but well-written.

A good pitch is normally 2-4 sentences and contains valuable information about your brand without overwhelming the influencer with too much knowledge.

Include what you do as a brand and why you think the influencer's audience is an ideal match.
Pitching Do's and Don'ts
Do:
Write personalized emails instead of generic greeting lines like "Hey girl" or "Hey love" to make a good first impression.

Mention things they like. Do they have a favorite show or food? An adorable pet that makes regular appearances on their gird? This shows you see them as people and not just another influencer.

Mention posts of theirs that stood out to your brand.

Create a strong, clear and realistic offer.

Plan your pitch with at least a 1-2 week window of response time.
Don't:
Create a canned email. This way the influencer feels no connection as you probably sent the same email to other users (it shows, trust us).

Send your pitch as a DM if you have never worked with them before and they provide a business email in their Instagram bio. Some influencers find DMs unprofessional and harder to keep up with than emails.

Pester them for a response. Send one more check in email to get your email back to the top of their inbox. If you don't get a response, keep it moving and contact a different influencer.
3. Find their Contact Information
Finding the contact information for popular influencers may seem hard, but most of them make it easy to contact them. Use these methods to find the right information to reach them.
Check their Instagram bio or blog "About Me/Contact" page for their email address

Work with influencer agencies, platforms or marketing companies

Contact their agent or manager
4. Possible Contracts and Regulations
Providing rules, regulations and contracts is essential when you are working with influencers. Keeping everyone on the same page and the same standards helps to avoid a social media mishap during and after the campaign.
Send influencers your social media policy to explain how to represent your brand.

Layout expectations for types of posts, number of posts and a timeline with your influencer from the beginning.

Make sure they know and abide by the FTC's sponsored post guidelines.

Ensure you have copyright ownership of any content your influencer produces.
Need more information on the legal side of working with influencers? Download our influencer marketing legal guide to learn everything you need to know!
5. Put Your Plan Into Action
You've searched, you've pitched, and now you've landed partnerships with your ideal influencers. Now what? The possibilities are endless for how you can utilize your influencer partnerships. Here are just a few of the most common ways:
Get user-generated content

Promote new releases

Track sales with affiliate links and codes

Start a brand ambassador program

Collect feedback on products

And more!
Influencer marketing may seem intimidating at first, but with the right steps you can take your social media presence to the next level. Taking the time to find your right match and laying out the rules and expectations can ensure a hassle-free influencer-brand relationship. Want to learn more about partnering with influencers for your brand? Click here to contact Statusphere and chat with one of our influencer marketing specialists!