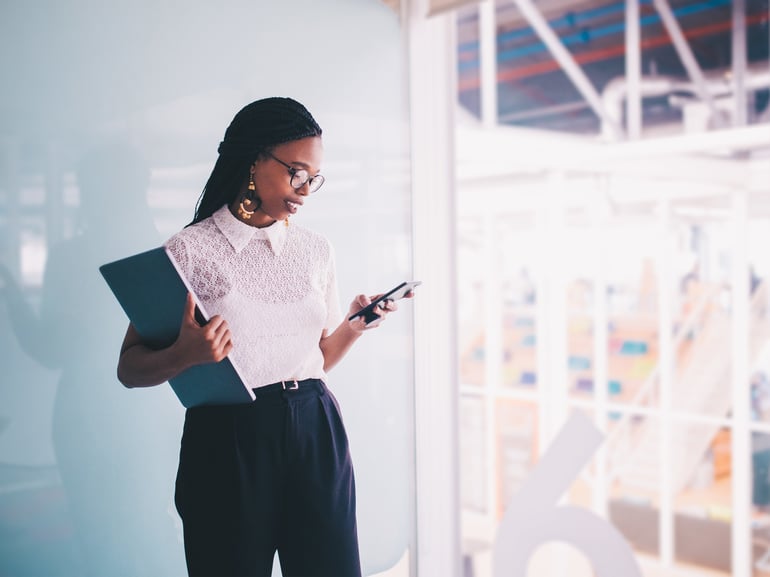 For many of us, the beginning of a new year is a time for personal growth and setting goals. (And struggling to keep that resolution to make it to the gym three times a week.) It's also a time of evolution — and few industries are evolving as quickly and consistently as social media marketing. With the new year comes new social media trends, and as 2020 quickly approaches, it's important for your brand to be informed and prepared.
We did the research and broke down which new social media trends we think will be essential for any marketing team to know. From new ways of discovering products to augmented and virtual reality, there's sure to be something here that every brand can apply to their 2020 social media strategy.
Product Discovery
Social media has always offered a great way to introduce consumers to new products, and it appears that the use of social media for product research will only increase in 2020. According to GlobalWebIndex, 28% of users utilized social networks during their online product search — a number that has steadily increased in recent years and will surely continue to do so. On top of that, Social Media Today predicts that by 2020, 50% of searches will be made through images and speech rather than typing.
What does this new social media trend mean for your brand? Well, it's more important than ever to emphasize the names of your products on social media. Be sure to include any other information that a consumer might be interested in as well, such as the price or unique characteristics that they might be searching for. If consumers are searching through images on a social network like Instagram or Pinterest, you'll want your account to feature images that draw them in and make your product pop. And with Pinterest's predicted rise in prominence in 2020 (alongside other alternative forms of social media) it's best to get a head start on these trends earlier rather than later.
For everything you need to know about this unique, e-commerce friendly platform check out our blog on it here!
The Rise of VR and AR
Of 2020's new social media trends, virtual reality (and its less intense younger sibling, augmented reality) might seem like the most far-off and intimidating. Don't freak out, but VR and AR are right around the corner — and luckily, they're less scary than they seem. In fact, some brands are already using this rapidly developing technology to their advantage, such as by letting consumers try on clothes virtually or seeing how furniture will fit and look in their room.
A less intimidating form of AR can be found in the use of geofilters (and other similar animated filters) on Snapchat and Instagram Stories. GlobalWebIndex found that 22% of Gen Zers are already using these filters — and that's a statistic your brand can capitalize on. You could take a page from Kylie Jenner's book and create an Instagram filter than lets consumers try on your newest lipstick or even create a location-based filter that promotes your brick-and-mortar locations. See, VR and AR aren't so scary after all!
Instagram Story Dominance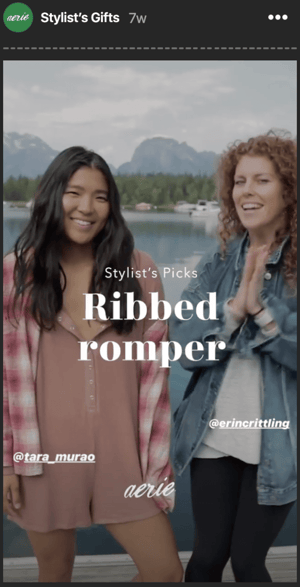 The tried-and-true Instagram feed post isn't going anywhere, but it's safe to say that Instagram Stories will continue to rise in popularity in 2020. Stories provide a great way for your brand to engage with your audience one-on-one and help them keep tabs on your products. They're also a great way to put a face to your brand. For example, you could assign a team member to take over your account's Stories and let them use their creativity and personality to make it a unique experience.
Aerie uses this strategy to their advantage with their "Stylist's Pick" series. In it, their manager of styling teams up with the brand's models to showcase new clothing pieces and provide tips on different ways to style them. The series takes place entirely on the brand's Instagram Stories and is saved on their feed as a highlight for easy access.
You might be thinking that Instagram Stories aren't exactly a new social media trend, and you wouldn't be wrong. However, the true new trend is the way that brands will need to use Stories to their advantage. With Instagram moving towards removing likes from the platform, Stories will provide an essential way to track engagement with your audience. For example, the digital poll sticker can be used as a way to gauge excitement for product launches, or simply as another way to establish a one-on-one connection with followers.
Increased Transparency
You heard it here first: 2020 will be the year of social transparency. Research from Sprout Social indicates that 86% of Americans value transparency from businesses more than ever before. Luckily, social media platforms allow you to demonstrate transparency to consumers — and the new year is a great time to prioritize that as a key goal in your brand's social strategy.
There are many methods your brand can use to put transparency at the forefront of your brand's social media, but one of the easiest ways is through the use of video. 43% of users name live video as the most transparent medium — and your brand can use this to its advantage! Instagram and Facebook both offer live video as a feature of their platforms, so consider using this as a way to directly reach out to customers. Host a live Q&A session or create a social media contest and announce the winner over a live video. The options are endless!
Emphasis on Community
The online community that your brand establishes will be more important than ever in 2020. This goes beyond simply encouraging engagement on your own page, however. Social Media Today singles out location-specific pages as an area that will see significant growth in the new year. For example, your brand might choose to create pages that cater to specific locations and offer location-based deals to the online community you build.
Location-specific pages aren't the only way you can build a community around your brand in 2020. Smart Insights predicts that word-of-mouth marketing via influencers will be another big social media trend in the new year. Micro-influencers and nano-influencers focus on reaching audiences with highly specific interests such as ethical fashion, natural beauty, parenting, etc., so use that to your advantage by cultivating specific online communities between your brand and those audiences.
Of course, executing a successful influencer marketing campaign takes time and resources. At Statusphere, we specialize in simplifying the process so you can get ahead of 2020's new social media trends with ease. Click here to learn more and schedule a consultation today.