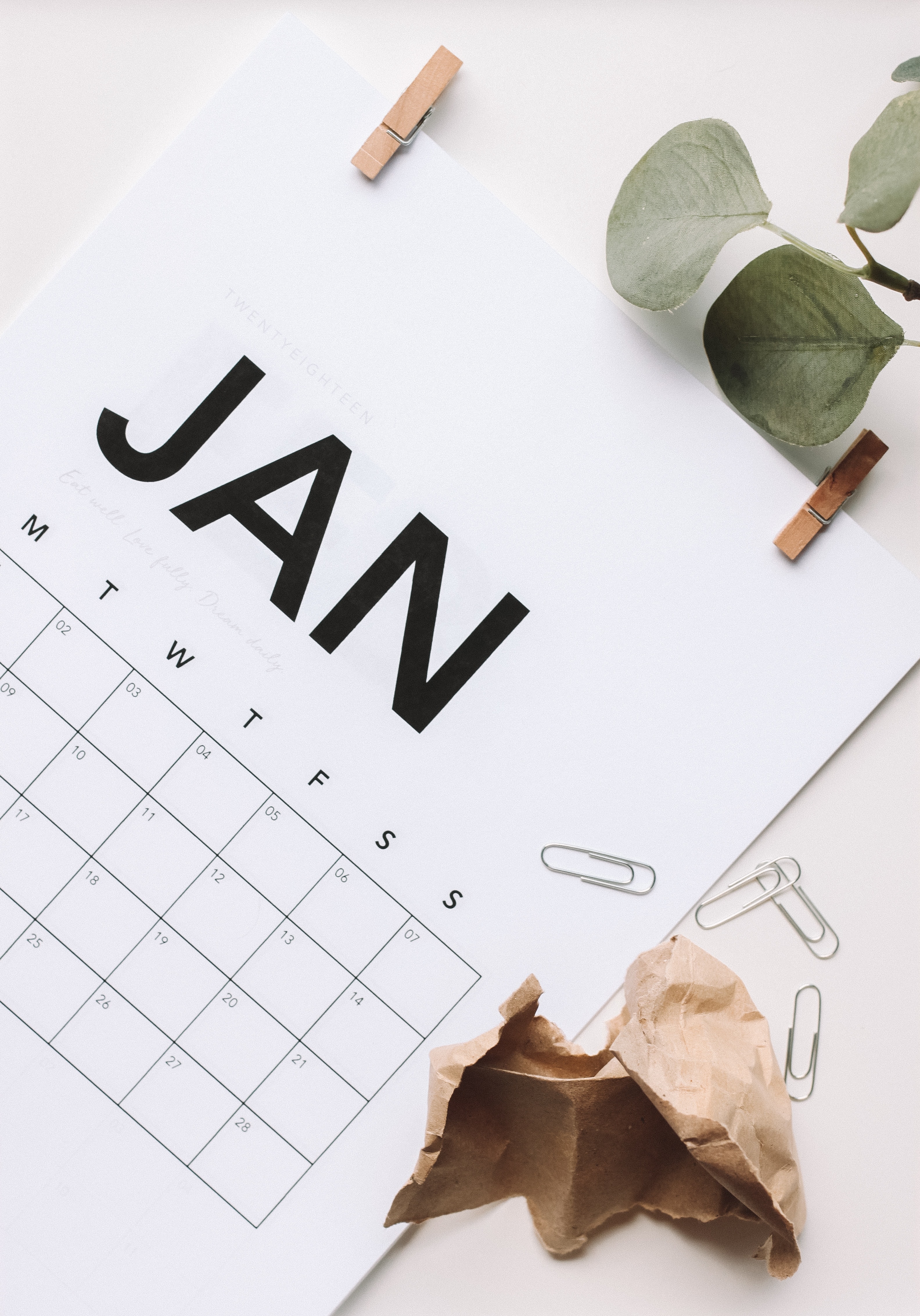 With 2020 coming to a close, it's about time to start drafting your 2021 social media calendar. Building your social media calendar early gives you the opportunity to tackle the transition into the new year with ease—so have fun with it! Your posts don't all have to be serious product features. Prop-filled photoshoots, TikToks, Instagram Reels and Stories can all help build a personality for your brand. To help give you a head start, we're going over everything you need to build your 2021 social media calendar.
What is a social media calendar?
Social media calendars are designed to help you organize, plan and schedule all of your social content in a timely manner. Whether you're planning for just one or two platforms like Instagram and Twitter, this is where you lay out all of your content ideas and when you want to have them posted.
There are tons of templates out there for social media content calendars, or you can create your own. Another great benefit of using a calendar is that you can optimize how much time is spent on different platforms. This allows you to create unique posts and videos for each social media platform, rather than just spamming every platform with an identical post.
Tips for Building Your Calendar
A consistent social media presence is key to building a more personal relationship with your target audience. Planning ahead allows you to easily align your content with specific holidays and incorporate giveaways, all without having to scramble at the last minute. Take a look below at the steps we suggest taking to build your ideal social media calendar.
This is where the fun begins. Take a moment to run through any campaigns, product launches, brand events or anniversaries you have coming up in 2021. Focus on brainstorming for content centered around them first, then holidays and filler posts. There's plenty of fun, social media-friendly holidays your brand can celebrate. For example, National Houseplant Appreciation Day or Puppy Day! You can also use tools like Later or UNUM to visually plan out your social media feed and curate it to your liking.
Consider different platforms
IG Reels and TikToks are great for behind-the-scenes office life content that makes your followers feel included. Beautiful product photography looks great on your Instagram grid or Pinterest. Consider platforms you might want to build your presence on or engage new communities. This could include Facebook, YouTube and Twitter. Get creative and figure out what type of content you want to represent your brand and where it would perform best.
Write out all captions (and alternative ones, too)
Go ahead and write out captions for all your planned posts and any potential alternates. Remember to allow for flexibility, you may have some unplanned posts regarding current events come up throughout the year. If a new trend pops up that isn't planned for in your calendar, having this buffer will allow you to keep up with what's popular without throwing the rest of your social media plans out of order.
Experiment with different hashtags
You should have a handful of ready-to-use hashtags that are relevant to your brand. Remember to rotate through these if some outperform others. You might have a few hashtags that are too broad and will get spammy after a while. Think of different hashtags that your ideal audience might find you by and add that to your social media calendar to make posting easy and efficient.
If you want to create special photo assets to fill your calendar, be sure to block in time for photoshoot logistics. Once you have all the photoshoot details worked out and determined what props you might need, you'll be able to start creating original content to use in your social media calendar. These shoots can take up a good chunk of time, but the beautiful content you get out of them is worth it. Not quite sure where to start? Click here for some Instagram photo ideas.
Find a posting frequency that works
Being consistent is essential and there is a delicate balance between posting too much or not enough. A survey conducted by Fast Company revealed that 22.1% of social media users are annoyed by accounts that post too much. Decide on a posting schedule that works for your brand. Remember, there's more than one social media platform included in the mix, so you can post multiple times a week without spamming one account.
Take advantage of social media calendar tools like AgoraPulse, HubSpot and Hootsuite that allow you to schedule posts in advance. Knowing that all your content is scheduled and ready to go can help alleviate stress during the week. Prefer to post by hand? Consider turning on calendar notifications for when posts should go up, that way your social media accounts are all up-to-date.
Block in time for engagement after a post goes live. Automated social media posts are great time savers, but you should still interact with your followers. (Especially if you ask open-ended questions that you're prompting users with.) It's all too easy to forget about a scheduled post and ignore comments that are full of questions and compliments. Check-in on your posts occasionally throughout the day and engage with them after they are live.
Add influencers to the mix
Campaigns with social media influencers are a fantastic way to get unique content for your brand that can easily be repurposed across your channels. Influencers are an amazing way to generate entries and enthusiasm for any holiday giveaways your company has planned. Just like with posts on your brand's accounts, you should be sure to engage with this content and share it.
Interested in budgeting in an influencer marketing campaign? Check out this blog to learn more!
At Statusphere, we know how influential your brand's social media presence can be for sales. Interested in utilizing influencers to promote your products and fill your 2021 social media calendar? Click here to chat with one of our specialists today!