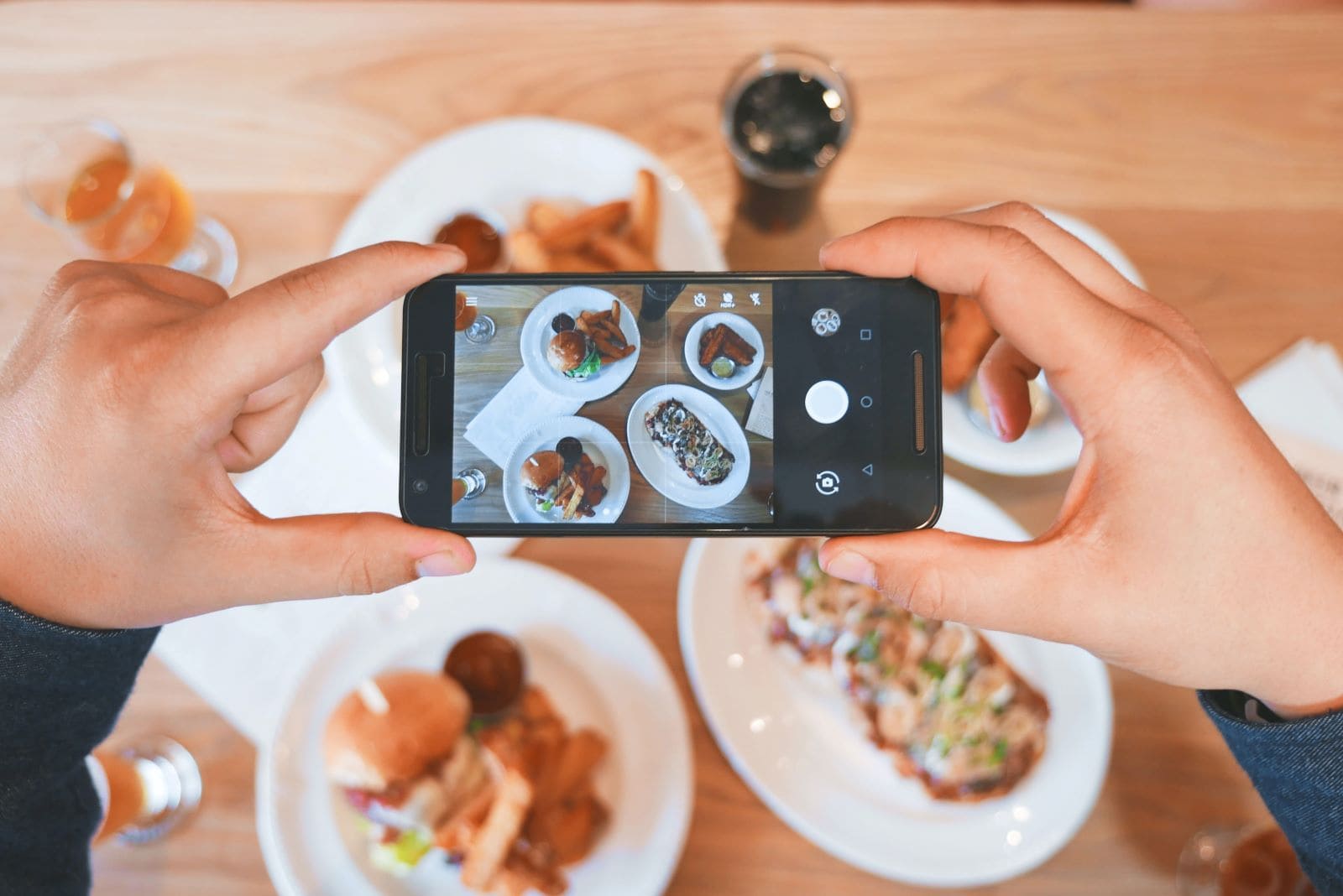 Consumers tend to buy from brands they trust. It's why, when we're faced with a new brand or product, we head straight to the reviews section or ask our friends! But brand trust is lower than ever: only 47% — less than half! — of brands are seen as trustworthy. Thankfully, there are ways to bridge this gap, a huge one being user-generated content, which 79% of people said impacts their purchasing decisions. If you're looking to up your UGC game but aren't sure where to start, check out these 10 user-generated content examples that helped other brands drive massive brand trust.
1. Aerie
Fashion brand Aerie uses user-generated content brilliantly. They encourage customers and their ambassadors to post photos using the hashtag #AerieREAL, both spreading a message of body positivity and gathering authentic UGC they can repost on their own page (with permission, of course). They also have a UGC submissions page where people can share their unretouched photos for a chance to be featured.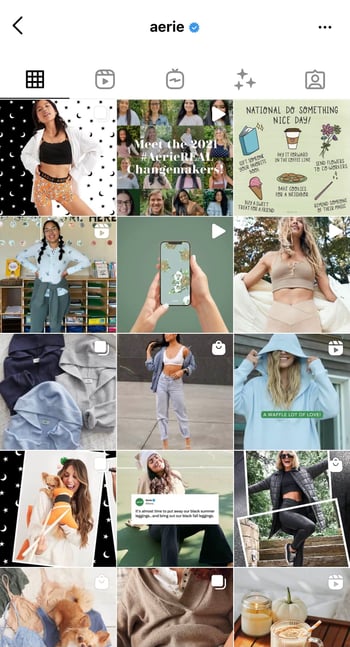 Aerie even sometimes uses this hashtag as both a UGC campaign and a charitable cause — in 2021, for every post using the hashtag, the brand promised to donate $1 to the National Eating Disorder Association, up to $100k. By doing this (and by keeping the tag relevant after that campaign has ended), Aerie is able to celebrate their customers while connecting to issues that resonate with them.
2. SEASUM Leggings
These leggings have gone so viral so many times, it's unclear exactly where the hype started. In late 2020, the SEASUM Leggings (otherwise known as the "SEASUM Honeycomb High Waist Gym Leggings Women Slim Fit Scrunch Butt Lift Workout Yoga Pants", or just the "Amazon leggings" for short) began appearing on the app as users tried them on and marveled at the "booty-lifting" effects.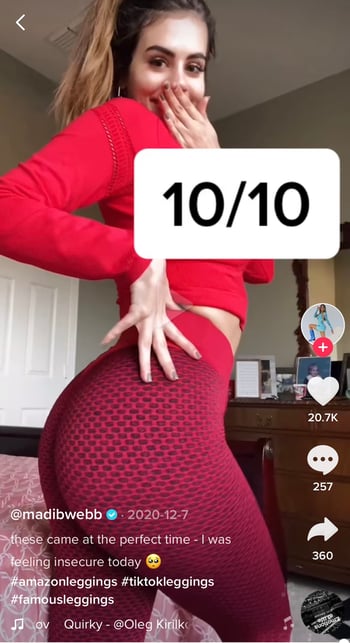 Many of these videos have a before and after, where users showcase their curves in a different pair of leggings before the SEASUM pair, and the visible results have caused TikTokers to flock to Amazon to purchase their own. This case is a fascinating example of a virtually unknown brand, that could have been lost in the noise on a massive online retailer such as Amazon, garnering a huge sales increase after a few TikToks began taking off. Consumers knew next to nothing about SEASUM before the leggings went viral, but once they saw their peers trying on and loving their product, that drove enough brand trust to place an order themselves.
3. Peter Thomas Roth
This recent example has made huge waves in the TikTok world, and it happened completely by accident! In August 2021, brand-new TikTok user Trinidad Sandoval, aka @trinidad1967 on the app, posted a hastily filmed clip of herself using her favorite under eye cream while getting ready for work. The cream impressed people so much that the video took off and now has over 5.3 million likes, selling the product out at numerous retailers almost overnight.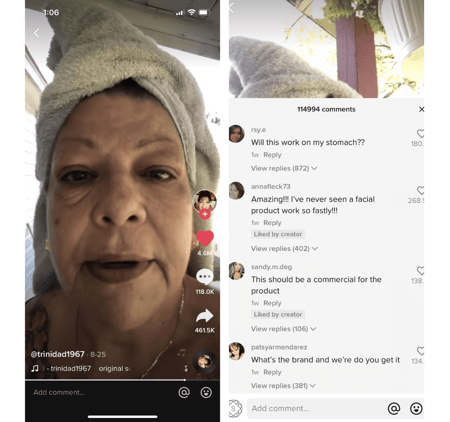 The kicker? Sandoval didn't show the product in her video, or even tell viewers what it was — it was only after she finally revealed it to be Peter Thomas Roth's Instant FIRMx Eye Temporary Eye Tightener in the comments section that drove massive sales. Both Sandoval and the brand itself have seen a gigantic uptick in followers since the TikTok went viral as well. Sandoval wasn't an established content creator, and this wasn't a paid partnership. This just goes to show how genuine, heartfelt user-generated content has the power to drive exceptional brand trust.
4. Little Moons
The hype around Little Moons is perhaps one of the best examples of how TikTok can drive food trends. What started with feta pasta and whipped coffee has led to major success for mochi (ice cream balls wrapped in rice dough) brand Little Moons. After a few videos about finding the sweet treats at Tesco went viral, Tesco reported their Little Moon sales were up a whopping 700%!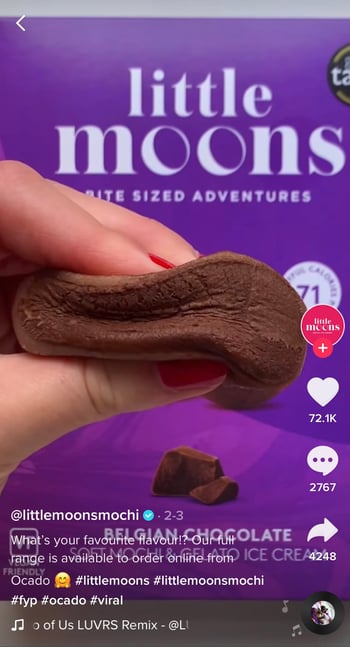 Little Moons turned a passing trend into something with real staying power by leaning into the popularity, using upbeat, popular audio tracks behind short clips showcasing the satisfying slicing and squishing of their ice cream balls interspersed with humorous sketches and in-store content. Now, they've gathered a devoted community of followers who love their videos, both for their delectable mochi nature and for their quirky brand personality. Since capitalizing on their UGC successes and amping up their own TikTok presence, their brand awareness and brand trust has gone through the roof.
5. Ole Henriksen
Skincare brand Ole Henriksen intersperses user-generated content into its brand Instagram and TikTok profiles, and on it's website to up its social proof. This content takes various forms, but the most common is a full skincare routine demonstration using Ole Henriksen products.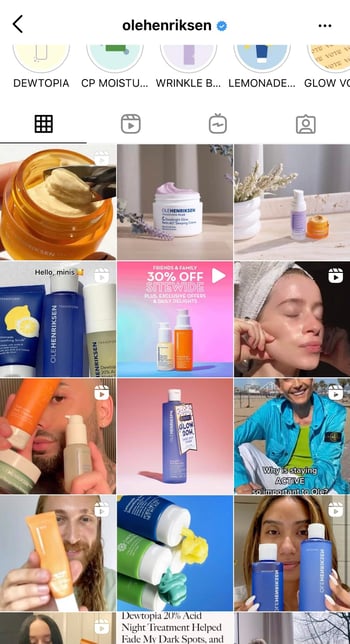 This kind of content delivers value both to the consumer, and to the brand. The consumer gains practical knowledge about using the products, as well as new recommendations for what to add to their regimen. Meanwhile, the brand is increasing their brand trust and reducing their social media team's workload. It's a win-win.
6. Under Armour
Sportswear giant Under Armour took to the UGC game a couple years ago, when it began incorporating reviews and images from previous customers into its website. This usually looks like embedding authentic customer images directly on product pages so consumers who are already interested in a product don't have to go far to find real people using the garment.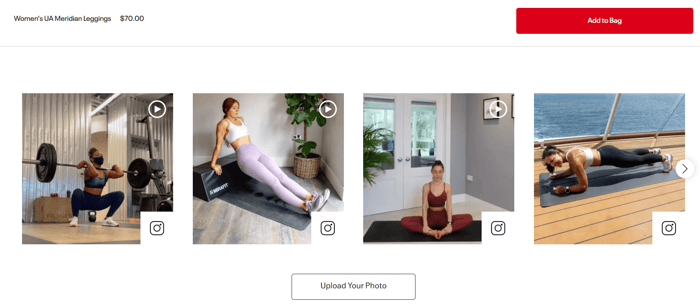 This example is for their Women's Meridian Leggings, so anyone interested in these leggings needs only scroll down a little to find a treasure trove of customers posting about their experience and, better yet, how well the leggings truly hold up in a workout. In today's consumer landscape, where only one-third of people trust the brands they purchase from, this kind of integration can prove massively helpful in increasing brand trust.
7. GoPro
GoPro's Instagram grid is all about celebrating the outdoors — that is, after all, what their adventuring cameras are made for. Their page actually contains little of their own marketing content; instead, they repurpose images and videos from their extended fanbase to showcase all the ways their cameras are used.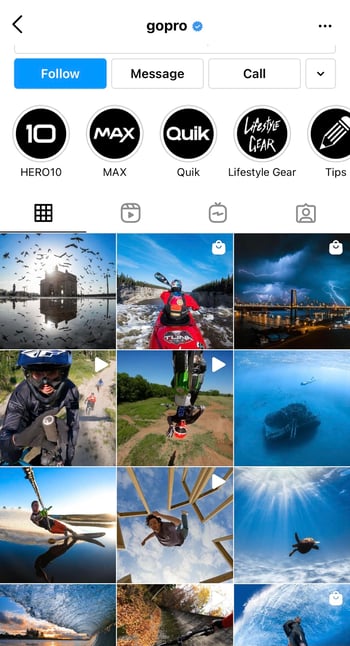 These breathtaking images don't just help to further social proof their already-popular cameras. GoPro is tapping into a marketing concept called aspirational identity, or playing into consumers' desires to become a certain type of person. GoPro's grid captures the attention of anyone who wants to explore, to travel, to broaden their horizons and take more adventures, and they infer that GoPro can help them become who they want to be. And with all that UGC front and center, they're reminded just how many other people love this brand already, and that drives brand trust.
8. eos
When TikTok user Carly Joy (@killljoyy on the app) was asked her secret to avoiding razor bumps on delicate body parts, she decided to share her favorite shaving product — eos's Shea Better™ Shave Cream — with hilariously colorful language, (proving TikTok is not your typical marketing channel). Her instructions to "bless your f****** cooch" and "get one smooth a** hooha" garnered over 5 million likes and caught the attention of the brand itself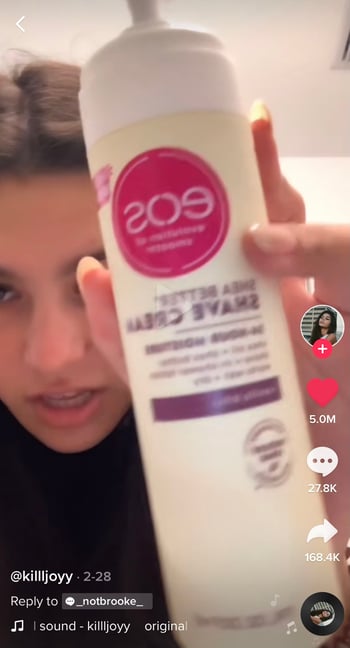 After seeing an increase in both website traffic and sales (450x and 25x, respectively), eos decided to fan the flames by creating a special collection of their original shaving creams in Carly-inspired packaging. The "Cooch Blessing Cream," as it's stated on the bottle, features hilarious callbacks to Joy's original video, including using her own colorful words as the instructions on the back. Joy was gifted a box set of this collection, and the resulting TikTok video capturing her reaction only served to continue the eos shaving cream hype.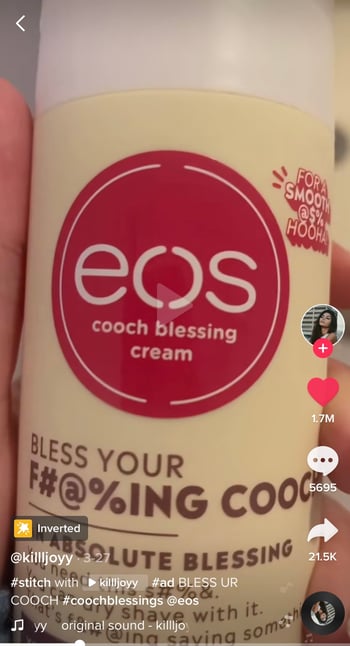 9. The Pink Stuff
CleanTok, the cleaning-obsessed side of TikTok, occasionally finds a product so miraculous, it makes its way to the mainstream. That's exactly what happened with The Pink Stuff, a goopy, bright pink paste that works as an all-purpose cleaner for almost anything.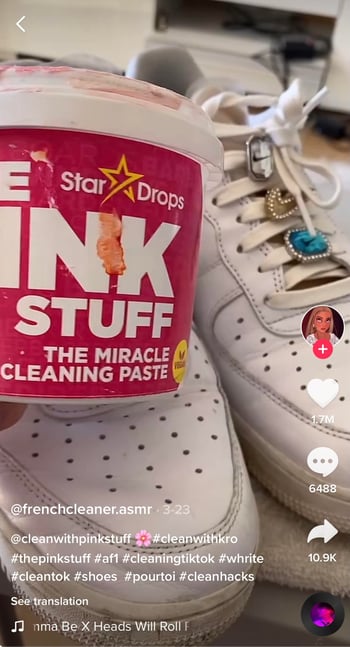 After clips of it being used by everyday people to clean their ovens, stovetops and bathrooms went viral, shoppers flocked to Amazon to try it themselves based on their peers' reviews. The product has spent the better part of a year as the number 1 bestselling all-purpose cleaner on Amazon, and currently has over 90,000 reviews adding to the hype.
10. CeraVe
Affordable skincare brand CeraVe found themselves struggling to keep up with demand for their facial cleanser after TikTok bought it out in droves. This hype appears to have been started by popular skincare influencer Hyram Yarbro who has reviewed CeraVe products a number of times on his page, but once a couple TikToks containing the product took off, sales really skyrocketed. Suddenly, everyone wanted this $10-12 face wash that was available at local drugstores.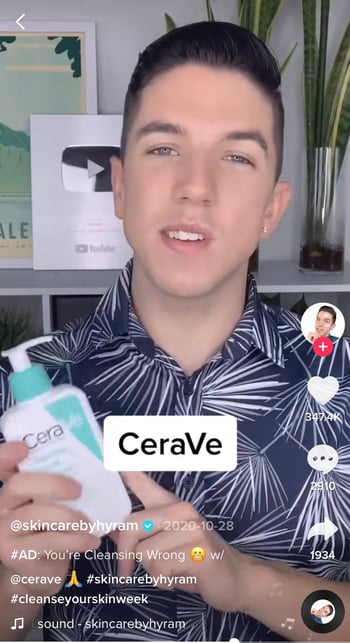 This is a brand that many folks might have already heard of or even possibly used before, but may not have had much to go on when the product was sitting next to 10 other facial cleansers from different brands. However, once it started trending on TikTok, users were able to recognize CeraVe more in public and had more purchase confidence when they went to buy.
Looking to harness user-generated content to increase your brand trust? Statusphere can help with that. Our team of dedicated influencer marketing experts take your vision and goals and handle the whole campaign for you, saving you from contacting, pitching, shipping to and following up with scores of influencers. Our reliable network of content creators can help you get your brand name out there and drive brand trust. Give us a shout today to find out how we can help you upgrade your brand's marketing strategy.