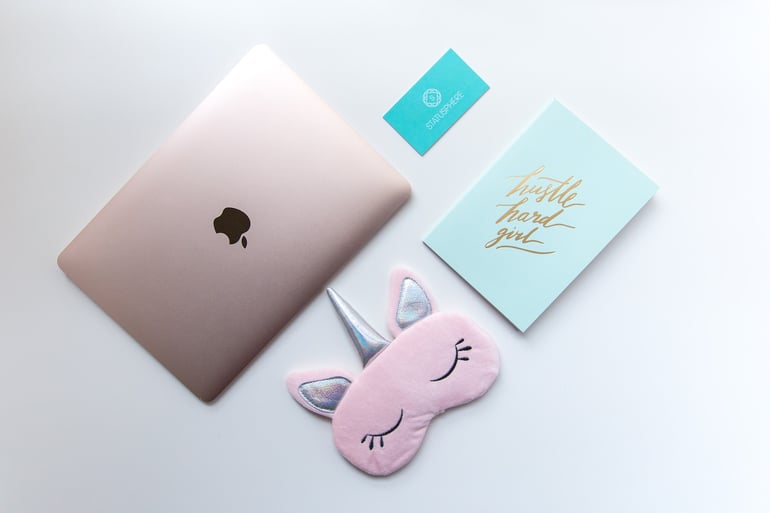 Feeling generous? Product gifting campaigns can help you get the word out about your product while also getting valuable feedback and reusable, user-generated content. Also, since the influencers are posting in exchange for the product, it helps bring authenticity back to your influencer marketing efforts since they aren't influenced by a high paycheck. We'll show you how influencer product gifting can get you authentic content about your product or service in no time.
1. Define a Goal: What Do You Want to Utilize Influencer Gifting For
Before you start your product gifting campaign, it's essential for you to determine what you want the campaign to accomplish. Having a goal will help you lay out the rest of your campaign, so make sure it's a solid foundation that makes sense with your brand's marketing goals overall. Here are some goals influencer product gifting can help with:
Product Launch: Gifting influencers your newest release is perfect for introducing it to the public. Pro tip: send out the products a couple weeks before the release and tell the influencers not to post about them until the release date. This way, influencers can spend some using the product and be able to immediately give a full, honest review when the product drops.

Increase Sales: Are there some products in your line that deserve more love? Sending out the hidden gems in your product line to influencers is a good way to get more exposure to products that are overshadowed by your best sellers.

Brand Awareness: If you're trying to generate more buzz about your brand or want to tap into a new market, gift influencers your best selling or most Insta-worthy product. Well-loved products will most likely get a positive review from the influencer.

Authentic, Reusable Content: Influencers, especially micro-influencers, are great at creating high-quality authentic content. The photos and videos influencers create using the products you gifted them can be repurposed later on your social media, website, ads and more. Be sure to work out a copyright agreement ahead of time to avoid any issues when reusing influencer content.
2. Decide What to Send Them
No matter what kind of campaign you're running, each step should be strategic. Consider these products that are good candidates for an influencer gifting campaign:
Product Value of $20+: The products you're gifting should have a value of at least $20. You want to make sure the product is worth the time and work that goes into making a post. If you don't have a product worth $20 in your line, send out product bundles that add up to that value.

Products That Are Easy to Ship: If a product is easily breakable, needs to be kept at a certain temperature or is too large to put in a small box, you should probably choose a different product in your line. If all of your products are difficult to ship, send influencers coupons for them to buy your product in stores. Note: If you do this, make sure you compensate the influencers for the time and money they had to spend to go out and purchase your product. A gift isn't a gift if it's not free, right?

Products with Cool Factor: Influencers love showing their followers the next new thing. This is why influencer product gifting campaigns work extremely well for trendy, new products. If your product has a "cool factor" you can get away with sending a lower priced item - this is why branding is so important.
A few other things to consider before you get the ball rolling on your influencer gifting campaign would be:
Is your brand name or logo clearly visible on the product you picked?

Will the influencer have enough product to fully test the results?

How photographic is the product?
Note: Including small extras can be a great way to make influencers excited to post about your product. Things like sample sizes of another product you offer, personalized packaging or a handwritten thank you note help your brand stand out. These small extras also show you really care about the influencer past using them for this campaign.
3. Identify Audience and Influencers to Target
With 25% of influencers ghosting after receiving a gift to promote, it's important to make sure that you pick the right influencers for your brand who will actually care about your product. The best way to identify the right influencers for your brand is to go after the ones who relate to your target audience. Here are some key tips to follow for identifying your target audience and influencers:
Know who your audience is, their age, their buying habits and interests before you pick your influencers.

Use networks and previous partnerships with influencers to learn what kind of content your target audience engages most with, what kind of messaging they react well to and what kind relationship they like to have with brands they follow on Instagram.

To find influencers: search hashtags, look through geo-locations, check your own followers and use influencer search tools. Check out this blog for an in-depth explanation for each of these methods!
Think about it: asking a yoga lifestyle blogger who doesn't have children to post about cloth diapers isn't a good idea. The more your chosen group of influencers' social posts align with your product, the better the match and the less likely they are to leave you in the dust.
4. Contact and Pitch Influencers
Influencers' first impressions of you greatly impact whether or not they'll work with you. It's not hard to spot a disingenuous brand on Instagram, so be friendly, be professional and be specific with what you want. By the time the influencer finishes reading your first DM or email, they should have a clear understanding of what's being asked of them. Here's what you should include in your pitch:
Introduce your brand and what you're all about

Tell them what you like about their content and why you think they'd be a great fit for your brand

Specify the product you'd like to gift them and what kind of content you'd want them to post (photos, videos, Instagram Stories, etc.)

Give them a time frame of when your campaign will be running

5. Send, Engage and Follow Up
With the initial planning phases of your campaign complete, you're ready to launch!
Send: It's time to get your gifts into your influencers' hands. As we mentioned, personalizing the packaging and including custom thank you notes make a huge difference. You know what they say about first impressions. Be sure to let your influencers know when you've sent out their gift so they can look out for it!

Engage: When your products are in the influencers' hands, be sure to follow up with them and let them know you're excited to see their posts. Don't forget to like and comment on the influencers' posts to show you value their work and you're engaged with the community.

Follow Up: Once all the gifts have been sent out and the influencers have posted, don't let that be the end of your relationship with them. It's important to keep in touch and show the influencers that they're valued, which will make them want to continue working with your brand past a one-off campaign. Keep in mind, as your brand grows, so will your micro-influencers, and working in paid opportunities that benefit the both of you later on is always an option.

Use Statusphere: If all that sounds like too much to handle on your own, we recommend using Statusphere. At Statusphere we handle everything from influencer communication, match-making, shipping and reporting so you don't have to!
By following these steps, you'll be ready to run a killer influencer gifting campaign and foster some amazing influencer relationships. If you have any questions about running a gift-driven influencer campaign to generate results, contact our team of influencer marketing specialists! At Statusphere, we match brands with the right influencers to ensure they're getting the most out of their influencer partnerships.