After the turbulent year 2020 has been for businesses and consumers alike, this is the perfect opportunity to refresh your brand's marketing strategy for 2021. From virtual product sampling to transitioning into a post-COVID-19 world, we want to make sure you're ready for everything the new year has to offer. That means looking at your company goals, communication strategy and transparency practices are crucial. Here are 7 consumer behavior predictions for 2021 to get you started.
1. Consumers will engage more with memetic marketing
Social Media Today

predicts that in 2021, messaging will become more memetic. And given that

55%

of 13-35 year olds are sending memes every week, marketing efforts should be adjusted to better connect with younger consumers as their interests change. For example, you can incorporate memes or fun graphics that follow a trend into your Instagram feed. At Statusphere, we found that we get great engagement on Insta posts involving zodiac signs. So we made a series of posts like the one below, pairing zodiac signs with different types of coffee for National Coffee Day. (For fun social media holidays you can celebrate, check out

this blog

!)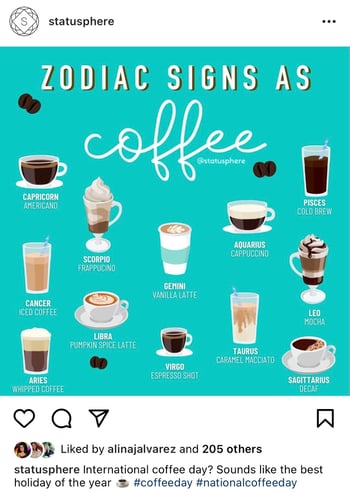 2. Consumers will continue to veer towards virtual product sampling
We're not out of the woods yet with COVID-19. As brands put precautions into place, consumers are still leaning more and more towards virtual product sampling. A great example of this is Beauty Bakerie—they created their virtual foundation finder where users can find their perfect shade using the service on their website.
Read up on ways to bring your in-store marketing efforts online or how your brand can try virtual product sampling during COVID.
3. Consumers will express more concern for health and safety
Ernst & Young have reported that 26% of surveyed consumers put brands who express concerns for health and safety over brands who do not. 57% are more likely to pay attention to how products affect their health before buying them.
What does this mean for you? Be open and communicate! Consumers want to know what you are doing to keep them and your employees safe. This is the perfect opportunity to build a better relationship with your target audience and earn their trust.
4. Consumers will pay more attention to brands that excel with transparency
Transparency is everything right now. Health, safety and social issues are at the forefront of most consumer's minds and the actions companies are taking are under a microscope.
A study by Accenture has shown that 48% of U.S. consumers who are disappointed by a brand's action/lack of action on a social issue will speak out about it. We suggest keeping your target audience in the loop on all your socials. Let them know what your brand is up to and what your values are.
5. Consumers will consider the values of the brands they are supporting
Edelman recently did a survey to report that 64% of consumers across the world will buy or boycott a brand based on its social and political stances. Between COVID-19, the Black Lives Matter movement and increasing inclusive representation across the nation, people are placing more of their energy into supporting brands that uphold the same values as they do.
Actions speak louder than words. Instead of putting your marketing efforts towards saying that you care, consider volunteering some time or making a donation to charities and organizations that need a hand. People will spot performative social activism just as quickly as not saying anything at all.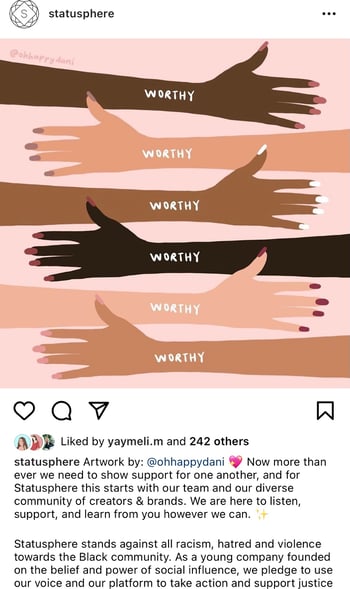 6. Consumers will look to support more small businesses and BIPOC-owned brands
According to Ernst & Young, 59% of consumers are more interested in shopping locally and supporting their community. With the impact COVID-19 has had on small businesses, we can expect shoppers to put their money back into the businesses owned by their friends and neighbors before large corporations. This is especially true for BIPOC-owned businesses as buyers begin to look for more ways to support diverse brands.
7. Consumers will increasingly shop sustainable brands
An incredible 72% of Gen Z will reportedly spend more money on brands that are known to be ethical and sustainable. Pairing with this, sustainable apparel is up 139% and vegan products are up 116%.
Young consumers are focusing more and more on lessening the negative environmental impact their dollar has. IBIS World estimates that by 2028, sustainable clothing will have become larger than fast fashion. It may be time to take a look at your brand's environmental footprint and see what you can do to lessen your impact. You can even consider going after a Leaping Bunny certification!

If your brand is ready to prepare for these consumer behavior predictions, utilizing micro-influencers is a great way to start. At Statusphere, our team of specialists is ready to help you integrate influencers into your marketing strategy so people start talking about your brand (in a good way). Click here to get in touch and tackle 2021 with confidence!