TikTok
33 TikTok Statistics to Share with Your Marketing Team ASAP
If you've been wondering who is on TikTok or how people are using it, this blog is for you. We share 33 key TikTok stats your marketing team needs to know.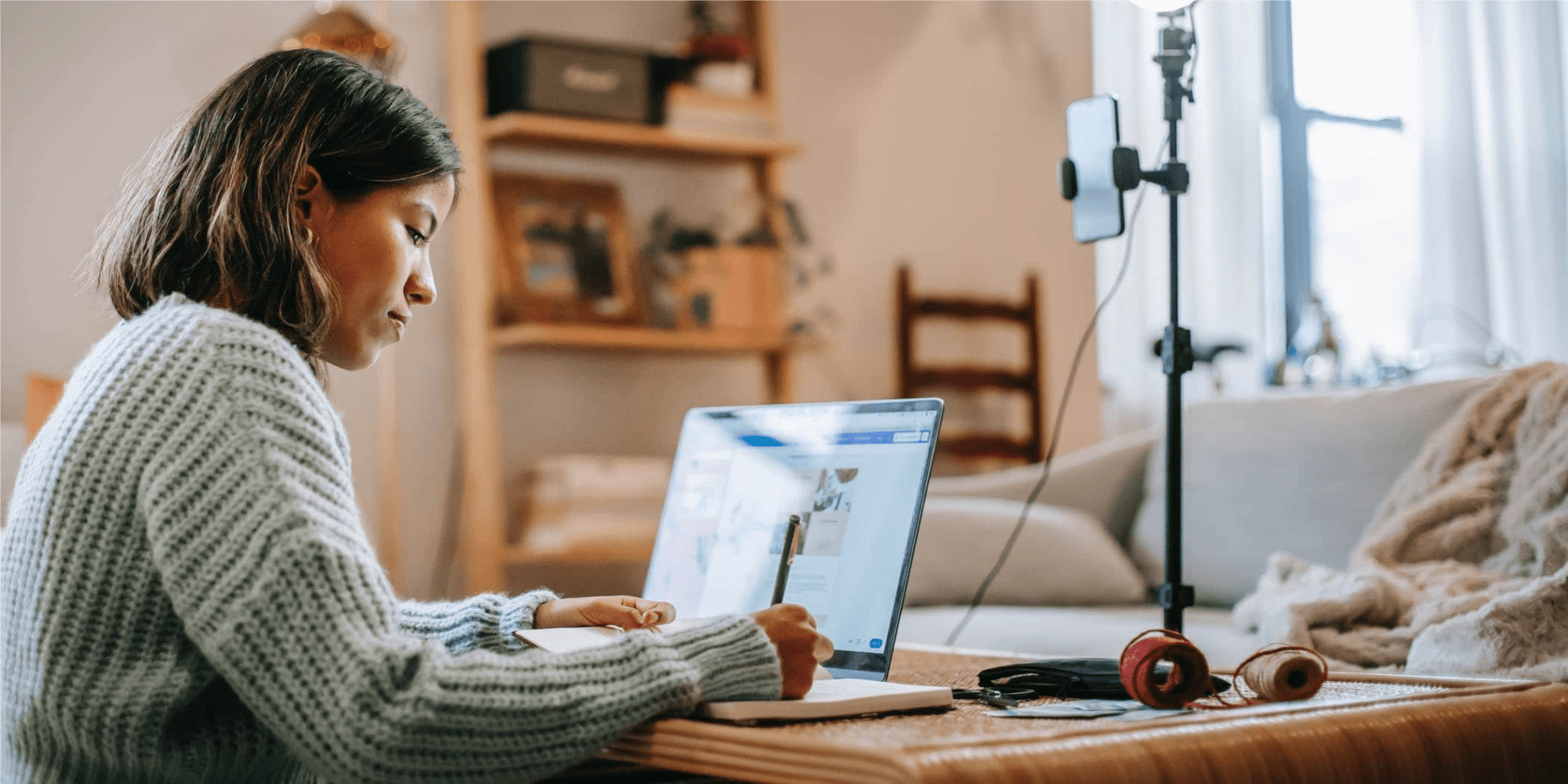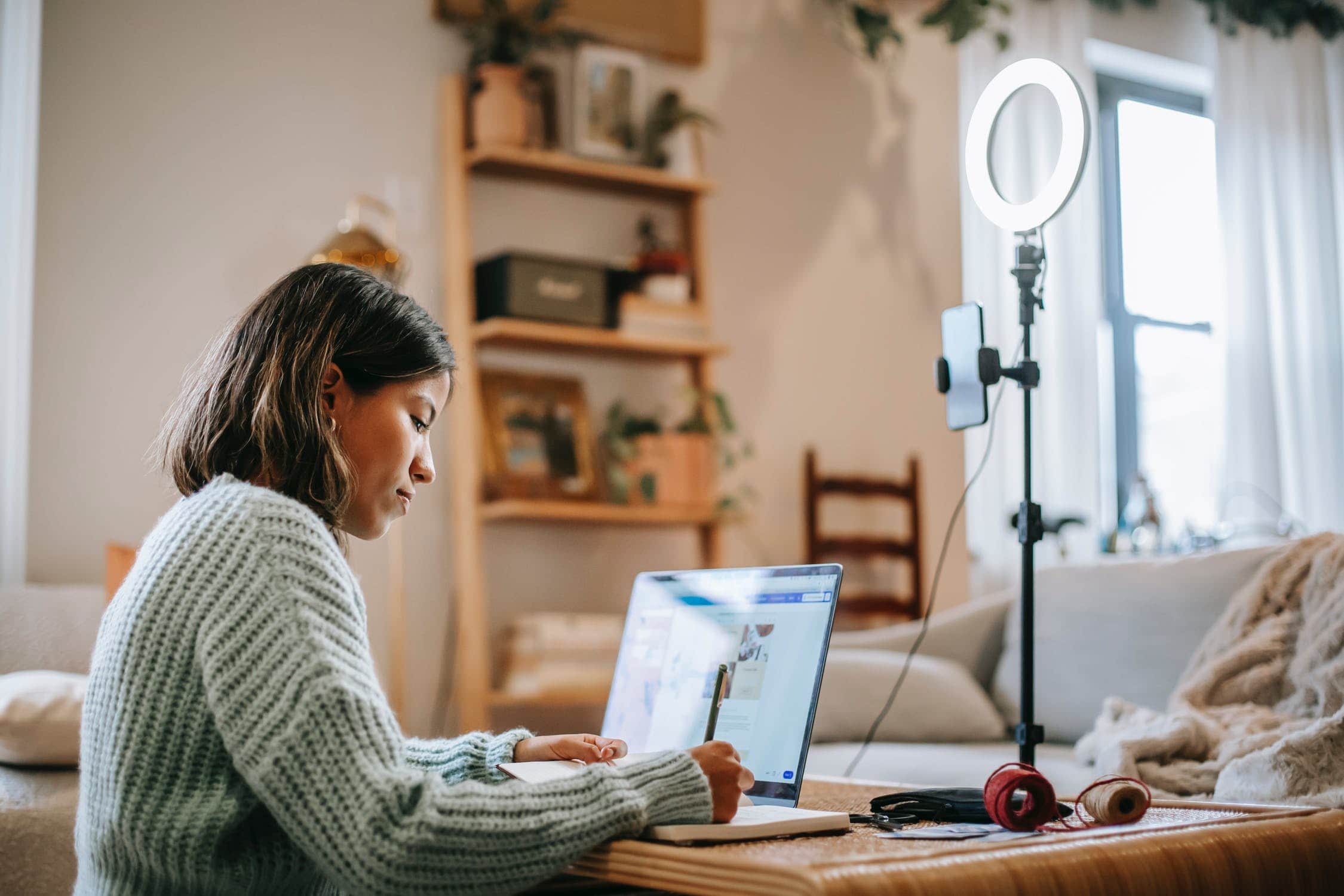 Ready to review the latest TikTok stats for 2022?
It's no secret that TikTok is the go-to social platform for brands and consumers right now.
But the degree to which TikTok is growing and driving sales is truly staggering.
From sky-high engagement rates to influencing purchasing decisions, the numbers don't lie when it comes to the value of TikTok for brands.
Below we've broken down 33(!) TikTok statistics and key takeaways for marketers looking to master the platform.
Skip to a Section 👇
TikTok Usage Statistics
The popularity of TikTok speaks for itself. Recent TikTok stats highlight how the platform has rapidly evolved from an "up-and-coming" network to a staple social platform alongside Facebook and Instagram.
1. The fastest-growing social network in 2022, TikTok's annual user growth rate (18.3% in 2021) is almost 5x higher than Instagram's (3.7%).
Source: eMarketer
TikTok's growth is notable because of how quickly the platform is outpacing its competitors. Whereas Facebook and Twitter have essentially reached their ceilings TikTok has plenty of room to gain new followers.
And as Instagram's new user growth rate slows, TikTok is surging.
Meanwhile, new features such as TikTok Stories signal how the platform is attempting to peel people away from Instagram.
2. According to internal TikTok data, TikTok users spend an average of 89 minutes per day on the platform.
The bingeable, scroll-friendly nature of TikTok is key to keeping people glued to their screens. For brands looking to engage social shoppers, TikTok represents a unique opportunity for exposure.
Long-term, TikTok also has the potential to evolve into an entertainment platform that actually cuts into YouTube's dominance of social video.
3. TikTok saw an 88% increase in planned investment among brands in 2022 — the platform represents marketers' top priority above YouTube, Instagram and Amazon.
The business case for TikTok is clear. From billions of dollars in Amazon sales to the 11+ billion hashtag views on #TikTokMadeMeBuyIt, the platform is prime for social selling in addition to building brand awareness.
With so many users checking the app multiple times per day for long sessions, companies active on TikTok can make meaningful, ongoing touchpoints with their target audience.
TikTok has quickly cemented itself as a priority network behind Facebook and Instagram for brands. Whereas it took eight years for Instagram to earn one billion monthly users, TikTok achieved the same milestone in just five. Wild, right?
TikTok Demographics and Audience Statistics
TikTok has earned its reputation as the social platform of choice for Gen Z. While audience demographics will likely skew older as the network grows and evolves, TikTok stats currently confirm that they're crushing it with the younger crowd.
5. 25% of TikTokers are teenagers or younger (and 47.5% of the platform's users are under the age of 30).
Again, there's no disputing TikTok's status as a "young" social network. The platform's demographic data reflects this pretty plainly.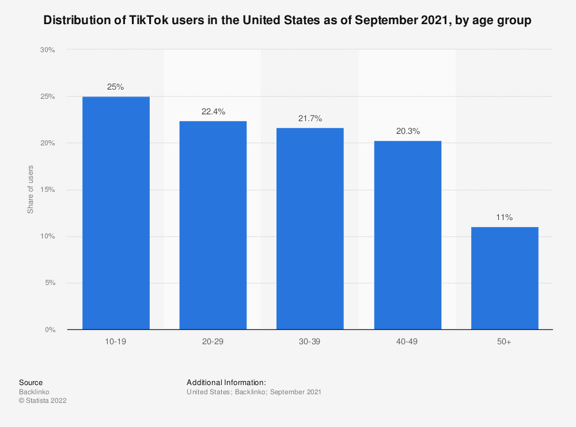 Source: Statista
Still, TikTok has been attracting an older audience and may continue to do so as more people get on board. Even if your brand doesn't cater exclusively to "the kids," there may still be a place on TikTok for your brand.
7. Currently, TikTok's gender demographics are 61% female and 39% male.
TikTok's gender breakdown isn't as stark as Pinterest's. That said, the dominance of female users on TikTok is notable versus platforms like Instagram where there's currently a near-even split among genders.
8. TikTok (37.3 million) now boasts more Gen Z consumers than Instagram (33.3 million) in the US.
Despite the popularity of Instagram Reels, TikTok has succeeded in gaining the upper hand in the battle of short-form video platforms.
9. Female users aged 18-25 represent TikTok's largest target demographic (25%) for advertisers.
Younger women are far from the only demographic on TikTok. Still, this statistic highlights how effective targeted advertising is among this particular group.
TikTok Engagement Statistics
With so many new brands and consumers flocking to the platform, marketers are rightfully concerned with their TikTok engagement rate. The statistics below highlight observations from both brands and TikTok themselves about what drives engagement.
10. Brand engagement rates on TikTok are exponentially higher than competing social platforms — the average TikTok engagement rate for brand profiles sits at 5.96%.
Falling engagement rates on Instagram, Facebook and Twitter have consistently plagued brands over the years. By contrast, the average engagement rate on TikTok for brands is leaps and bounds above what we've come to expect from organic social.
Why, though? Consider that TikTok isn't just about consuming content — the platform is built around the concept of community. Frequent interactions result in higher engagement rates, plain and simple.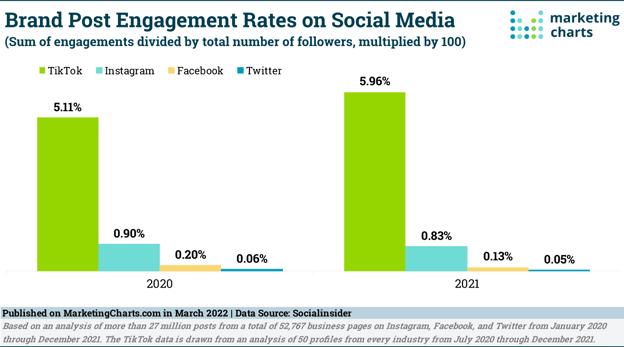 Source: MarketingCharts
11. 88% of people on TikTok report that the platform's sound and music features are central to the app's overall experience.
The average TikTok post is brimming with entertainment value thanks to the platform's extensive Music Library. From brands, this is a sign not to skimp on audio when it comes time to brainstorm your next post.
12. The top and most-used hashtags on TikTok saw an impressive 12% engagement rate in 2021.
Exploring ways to incorporate top and trending hashtags in your videos can boost your TikTok engagement rate.
If you haven't already, make sure to explore and review TikTok hashtags that make sense for your brand. Hashtag views can likewise indicate whether your audience has an interest in a specific content category or topic.
13. 96.96% of video views on TikTok come from the platform's "For You" page.
Quick recap! TikTok has two main feeds:
The "Following" page that featuring videos from people you follow

The algorithmically-curated "For You" page where TikTok presents content that they

think

you'd be interested in
The "For You" page is the main source of viral TikToks and trends, not to mention where you want to wind up if you're a brand.
14. TikTok videos in the beauty industry saw 186% overall growth in 2021.
Beauty brands are slaying on TikTok right now.
How-tos, tutorials and beauty challenges represent some of the most popular videos across the platform. If you're in cosmetics or skincare, TikTok should be a top priority.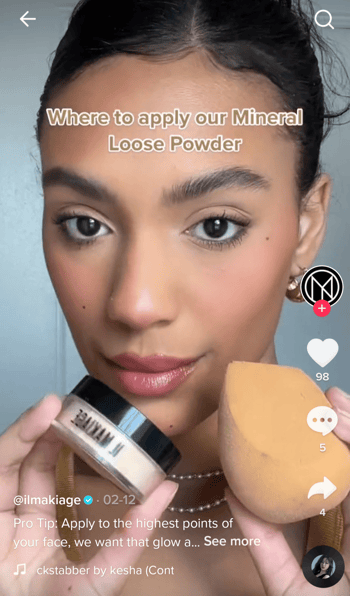 Source: @ilmakiage
TikTok Marketing and Consumer Statistics
The most striking TikTok business statistics revolve around just how much the platform influences and encourages social shopping. Brands and consumers on TikTok are putting products front-and-center throughout their content strategies. This is in direct contrast to competing platforms that had to "ease into" the realm of ecommerce over the years.
15. 39% of Gen Z consumers claim that TikTok directly influences their purchasing decisions.
Viral, must-have products pop up every day across TikTok. Becoming a viral trend is easier said than done, but there's no denying that TikTok is a prime place to raise awareness and get more eyes on your products.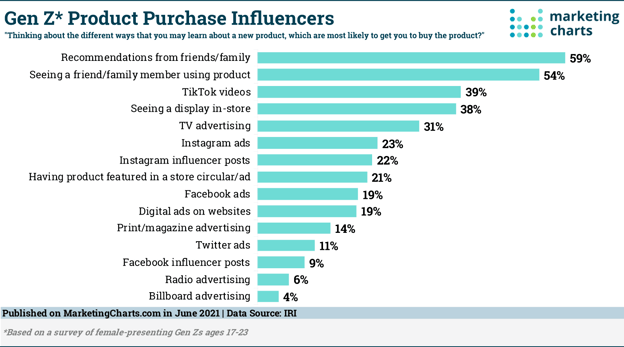 Source: MarketingCharts.com
16. TikTok-specific branded content is the best way for companies to connect with consumers (according to 62% of users).
TikTok is totally unique from any other social network (minus Reels). With a totally different target audience and vibe versus competing social platforms, try to make sure your TikTok content isn't frame-by-frame recycled from your feeds elsewhere.
If you want to effectively cross-post and republish your social content in a way that actually works on TikTok, check out our guide to repurposing user-generated content.
17. The three biggest drivers of content discovery are the desire to "discover something new" (49%), "learn something new" (35%) and find "inspiration" (29%).
When creating branded content (and even ads!), try to check off at least one of these boxes. Anything you can do to spark interest or motivate your audience is a plus.
18. TikTokers are 1.7x more likely to discover products on the platform versus competing social networks.
Think of TikTok as its own sort of social product discovery engine. Again, products go viral organically all the time and TikTokers aren't shy about recommending their latest purchases.
19. TikTok users are 1.4x more likely to purchase a product from a brand they find on the platform.
TikTokers are naturally inclined to seek out "what's new" and brands are definitely in the mix. For example, an influencer or creator sharing a product can start a chain reaction of other shoppers doing the same.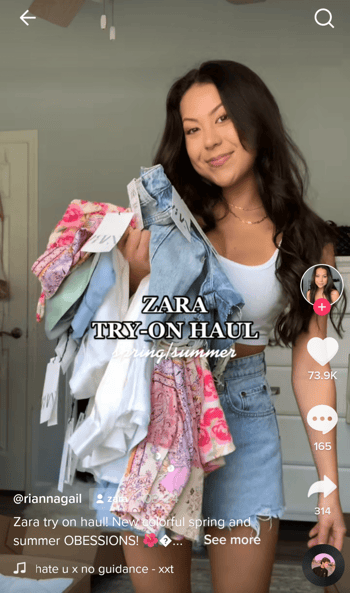 Source: @riannagail
20. TikTok users are 1.5x more likely to share purchases they've made from the app.
When people discover something they love on TikTok, they're not shy about sharing it with the world. Brands selling physical products (think: beauty, CPG, fashion) should take advantage of the share-happy nature of TikTokers.
In short, anything you can do to blend entertaining content and products in action is a plus.
21. Versus competing social networks, TikTok users are 2.4x more likely to make a post and tag a brand after buying a product.
TikTok is the perfect place to both source and share user-generated content. This includes customer videos, reviews and product recommendations. With creator permission, you can republish and promote your UGC to win over even more customers in the future.
22. 73% of TikTok users feel a "deeper connection" to brands they interact with on the platform.
It's so important to lean into TikTok's community-driven experience.
Make a point to interact with your followers. Heck, crack a joke or two! Having a sense of humor and distinct personality go hand in hand with growing on TikTok.
23. On TikTok, 80% of users claim that the platform helps them get ideas about brands and products they'd never considered before.
Creativity counts on TikTok! The popularity of "hacks" and TikTok hashtag challenges highlights the importance of showing off your product in the most creative way possible.
TikTok Creator Statistics
Creators are among the biggest drivers of social commerce at large and the same rings true on TikTok. Piggybacking on the TikTok marketing stats above, the power of influencer content on the platform is well-documented.
24. Micro-influencers with fewer than 5,000 followers see the highest engagement levels on TikTok (17.9%).
Makes sense, right? Micro-influencers on TikTok are more personable, approachable and likely in touch with your brand's community versus "bigger" influencers. Higher TikTok engagement levels are an added bonus for brands looking to work with up-and-coming creators.
25. 78% of TikTok users claim that the best brands on TikTok work alongside everyday users.
Again, TikTok's platform is ideal for creative collaborations. There's a reason why the best brands on TikTok make collabs with influencers, TikTok celebs and even random followers a cornerstone of their content strategy.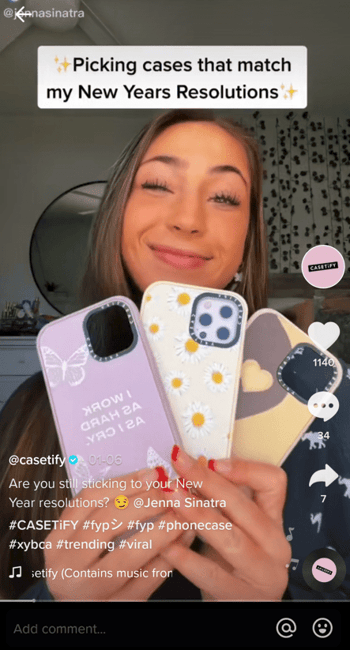 Source: @casetify
26. Influencers are the top source of brand and product discovery on TikTok for luxury goods (34%).
Consumers trust other consumers more than marketing messages. Filtering your brand's message through a content creator is a smart move, even for premium products.
27. 68% of brands running influencer marketing campaigns in 2022 are investing in TikTok as part of their strategy.
This one's pretty self-explanatory! TikTok represents an influencer marketing hub of active creators and eager consumers looking for their next purchases.
TikTok Advertising Statistics
Between creator partnerships and so many types of TikTok ads, brands are spoiled for choice when it comes to promotions. To wrap up our TikTok stats, let's walk through the growth of platform-specific advertising and what makes a top-performing ad.
28. 67% of TikTokers say the platform has inspired them to shop (even when they weren't looking to).
Translation? TikTok is the perfect place to win unplanned purchases and on-the-fly impulse buys. Organic content and TikTok ads alike can help big-time here.
29. TikTok ads featuring creators earn 91% higher two-second view rates versus non-creator ads (8%).
Creators represent a powerful way to encourage viewers to stop scrolling, pause and take a look at what your brand has to sell. This explains the popularity of creator-based advertising campaigns throughout the platform.
30. TikTok ads based around creator partnerships also earn a massive 83% higher engagement rate versus non-creator ads (12%).
The presence of creators likewise encourages more conversation around any given video. This results in an uptick in views, interactions and potential sales.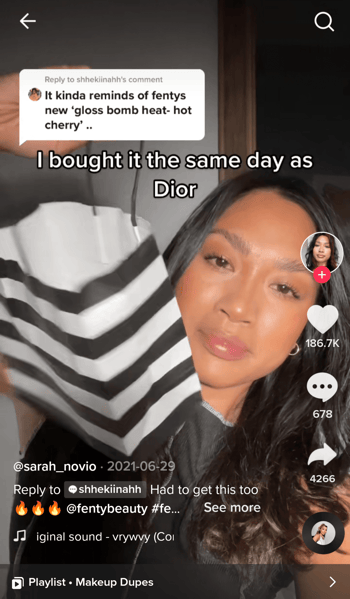 Source: @sarah_novio
31. TikTok generated $4 billion in ad revenue in 2021 (and is looking to triple that number in 2022).
Given the rising cost of Facebook and Instagram campaigns, many brands are turning to TikTok ads. Thankfully, TikTok is consistently introducing new advertising and business features to support brands' social selling efforts.
32. For beauty brands, ads featuring comedy cues or products in action result in 24% more videos watched until the end.
No matter your industry, we recommend incorporating some humor or visual demonstrations into your content strategy (hint: creators can help here).
33. 39% of TikTokers say "lifting spirits" is a key factor in deciding whether to buy a product on the platform.
We can't stress enough the importance of inspiring and delighting your audience on TikTok! This stat highlights how doing so can actually translate into sales.
Which TikTok Statistics Stand Out to You and Your Team?
The key takeaway from the TikTok stats above? The platform is booming with opportunities for marketers and brands.
Creator partnerships. Eye-popping ads. The list goes on and on.
And we get it — so much to do, so little time.
The good news? Working with creators and building awesome campaigns doesn't have to be a time-sink.
That's where Statusphere's full-service platform comes in. We handle your TikTok creator collaborations from start to finish. From getting your product in people's hands to collecting killer video content, you can scale your social presence without giving up your schedule.
Ready to learn more? Chat with us today to find out how we can help boost your brand awareness on TikTok ASAP.
This article was first published on November 19, 2020. Last updated: March 9, 2022.