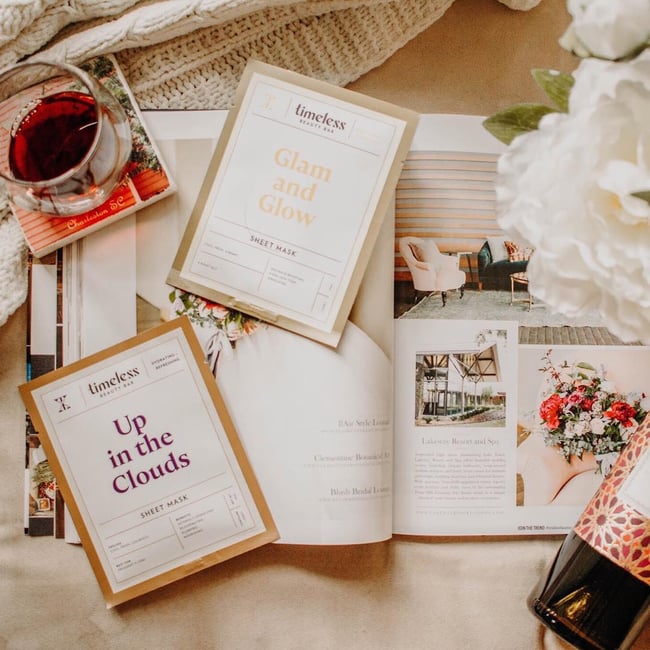 No matter what phase you're in, beauty brands of all sizes should try to attend at least one makeup convention a year. Making the trip can help you connect with potential customers, network with influencers and check out what's trending in the industry. We've compiled info about the top makeup conventions in the U.S. so you can find the right event for your brand!
1. Cosmoprof | June 28-30 Las Vegas
Cosmoprof is most suited for companies in the maturity phase that are seeking more B2B interactions. This cosmetics and personal care event showcases the latest products in makeup, skincare and fragrance. The event also features equipment, materials and furniture to be sold to licensed professionals for their salons, spas or storefronts.
A third of the convention floor is dedicated to Cosmopack, which gives attendees access to packaging suppliers for your products and services. Because of the B2B focus of the event, this one is great for brands to go to as either exhibitors or attendees.
1-Day Ticket: $115
3-Day Ticket: $170
Education Session: $75-$85
2. Beauty Experience | March 8-10 New York
This large-scale trade show is open to professional members of the beauty industry. Appealing to beauty brands in the growth or maturity phase, the Beauty Experience aims to develop your skills and quality of work. With access to over 500 exhibitors, this makeup convention offers hands-on workshops, free classes and opportunities to interact with international industry educators.
If your target audience consists of professionals, not just beauty enthusiasts, this is the convention for you. Plan to pitch why your products could elevate a makeup artist's kit or deserves a spot in a retail location. The opportunity to connect with overseas brands and distributors can certainly take your company to the next level too.
All Access Expo Pass: $99
Business Building Pass: $225
Business Workshops: $295
3. IMATS | Sept. 1&30 New York
For beauty brands in the growth phase wanting to tap into a more professional-based market, IMATS will have the right opportunities. The International Makeup Artist Trade Show is targeted toward professional makeup artists, whether in commercial, film or broadcast industries. This convention used to attract influencers and beauty hobbyists, but since the rise of conventions like Beautycon, IMATS is back to its professional roots.
IMATS offers classes and demonstrations to learn about new techniques and trends in the beauty industry. If you'd rather show than tell, IMATS is the perfect place to show your products in action.
General Admission: $95
VIP: $175
4. Beautycon | Aug. 1-2 LA | Oct. 31-Nov. 1 NYC
For brands that are in the growth phase and want to tap into the influencer and beauty enthusiast markets, then Beautycon is the place for you. Every year the convention brings in about 30k attendees and houses almost 200 exhibitors. Here you'll see leaders in the industry like NYX, MAC, and Anastasia Beverly Hills, just to name a few. This convention is known for elaborate brand booths and interactive customer experiences to draw attention to their new products and collections, so come prepared.
This convention is perfect for networking with large companies, and the ability to scout and interact with well-known influencers. As a brand in the growth phase, Beautycon's high attendance rate means you'll have the opportunity to get your brand in front of a ton of potential customers.
2-Day General Admission: $99
2-Day Hauler: $249
2-Day Hauler+: $599
2-Day Executive: $1999
Some tickets include early entrance and exclusive access to social lounges — be sure to check all your options!
5. Premiere Orlando | May 30-June 1 Orlando
Premiere Orlando is an international tradeshow with nearly 70,000 attendees, and the exhibits at this trade show are especially effective since they combined with an integrated marketing strategy. Premiere's social media reaches nearly 3 million people, therefore it's a show with extremely wide exposure, allowing an immense amount of exposure for your brand!
Student 2-Day Access: $60
Student 3-Day Access: $70
Professional 2-Day Access: $75
Professional 3-Day Access: $80
6. IndieBeauty Expo | May 13-14 Dallas | Aug. 26-27 New York
If you are a startup brand with a very niche market, IndieBeauty Expo is the place to be. From products made with natural ingredients and even fully vegan options; IndieBeauty Expo supports the growth and success of independent beauty brands and entrepreneurs. The expo could be a stepping stone for your brand, allowing opportunities to introduce your products to a large audience, including bloggers/influencers and interested buyers in specific markets.
All-Access Professional Pass (Non-Exhibitor): Starting at $542 per day
For some of the most innovative brands we spotted at Indie Beauty Expo LA 2020, check out this blog!
No matter what stage your brand is in, attending a makeup convention can be a major opportunity. Each convention offers a unique experience and benefit for brands looking to expand. Plus, they're always a fun break from the office. Want more information on how to grow your brand with strategies that actually work? Check out Statusphere!