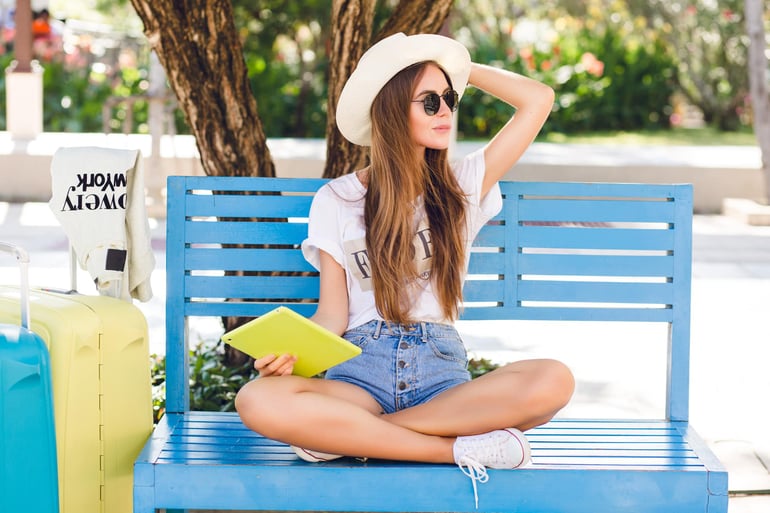 So you've found an Instagram influencer who would be a perfect fit as an ambassador for your brand. Now what? When it comes to pitching brand ambassadors on Instagram, you should always be genuine. The best way to do this is to customize your messages to each potential ambassador. It may seem tedious, but by paying attention to a few key details, your message will go a long way in the eyes of the influencer. Here are our tips for crafting the perfect pitch.
Where to Contact Them
Instagram brand ambassadors typically have three ways available for you to make contact: DMs, email and contact forms. For direct messages, keep your initial message short and sweet. You can always add more detail once the conversation has started. If your offer needs to include more detail, send an email. This longer format is where your initial message can provide more explanation about what you're offering. If they have an active blog, you can submit a contact form with a message so your potential ambassador can reach out to you in whatever way they're most comfortable.
Ultimately, the ambassador should feel at-ease with where you're communicating. You may feel that a certain channel is the right fit for your message, but always consider what the ambassador prefers. Do some research into where they want to be contacted. If they state it explicitly in their bio, always abide by that. If not, consider where they're most active before drafting and sending an offer.
When to Contact Them
Time zones are a tiny detail that could make all the difference when reaching out to an Instagram brand ambassador. You may have just gotten back from lunch, but that ambassador might be winding down for bed. Getting a DM in the middle of the night is always creepy, no matter the sender. Always be mindful of what time your influencer will receive the message and aim to reach out during their time zone's business hours.
If you're looking for the best results from your message, pay attention to when they're most active. What time do they normally post? When do you see them updating their Instagram Story? If you can reach out during one of their active periods, you'll see a quicker, more engaged response.
How to Sell Your Pitch
Knowing how and when to contact your influencer is only part of the process. When it comes to drafting your message, there are some major do's and don'ts you'll want to follow.
Messaging Do's
Be different. People love your brand because it is unique from other brands in the market, and you should use that while you're pitching! You don't want to try too hard to make your brand seem "cool," it comes off as unnatural and the influencers you're pitching will notice.
Stay true to your brand. You're reaching out to them because of the genuine connection they have with their followers. So make a genuine connection with them too by incorporating your brand's voice into your pitches. Remember, ambassadors are likely to respond better to authentic personalities than a fabricated one, just like their followers.
Show that you care and did your research. Explain why you're interested in partnering with them while giving them the offer details. You can make a connection by throwing in a fact about your product that coincides with their brand. Consider complimenting one of their recent posts that you liked. (Flattery with context works!) This gives the influencer confidence that your brand has taken the time to ensure that this partnership will be valued.
Follow up. Remember to follow up with them if you haven't received a response. Your ambassador may have missed your email or simply could have forgotten to respond. Following up shows you care about the potential partnership and could get you that reply!
Messaging Don'ts
Avoid being corny. Absolutely avoid messages like, "HAYYYY Girrl, love the feed aesthetic, *heart eyes emoji*, wanna try out our totally awesome product that will change your LIFE?" Messages like this are an immediate turn-off to brand ambassadors.
Don't waste their time. Keep the message focused on the pitch and brand centric. You want it to be natural, but don't neglect the purpose of your message.
Brand ambassadors are powerful members of your team who can make all the difference in getting your brand's name out there. Make sure you're reaching out to them efficiently and effectively. Need help reaching out to the right ambassadors for your brand? Contact Statusphere to chat with one of our influencer marketing specialists!