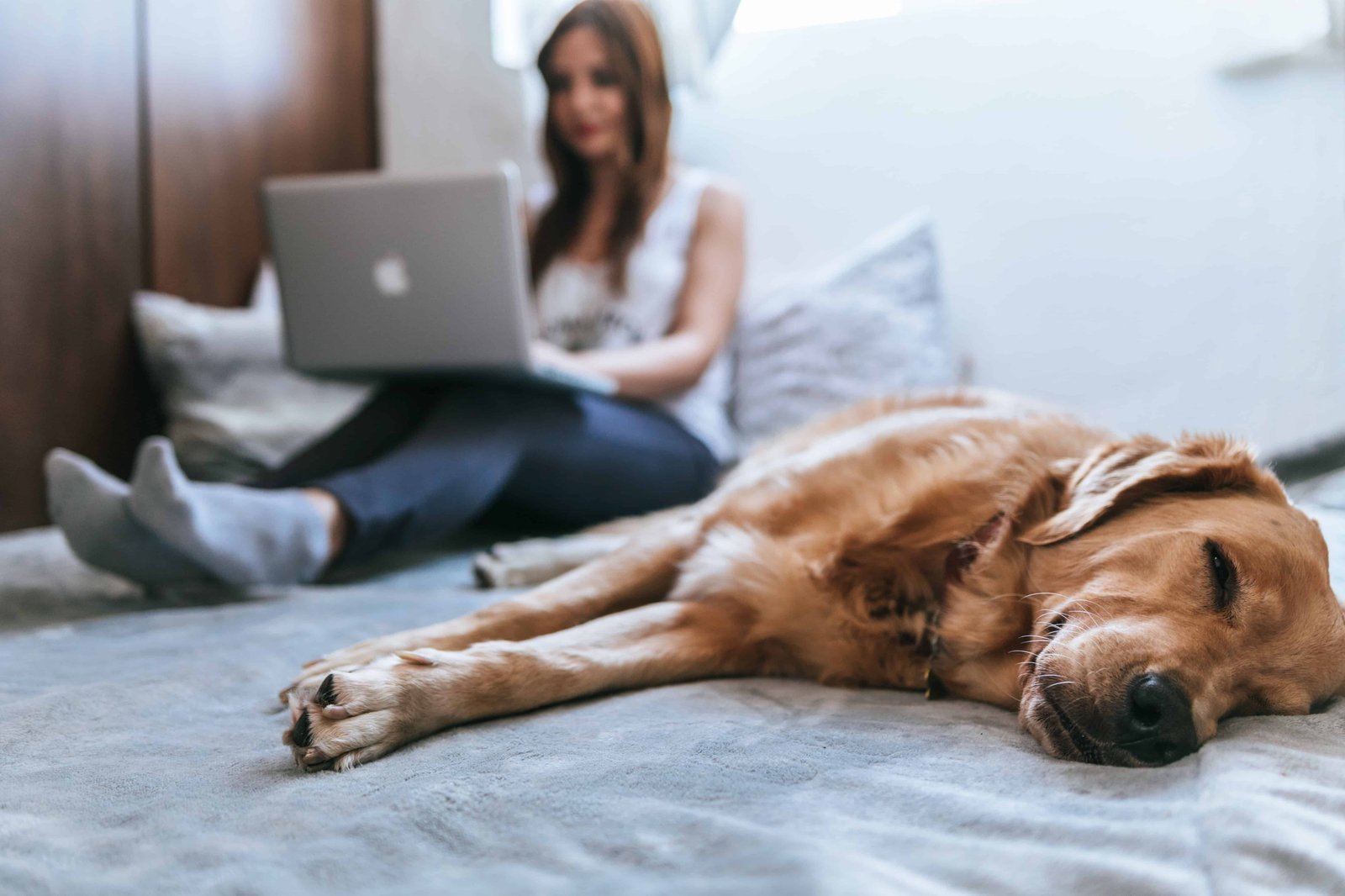 It's almost 2022 and ecommerce is here to stay! U.S. retail ecommerce revenue has been steadily growing over the past few years, and that growth is only projected to increase. Projections say it could go up more than 7%, reaching 502,577 billion dollars by 2022. This is great news for brands who have their ecommerce marketing strategies mapped out and optimized for conversions! Looking for ways to capitalize on this growing space? Here are our recommendations on how to increase your ecommerce conversion rates.
1. Provide an accurate preview of your products
When it comes to online shopping, one of the most important things to consider is that prospective customers don't get to physically experience your products until after the transaction is done. That's why it's essential to give people as much information as possible about your products to increase their purchase confidence and ensure they have a positive experience with your brand. One way to do this is by using high-quality images and videos on your product pages and including as many as possible!
For products like makeup or even shoes, another great way to offer potential customers a preview of your product is to use virtual try-on tools. Check out Ulta's GLAMlab for a great example!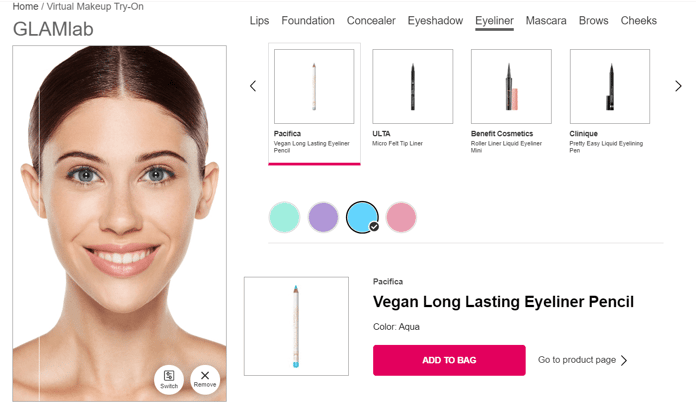 This is a feature added to their website which asks customers to allow access to their camera, or to use one of Ulta's stock pictures (as seen above), and select a product to try on. From there, they can see the makeup applied to their face in real-time!
Using these tools can help consumers make purchases with greater confidence and makes your brand more competitive in the ecommerce space. After all, knowledge is key when it comes to increasing ecommerce conversion rates – and what better way to do that than by merging digital with reality!
2. Make sure your website is easy to navigate
This may seem like a no-brainer, but it's so critical that it's worth mentioning. A fast website with well thought out UX is a must in order to facilitate the online shopping process! Make sure you have tabs with different sections such as "Home," "Shop," "About Us," that are clearly differentiated so customers know where to go if they want to learn more about your brand or shop for your products. Additionally, make sure you have an accessible search bar so users can search for specific products or needs within your website.
If consumers have to spend too much time and energy trying to find what it is they're looking for on your website, you'll likely lose their business. If your product is targeted toward a very specific need, you can also allow customers to shop by category. Curl Keeper incorporated this tactic into their website by creating a "Shop Curl Type" tab (pictured below). Other brands can take a similar approach, categorizing their products by skin concerns, skin types, food sensitivities, styles and more.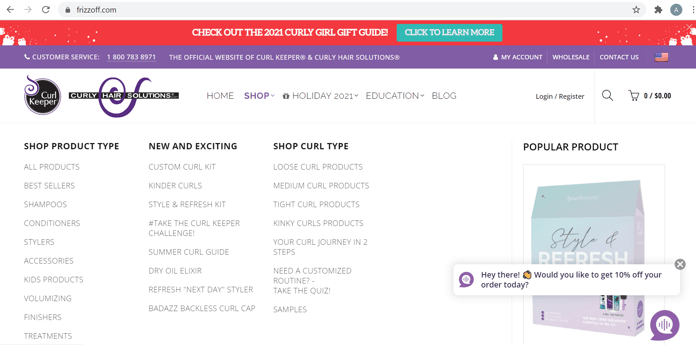 Whether you decide to use different categories or not, don't forget to get creative and consider your customers' needs first. After all, your objective is to get as many people as possible to navigate your website smoothly and make it to the end goal: your checkout page!
3. Apply C2C marketing tactics
Consumer-to-consumer marketing (or C2C) is a marketing methodology that focuses on consumers discovering brands they'll love from people they trust. While businesses and marketers are often seen as having something to gain by recommending their products, recommendations from consumers are perceived as authentic and more trusted. In fact, 92% of consumers trust recommendations from other people — even people they don't know! — over brand messaging.
One C2C marketing tactic that can be very effective is incorporating user-generated content into your website and on social media. This can take the form of asking customers to post reviews, or to share photos or videos of them using the product to their own social accounts. Once you have permission to use this content, you harness it to increase conversion rates by displaying it everywhere a consumer will encounter your brand – from your own social media accounts to your website product pages. Websites with UGC have 20% more return visitors than those without and on-site reviews have been shown to increase conversion rates by 74%! These are both great ways to outshine any competing brands with less built-in social proof.
Unsure of how to incorporate UGC into your website? Here are 3 social hub software to display UGC on your website.
4. Meet customers where they are
Some customers might have their first encounter with your brand through social media. Giving them the option to shop your products seamlessly, without having to leave that site and search for your brand can help you capture the conversion. Having your Instagram Shop set up is a great way to enable seamless social commerce transactions which can lead to higher ecommerce conversion rates. And Instagram isn't the only platform jumping on the social commerce bandwagon.
Recently, TikTok also launched its own social commerce platform called TikTok Shopping. Essentially, brands with a business account will be able to add a storefront tab to their profiles, allowing consumers to browse their entire catalog in one place. Additionally, brands can tag products in their own videos, giving viewers a one-click route to their featured products!
What does this mean for your brand? TikTok has long been a tool for product discovery, and this new feature allows potential customers to purchase the product, seamlessly, the moment they discover it. So it's safe to say that, if the option is currently available to your brand on TikTok, setting one up can only lead to good things.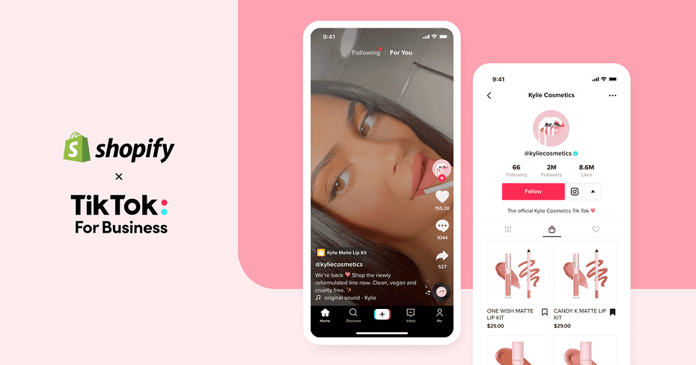 5. Simplify the checkout process
Approximately
68.7% of online shopping carts are abandoned
with causes spanning extra fees, account creation requirements, lengthy checkout processes and more to blame. Having too many steps or fields to fill out can make the purchase process exhausting and even lead consumers to abandon their shopping carts. By making your checkout process short and simple, you can encourage customers to complete their check out more often. You can also do things like wave fees, offer incentives for carts that reach a certain dollar amount, wave account setup requirements and more.
Some of these recommendations will take longer than others. If you're looking for a fast and effective way to begin optimizing for ecommerce conversions, gathering user-generated content to incorporate into your marketing funnel can be an easy way to start. And you don't have to figure it out alone. We can match your brand with creators who are interested in your products and get them to create UGC for your brand. We even handle product shipping, creator communication and more. Schedule a time to chat with our consumer-to-consumer marketing experts to learn how we can get creators generating UGC for your brand.