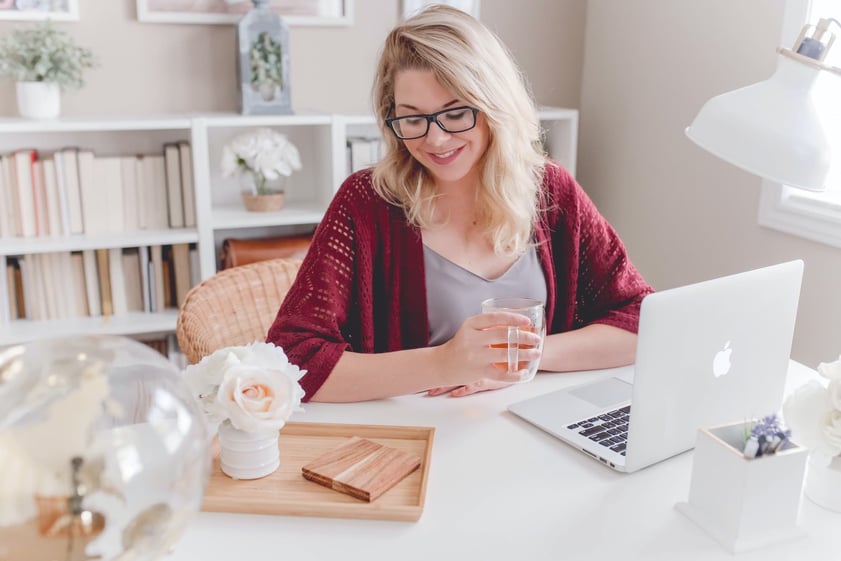 Instagram has made it easier for users to purchase products they discover within the app, with Instagram Shops. Instagram Shops (also known as Instagram Shopping) allow brands to sell their products directly from the app, with 130 million users tapping on shopping posts every month. In this blog, we highlight what an Instagram Shop is, a step-by-step guide on how to set up an Instagram Shop for your brand and some examples of brands using this tool.
What is an Instagram Shop?
Much like an online storefront, Instagram Shop allows users to shop for products from your business profile page. This tool allows brands to display their product catalog on their profile and includes features that allow brands to promote their products to Instagram users through posts, stories, the "Shop" tab on their profiles and even the Explore page.
Here's a look at how the Shop tab features products: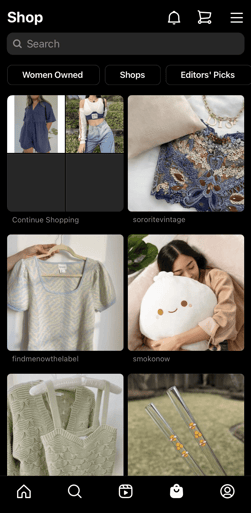 To find the Shop tab, click the shopping bag icon next to your profile image at the bottom of the app. This is the 'Shop' icon. From here, you'll see the shop main menu with product suggestions based on accounts you follow or products the algorithm may think you're interested in.
The main menu also features listing options like 'Editor's Picks' and 'Women Owned' that filter out specific products based on those niches.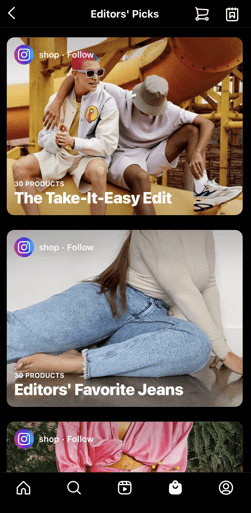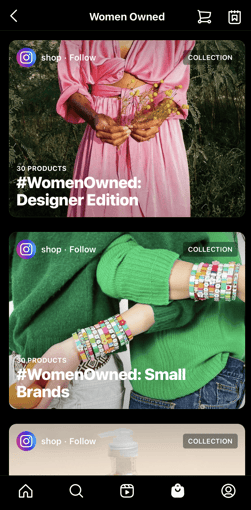 Users can also click the hamburger menu on the top right-hand corner of the Shop to view thier Wishlist, Orders & Payments, Shopping Activity, and to discover more Instagram Shops, Editor's Picks, Collections and more.
From your brand's business account, you can tag Instagram Shop products in your posts like you would tag another user, adding a little shopping bag icon onto your image.
This allows shoppers to view the price of your product when they tap the image. Clicking on this tag will also redirect the user to the Shop page where they can bookmark the product, add it to their cart, or view the product on your brand's website from within the Instagram app and make their purchase. Users can also click on the "View Products" tag to explore and discover even more products from the brands' Shop.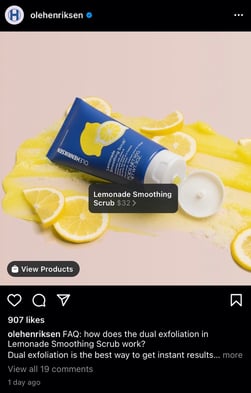 Steps to Set Up your Instagram Shop

1. Make sure you're eligible
To use Instagram Shop, you can only sell physical products and your brand must comply with Instagram's commerce guidelines. You must also be located in a country that the feature can be accessed and own a website domain from which you intend to sell.
2. Convert to a business account and connect a Facebook page
In order to use Instagram Shops you will need to have a Business Account or a Creator Account with Instagram and will need to connect a Facebook page.
To switch to a Business Account: From your profile, go to "Account Settings" and select the option to "Switch to Business Profile." By clicking this, you will be asked to log into a Facebook account within the app, and either select a Facebook page that you're an admin of or create one.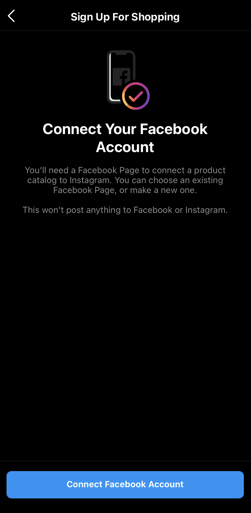 To connect a Facebook Page: If you already have a Business Account but need to connect a Facebook Page go to "Settings" and tap "Business," then click "Set up Instagram Shopping." After that you can select the Facebook account you've already linked to your page and select a category your Shop falls under, like "Product/Service" or "Shopping & Retail." Then follow the steps that are left and you're done!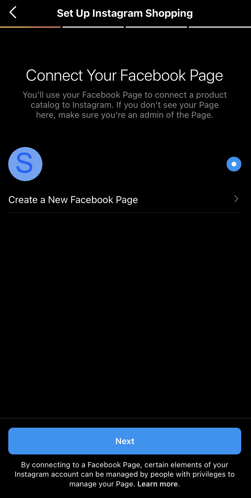 3. Upload your product catalog
Instagram allows you to upload a product catalog in two ways:
Through an e-commerce platform partner, using a platform like Shopify or BigCommerce.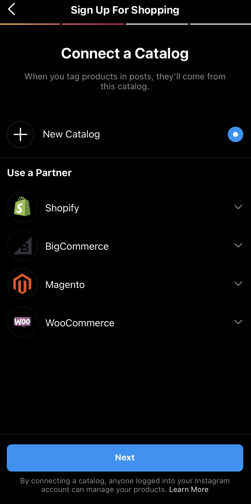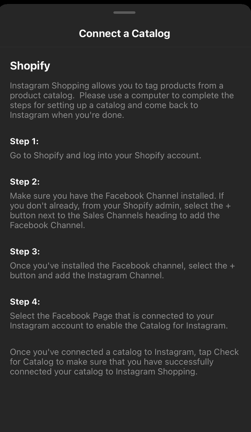 Or through Catalog Manager

, creating your own catalog by providing the link to your website.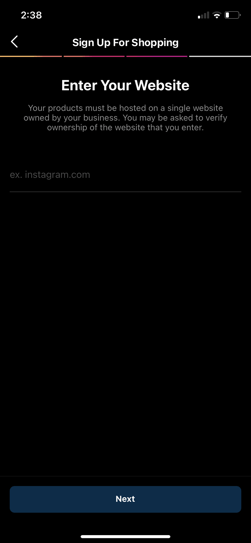 4. Wait for your account to be approved
After you finish setting up your account by connecting your product catalog, Instagram will need to review your account and approve it. Here are some things to note:
Account reviews typically take a few days, but can take longer.
Sometimes Instagram will require businesses to provide additional information that verifies ownership of their website domain. If your business receives this notification, follow the steps to complete domain verification and resubmit the account for review.
You can check your approval status by going to "Shopping," and then "Settings."
5. Turn on Shopping
After your shopping account is approved you can turn on your shopping features! To do so you'll need to:
Go to your brand's Instagram profile and tap the hamburger menu in the top right corner.
Select "Settings"
Select "Business" and then select "Shopping"
Select the "Product Catalog" you would like to connect
Tap "Done"
And you're done!
Integrating these Instagram tools to can help your brand take advantage of rising social commerce trends and drive sales through social media. With your products now even easier for Instagram users to buy, all you need is a powerful marketing strategy to drive users to your products. Not only can Statusphere connect your brand with micro-influencers who will create high-quality content that will get potential customers excited about your products, but we'll also manage the entire influencer marketing campaign for you from start to finish -- from shipping your products to the influencers to generating reports and more.
Contact Statusphere today to get in touch with one of our influencer marketing specialists today to see how we can power your next marketing campaign.