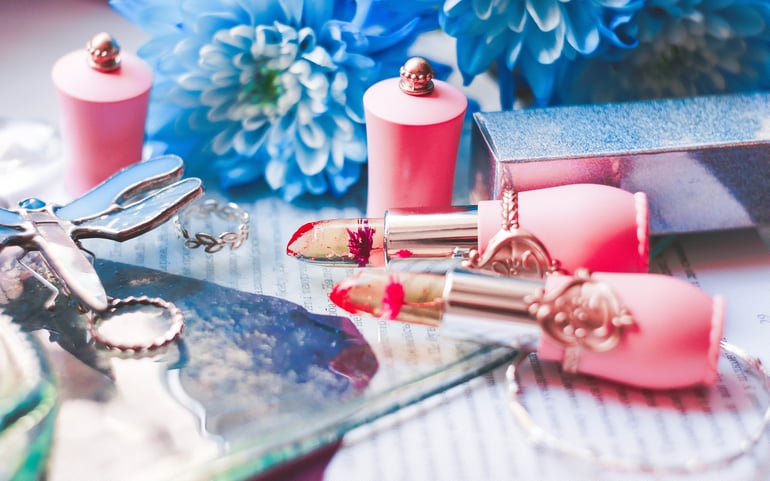 Interested in running an Instagram giveaway for your brand? They're a great way to expand your brand's reach and generate more engagement from your followers. Running a giveaway can be a big commitment, but luckily plenty of brands have done it first so you can see the benefit before you try for yourself. That's why we made a list of 5 examples of Instagram giveaways from the experts to ensure that your giveaway will be just as successful.
E.l.f. Cosmetics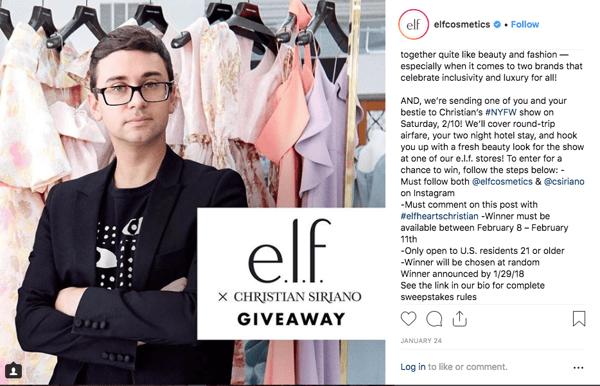 Every 2 to 4 months, e.l.f. runs a giveaway through their Instagram. Followers have a chance to win blush, primers, brushes and more just for following the account and leaving a comment on the post. For this giveaway, e.l.f received almost 3,200 comments as giveaway entries. Not only was this great engagement for the brand, it boosted the follower counts for both e.l.f and the designer they were collabing with. E.l.f hits all the major points in the photo caption by clearly explaining the rules and details of the giveaway.
It's clear that e.l.f's frequent giveaways are helping their brand grow a loyal and dedicated following. Even though not all 3.9 million followers can win, the opportunity makes them feel appreciated and keeps them coming back for more.
Fabletics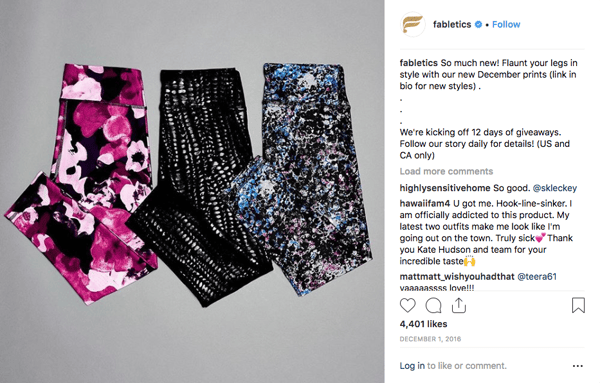 Fabletics is a sportswear and leggings brand whose giveaways aren't on any kind of schedule, so they are a fun surprise to followers who probably weren't expecting one. One of their most memorable giveaways was in celebration of the brand reaching 500k followers on Instagram. Fabletics gave away $500 for 5 days to thank their followers for supporting them.
Check out how they mention "Follow our story daily for details!" in the post caption. This is a great strategy because it keeps their followers engaged everyday and watching their Story.
OCHO Candy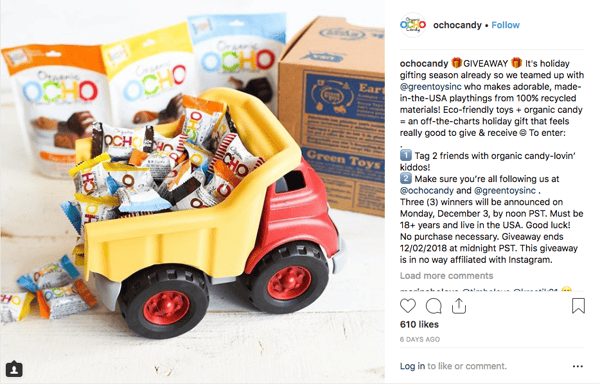 OCHO Candy is an up-and-coming food brand focused on providing organic alternatives to popular candy bars. To celebrate the holiday season, OCHO partnered with an eco-friendly toy brand to host a giveaway for their followers. Participants had to follow both brands and tag two friends in the comments section. Note their strategy: As a brand with 7,000 followers, OCHO partnered with a larger brand with almost 37,000 followers! OCHO's giveaway post got 610 likes and 600 comments, which is noteworthy engagement for a brand of their size.
OCHO Candy is a great example of a small brand crushing the giveaway game and seeing the value in it to benefit their business. Strategic partnerships are a great way for smaller brands to utilize giveaways to establish brand identity, get engagement and grow their following!
Kopari Beauty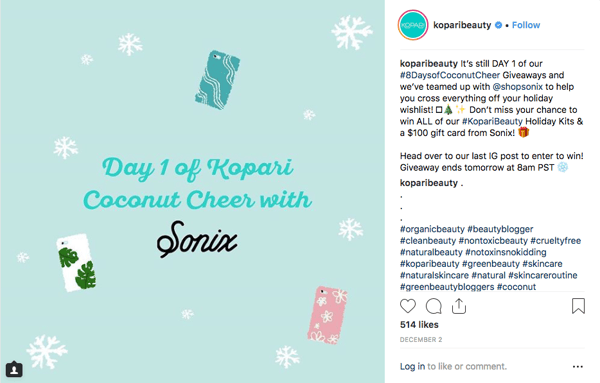 Kopari is a coconut-based beauty brand using giveaways to show appreciation for their followers. To celebrate the holiday season, Kopari teamed up with other brands to host 8 days of giveaways! To win, their followers had to be following Kopari and the co-sponsoring brand of the day, like the photo, and tag a friend in the comments. Those participating were granted bonus entries if they posted the giveaway photo on their Instagram Story and tagged Kopari and the co-sponsoring brand.
Kopari made the giveaway rules clear and easy to follow so their followers knew what they'd need to do to win - plus they are being encouraged to come back for more chances to win during #8DaysofCoconutCheer! Including the opportunities for bonus entries was a strategic way to extend the brand's reach by getting featured on their followers' Stories. Not to mention getting tagged by entrants also helped boost their engagement!
The Beauty Spy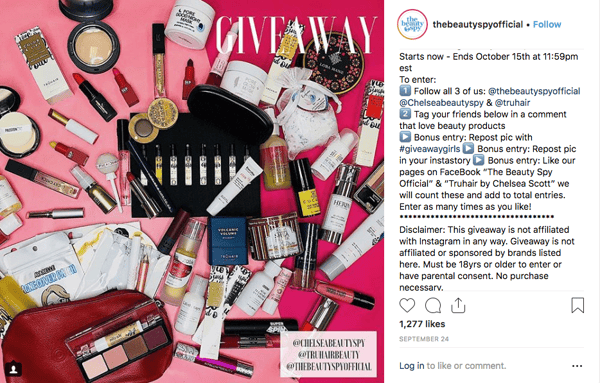 This international brand is focused on bringing makeup to its consumers from around the world. The brand hosted a giveaway for a massive bag of free products to one lucky winner. While the instructions to enter featured the usual follow and tag-a-friend approach, the opportunities for bonus entries helped boost the brand's engagement and extended their reach.
Followers had a better chance of winning if they reposted the giveaway photo with the unique giveaway hashtag, reposted the giveaway photo on Instagram Stories and liked the brands on Facebook. This approach not only put the brands in front of new audiences, but it helped grow their followers on Facebook too!
So many brands are competing to grow their followings and engage with their audiences. If you're interested in growing your social media following, check out Statusphere to learn more about how micro-influencers can help you promote giveaways and new products to people you want to reach.