Actionable Tips for Attending a Beauty Trade Show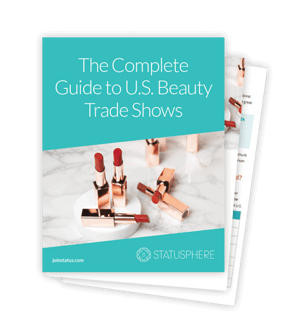 If your brand hasn't attended a beauty trade show yet, this is the year to change that. Why? Because trade shows are the perfect way to connect with your target audience in person, meet retail buyers, network, tap into the influencer marketing world and so much more.
As a brand, you need to know exactly what it is you plan to accomplish at the show you're attending to get the most out of the experience and to make the trip worth the cost.
In this guide, we'll break down the top beauty trade shows held in the U.S. with 2020 dates so you can decide which ones best suit your company.
Then we'll cover everything you need to know for budgeting and planning as an exhibitor, complete with a planning checklist to make the process a breeze! We know planning to attend a trade show can be overwhelming for a brand, especially if it's your first time attending one, so skip the stress using our guide.
Disclaimer: Due to COVID-19 some of these health and beauty trade shows have been canceled or rescheduled. We've included virtual experiences you can still check out at the end of the guide!