If you've been on Instagram lately, there's a good chance you've seen advertisements for beauty products. However, much of this advertising isn't being done the traditional way. There's no denying that there's been a huge shift in the way brands do marketing. Today's consumers don't want to be interrupted by ads and often go out of their way to avoid them. This has caused the rise of native marketing methods, including influencer marketing.
These influencers are people that have already gained their followers' trust through their creativity, personality and authenticity. Social media influencers are content creators, and partnering with the right ones can gain great exposure for your brand. Beauty brands especially are beginning to take on the new route of influencer marketing, and already, they are seeing the payoffs. Here are 7 of our favorite beauty brands that are winning the influencer marketing game:
1. Glossier
Glossier is making waves all throughout the social media-sphere, and they have micro-influencers and superfans to thank for that. For Glossier CEO Emily Weiss, it's thanks to the "regular women" who promote their brand so devoutly. They offer a referral program to influencers so they can provide discounted products to their network of followers. Loyal ambassadors of Glossier have enabled the brand to flourish in the mere three years of its existence.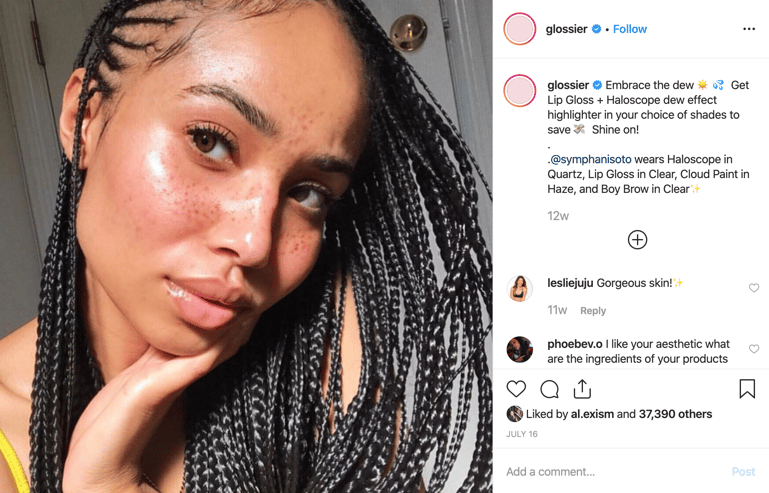 2. Lush Cosmetics
When was the last time you saw a commercial or celebrity sponsor of Lush? You probably haven't. Simply by word-of-mouth, Lush's cult following is strengthened by the authentic experience they offer when you walk into their stores. How do they get you to walk into their stores? They have a stellar social media team that uses user-generated content alongside their own to promote their cruelty-free, fairly traded bath and beauty products. It's hard to find a YouTube beauty vlogger who doesn't have at least one Lush product in their arsenal. Plus, who doesn't love a pretty #bathart bath bomb Insta photo?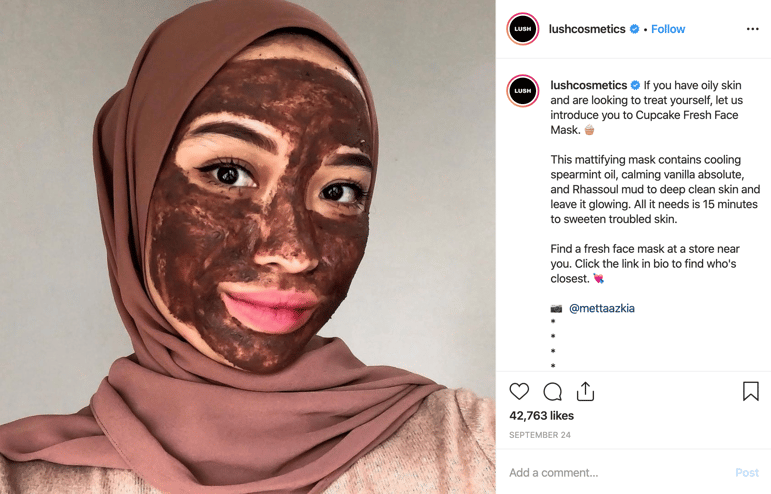 3. NYX
If you want to get people talking, sending them free stuff is the way to do it. NYX does exactly this every month—and it shows. We're talking major audience growth: according to Forbes.com, "from February 2016 through February 2017, the company saw its social media engagement grow by 97%." Loyal NYX influencers post whopping amounts of content featuring their thoughts on the products and use them to demonstrate different makeup looks.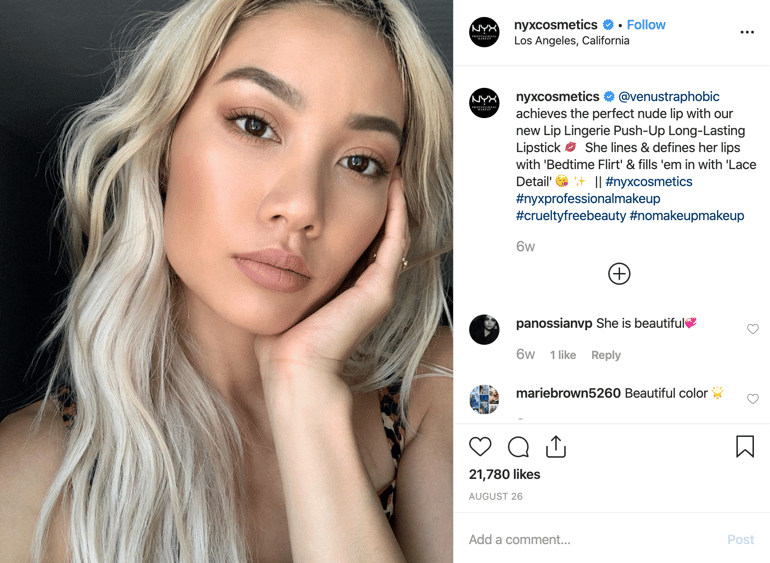 4. Becca
This high-end beauty brand truly knows how to utilize the buzz surrounding popular influencers. YouTuber Jaclyn Hill continuously vocalized her love for Becca products on her channel, increasing engagement levels along the way. This successful brand-influencer relationship helped pave the way for Becca's Champagne Pop collection made in collaboration with Hill to reach a single-day sales record on Sephora's website. After selling 25,000 units in a mere 20 minutes back in July of 2015, it's easy to see how the right partnership with the right influencer can generate some serious ROI. Since then, Hill and Becca have continued to extend the collection with more products due to consumer demand.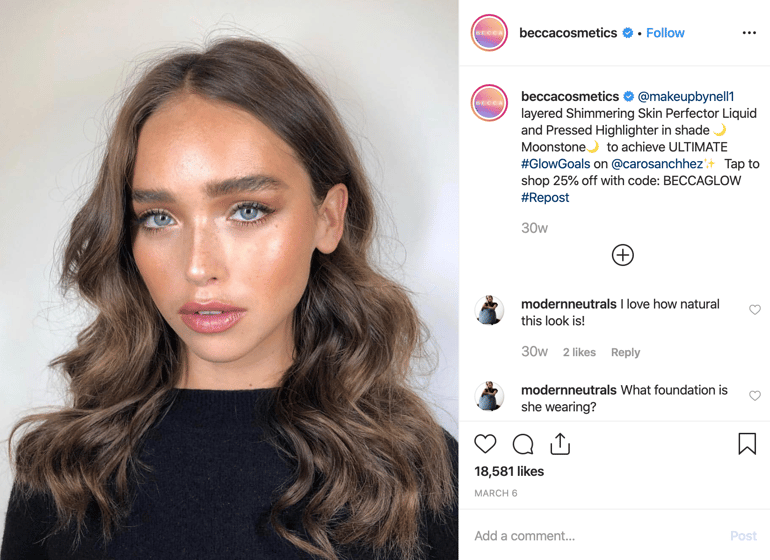 5. ColourPop
ColourPop chose to rely exclusively on social media for its advertising—an especially bold choice for a new indie beauty company. The choice paid off, thanks in large part to the YouTube beauty influencers who helped introduce the product to their followers. By incorporating ColourPop's affordable cosmetics into their makeup tutorials, these influencers helped the brand on two fronts: they encouraged their followers to purchase the products and generated interest among their fellow makeup gurus to pursue their own collaborations with the brand.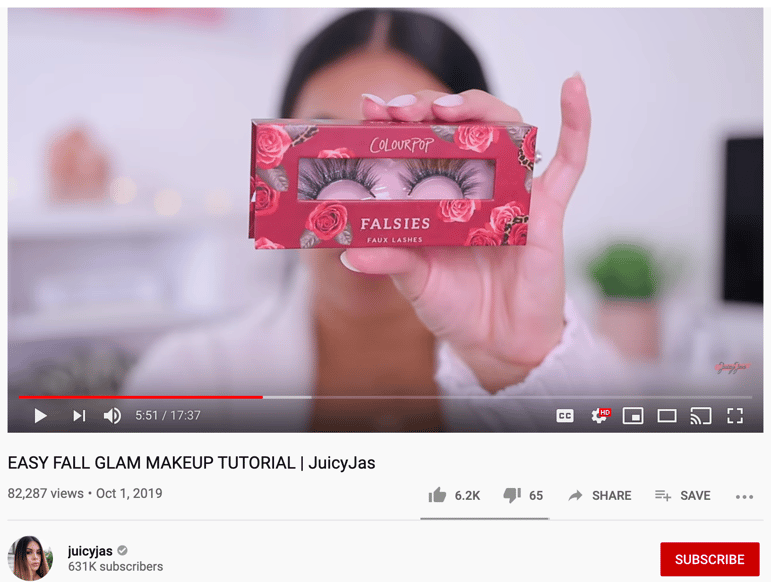 6. Origins
One of the major upsides of influencer marketing is authenticity, and if you're a brand trying to reach a young, socially-aware audience, that's definitely an angle you want to emphasize. With a focus on natural and cruelty-free products, it's a no-brainer for Origins to partner with influencers that help them convey this mission. Their #MyPerfectWorld campaign is a great example, in which micro-influencers were asked to create content around the little things that make their world more perfect. For an added bonus, Origins also committed to planting a tree for each entry. Talk about knowing your audience!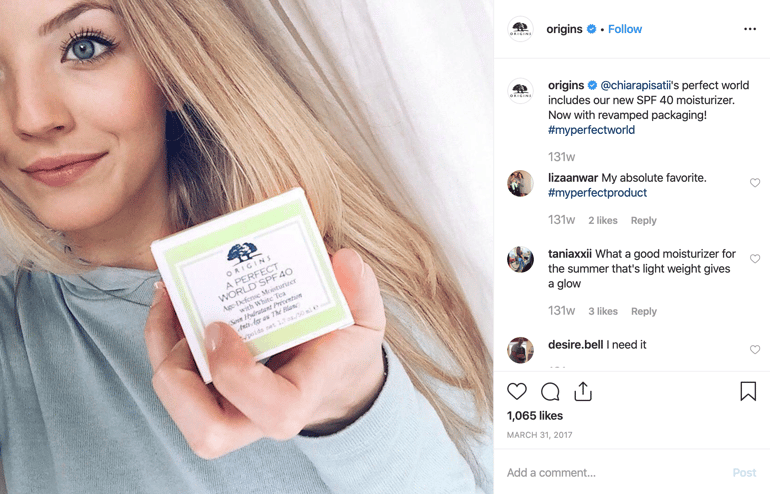 7. Frank Body
Influencer marketing is a great way to generate buzz about your existing products. But did you know it can also hype up a product that you've yet to launch? Frank Body, a beauty brand based around their signature coffee scrub, used this strategy to their advantage. Before even creating their website, Frank Body sent samples to beauty micro-influencers with a simple request: if you like the product, share it on your Instagram page. The authenticity of the posts combined with the excitement of trying a new product worked—since then, Frank Body has sold over 2 million body scrubs in 149 different countries.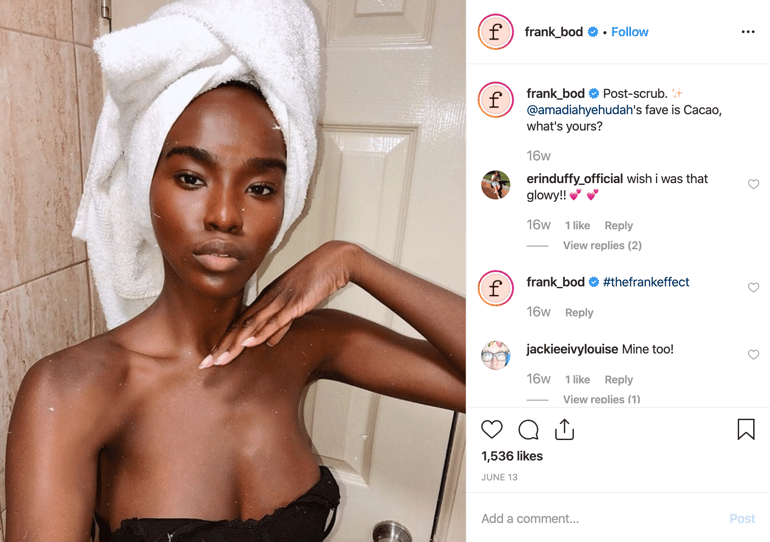 Be sure to check out my post on micro-influencers for more info on how you can utilize them for your brand. At Statusphere, we match brands with the right influencers to ensure you get the most out of your influencer partnerships. Click here to learn about how we do it and to chat with one of our influencer marketing specialists!