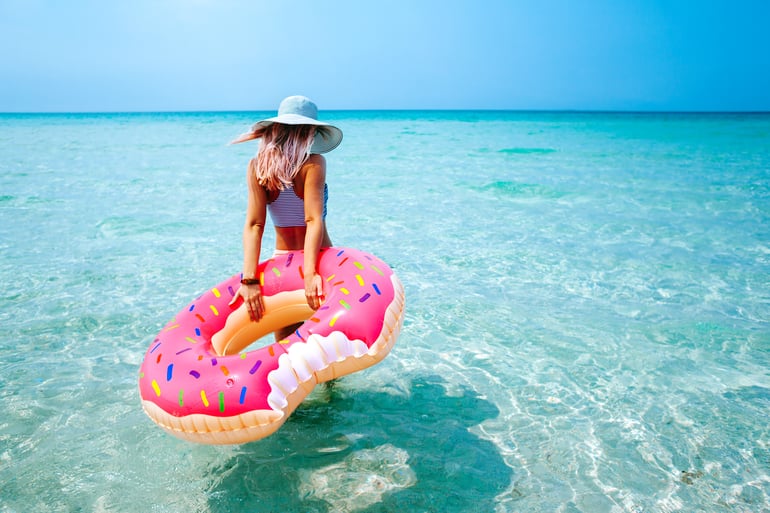 Teaming up with a brand ambassador has proven to be an effective way to promote your brand across social media. Brand ambassadors become some of the most important people who advocate for your brand through the use of Instagram promotion and frequent social media posts. They can target your desired audience, can be low cost and are very relatable to consumers. Before hiring a brand ambassador, make sure you are well informed about what it means to work with them. Check out these useful tips before you begin a partnership.
1. Brand Ambassadors are a Long-Term Partnership
It's more than just a social media fling. The terms "brand ambassador" and "influencer" are often used interchangeably when they shouldn't be. While they both have the same social influence and provide a lot of the same benefits, brand ambassadors stick around with brands longer.
If you're looking for a blogger to be a part of multiple campaigns, have affiliate links/codes with you, be featured in ads and even do product collaborations, you're looking for a brand ambassador. This relationship goes beyond a one-off Instagram post about a new product.
If you're planning on working with a brand ambassador, understand that it's a relationship worth nurturing. Value their feedback, share their content, maintain consistent communication with them and reward them for their hard work.
2. There are Laws Both You and Your Ambassador Need to Follow
The Federal Trade Commission (FTC) has made it very clear that brands and brand ambassadors need to be upfront and honest about sponsored content. If brand ambassadors are going to be promoting your brand on their Instagrams, they need to know the proper ways to disclose the partnership. As long as it's visible in their captions and hashtags like "#sponsored" or "#ad" are used, there won't be any problems.
It's also crucial to have an agreement in place about content rights. Brand ambassadors need to agree that you own the content they create to promote your brand. This eliminates any issues when you want to repurpose their content. Be sure to let your brand ambassadors know that you value their work and think it will be an asset to your brand.
Nothing puts a strain on a relationship like a lawsuit, so make sure everyone is on the same page by drafting up a contract.
3. You Shouldn't Try to Change Your Ambassador
Bloggers and influencers work hard to create their content and curate social media accounts that reflect their own unique styles. The last thing any brand should do is try to strip their ambassador of their identity and mold them into who they want them to be. Don't expect your brand ambassador to switch things up just because they're working with you. While it's okay to give them guidelines to follow when making their posts, you shouldn't dictate their content. That would completely defeat the purpose of working with them.
When looking for a brand ambassador, look for someone who aligns with your brand already. If you're an edgy makeup brand catering to alternative styles, it wouldn't make sense to hire a brand ambassador that has a very traditional and modest style.
Similarly, if you're a vegan snack brand, everyone would be very confused by a partnership with a brand ambassador known for their love of barbecue.
When you find the right brand ambassador for you, you'll see that the relationship comes naturally.
4. Managing Ambassadors Takes A Lot of Time
Think about how long it takes to find a perfect match on a dating app. It's a long and tedious process. Finding a perfect match for your brand can be just as tedious. It can take a few "dates" before identifying a brand ambassador that you want to enter a long-term relationship with. We mentioned how important it is to find the right ambassador, but we should also mention that it's not an easy task.
Even when you find a winner, you still need to manage the ambassador. That means:
Negotiating a contract

Briefing them on new products, launches and campaigns

Laying out expectations for posts

Monitoring and engaging with their posts

Tracking the performance of their posts

Maintaining consistent communication and building a genuine relationship
And that's just the beginning. As a brand, you'll want a small team managing ambassador relations to make sure everything is running smoothly. Don't have the (wo)man power or budget for this? Then you'll want to work with a full-service influencer marketing platform to take on these tasks so you can focus on your other marketing efforts.
A brand ambassador can be an exciting addition to your team. Remember these tips and you'll be set for a flourishing relationship. To learn more about how Statusphere can help you partner with ambassadors and influencers fit for your brand, click here.
Disclaimer: We're influencer marketing specialists, not lawyers! This content is not legal advice and you should definitely consult a legal professional based on your needs and questions. We do not make any guarantees as to accuracy or completeness of this information and take no liability or legal obligations for your use of this information.