Product reviews are essential to creating trust with your customers and potential customers when they visit your website. A potential customer might be interested in a product but hesitant to buy it if they don't know how other's experiences have gone—that's where product reviews come in. Seeing your brand talking about in an honest or positive light can be just the push consumers need to hit "purchase." Here are a few ways to drive online product reviews for your brand and why it's so important to do so:
Why Product Reviews are Essential
Genuine product reviews can persuade a buyer who is on the fence to take action and purchase your product. It's hard to argue with 86% of consumers who say these are an essential resource when it comes to purchasing decisions. Customer reviews provide the reassurance and trust potential buyers need to validate their initial interest and make the decision to purchase from your brand since they can see how other customer's experiences have gone.
Product reviews can provide the following for your brand:
Help drive sales
Social proof your brand
Help you get feedback to make improvements to your product(s)
How to Drive Online Product Reviews for Your Brand
Catching customers at the right moment, normally after they've had a positive experience with your brand, is an essential tool to up your product reviews. Driving online product reviews can be done in a few ways. Here are a few of our recommendations:
1. Make it easy for customers to rate and review your products

Create and include a system review feature on your website such as a five-star rating system that can include comments. Make it easy to access and find. For example, Amazon's customer review system may set the standard for brands. They include the star system along with written reviews, they also include a search function that allows the potential customers to read and filter various types of reviews based on low to high, with or without picture and more.
2. Offer incentives for leaving reviews

This method involves offering your customers something in return for reviewing your products. Sometimes a little motivation is all it takes! Normally, you can offer a discount for their next purchase which incentivizes them to come back again—talk about a win-win for the customer as well as your brand! Other incentives to consider are:
Offer free shipping
Give away a sample-size of one of your bestsellers
Enter their name into a drawing for a larger prize like a getaway or event
3. Collect different forms of product reviews
Images and videos are crucial aspects of strong customer reviews and increase the likelihood of purchase for new consumers—so gather these whenever possible. According to PowerReviews, 72% of shoppers are more likely to buy a product with reviews featuring photos and videos. Allowing customers to submit photos and videos as part of their review will also increase the amount of unique content your brand receives.
4. Ask your past customers

It's amazing what customers are willing to do when you simply ask. If you have a monthly newsletter that goes out to all past customers, include a space to leave feedback. Or, if you're trying to re-engage old customers, provide them a link to write a product review on a past product that they've purchased. Check out the example below on a past MeUndies purchase: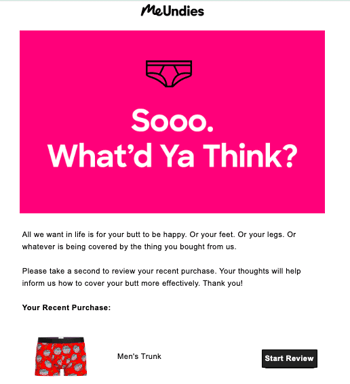 This is a great way to get feedback and see how satisfied they are with their purchase. Notice how on brand the language of their email is—that's definitely helpful in convincing them to take the next step in leaving a review!
5. Don't forget to ask on your social channels

Utilize your social media accounts to ask for reviews. This could include polls and interactive posts or running a social media user-generated content campaign. By jumpstarting a campaign that encourages customers to post and share with a call-to-action like "Show us which flavor is your favorite on Instagram with #MySummerMix for a chance to win a $500 Amazon gift card," you'd be surprised how many are willing to participate.
6. Start a product gifting campaign with Statusphere

People like to try before they buy, and the best way to take advantage of that is to run a product gifting campaign. Gifting your products to potential customers is perfect for getting the word out about your product or service and keeping them coming back for more — all without monetary commitment on their end.
Statusphere helps match you with on-brand influencers who can create content around your brand. All you have to do is send us your product and we handle the rest! We'll monitor the reviews that come in and can guarantee influencer posts for your brand.
Any of these strategies are a great way to begin driving product reviews for your brand. You should pick the method that works best for you whether it's product gifting or just making it easier for reviews to be shared. Strategies like these work hand-in-hand with influencer marketing. To find out if it's right for your brand, chat with one of our influencer marketing specialists today!