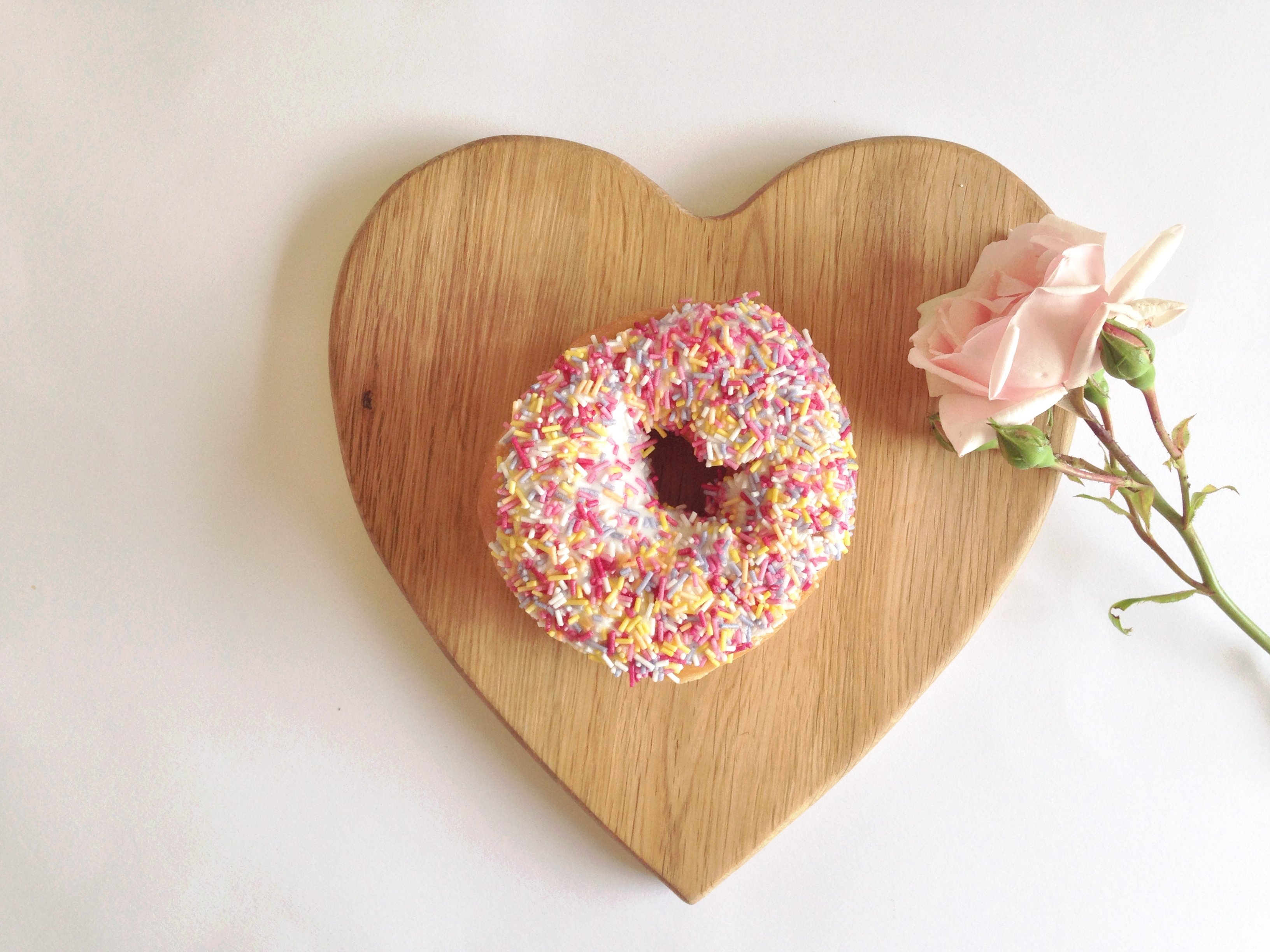 Valentine's Day is one of those holidays that tends to sneak up on marketers once the rush of Q4 holidays has died down. That's why we came up with 8 creative Valentine's Day marketing ideas for your brand to take advantage of before it's too late. Whether you're a B2B or B2C brand, incorporating some of these ideas can help your creative and sales team in more ways than one.
Why Your B2B Brand Should Celebrate
Take this time to maintain positive relationships with your clients and foster potential partnerships for later on in the year. You can come up with clever marketing collateral geared towards the holiday showcasing any new solutions or platform ideas that have developed since you last spoke with your gift recipient. If your brand has sent flower arrangements in the past, consider a new themed gift such as chocolate or candy hearts with your logo on the wrapping!
Marketing Ideas to Implement as a B2C
Taking advantage of this holiday is a no-brainer for B2C brands, especially if your product makes for a great gift. But the biggest takeaway would be not to target men for this holiday—it's a common misconception. According to Bloomberg, women drive 70-80% of all consumer purchasing through a combination of their buying power and influence.
For one of the most retail-focused holidays of the year, Valentine's Day is a chance for your brand to go the extra mile and hit those sales numbers while winning the hearts of your customers. Here are 8 ways your B2C brand can plan and celebrate:
1. Start Prepping in January

You'll want to have your strategy in place early! Make sure you give consumers plenty of time to browse and shop before the holiday comes knocking. Offering sales and promotions starting in January guarantees your customers have plenty of time to order, ship and try out your products before February 14. This is especially important if you offer a product that is highly sought after in preparation for Valentine's Day. (We're talking to you, lingerie brands!)
2. Get Creative with Your Social
Use your social to hype up the holiday with fun and eye-catching graphics or themed photoshoots. Valentine's Day is a great way to showcase your brand's personality, so keep it light-hearted while engaging your audience. Your Instagram Stories can also be on-theme by posting "this or that" graphics, creating polls or simply asking your followers questions about the holiday and share their answers.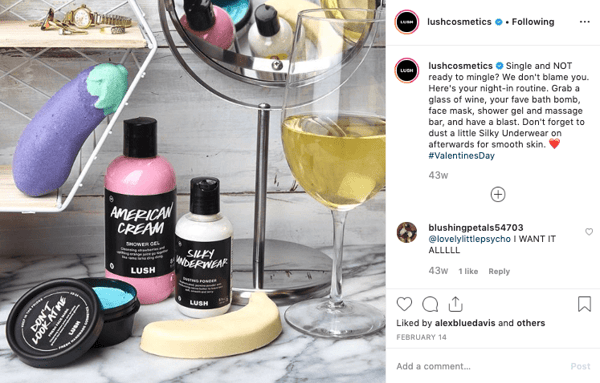 Lush decided to engage their audience in a different way. By highlighting their products for a night-in routine not centered around the typical date night, they're catering to an oftentimes neglected audience—the single crowd—while still capitalizing on the holiday!
3. Create a Gift Guide
Publishing a gift guide on your website and sharing it across your social media channels is a great way to inform your customers on available products or new arrivals that complement each other. Get creative with the sections in your gift guide, here are a few ideas:
By Category - Perfect gift for him/her, couples, moms
By Price Range - Gifts under $25, $50, $100
By Interest - Gifts for dog lovers, foodies, boss babes
4. Send out Product Samples
If incorporating product samples into your Valentine's Day marketing strategy, consider what would be practical for your brand to sample. Remember, the key is to be memorable. Here are three categories to choose from:
New products that have just been or are about to be released
Best-selling products that are perennial favorites
Little-known products that you think could become best-sellers
It's always good practice to include a unique thank you note to accompany your sample. By doing so, your brand is adding a personal touch and making the celebration more special.
5. Make the Most of Your Current Inventory
If you're a CPG brand, consider offering your products as a BOGO bundle that ties in with the holiday. For example, positioning your product as "One for You, One for Your Sweetheart" would be an easy way to move twice as much inventory (and get them to buy twice as much).
MeUndies, an underwear and loungewear company, markets their matching sets all year long. But in preparation for Valentine's Day, you can find them promoting their products as an experience to share together—in the comfiest way possible!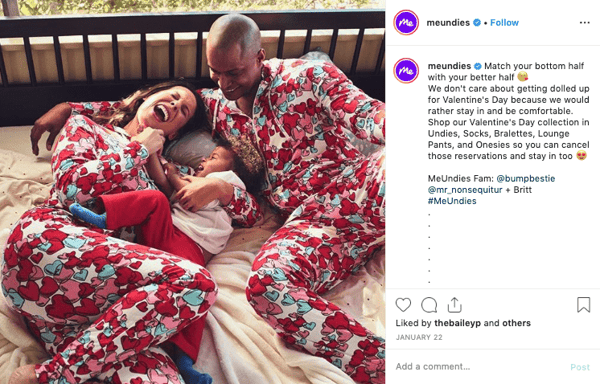 Another Valentine's Day marketing idea your brand can employ is to offer discounts on any red or pink items to try and push sales (or move leftover inventory). This works great if your business is not typically central to Valentine's Day.
6. Offer Exclusive Holiday Experiences
Restaurants, spas and hotels can offer pre-fixed menus or specials highlighting an "Experience for 2" that can be exclusive for Valentine's Day. If you're a restaurant and feeling extra creative, add a special flavor or dish to the menu that might not normally be there.
7. Partner with Influencers for a Giveaway
Your brand can host a social media giveaway for a romantic date night or items from your product line that fit the holiday. Find and partner with influencers who can help promote your giveaway so their followers can enter to win, too! Come up with a few simple instructions that your influencer can share in their post such as liking and commenting on the photo or tagging a certain amount of friends to enter and win.
Not only will this help you grow your followers, but you'll be creating engaging content that fans of your brand will love and giving them what they want the most—free stuff!
8. Share the Love by Giving Back
This specific strategy is severely underutilized on Valentine's Day but can work well for your brand. For every sale made on the holiday, offer to share the love by donating a portion of your sales to a charity or alliance that makes sense for your business. By giving back, your brand can showcase its compassionate side.
Before you head to a Galentine's Day party or date night of your own, make sure you test out one of these creative Valentine's Day marketing ideas for yourself! If your company is looking to update their social media marketing strategy by adding influencers to the mix, Statusphere can help. We match brands with skilled content creators that can be incorporated into your next campaign. Click here to talk to an influencer marketing specialist today!