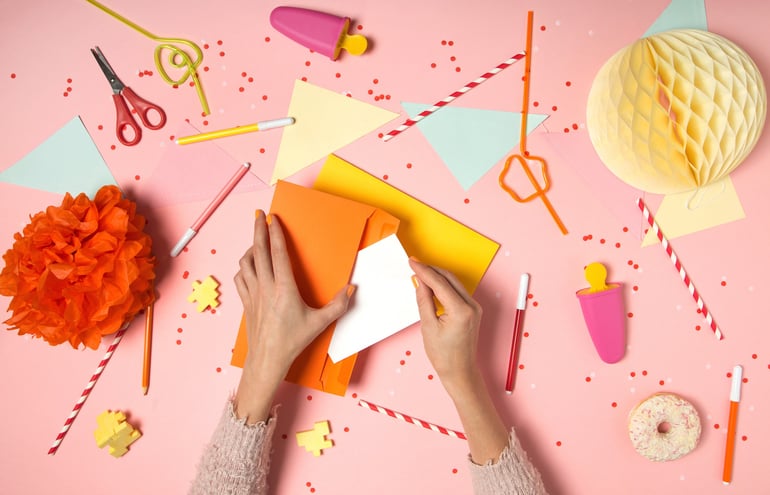 Running an influencer gifting campaign is a special way to spread the word about your brand and engage with influencers in your community. Everyone loves gifts, and influencers love having new content to post! Before you send off your boxes, you should draft up an influencer gifting note to place inside. Why? Not only does this add a personal touch to the box, it gives your brand an opportunity to show authenticity and relatability. Keep these tips in mind when you're writing your next influencer gifting note.
Make it Personal
Let's face it, influencers get sent free products all the time no matter if they're a micro or macro-influencer. This means brands need to step up their game to make their gifts stand out among the rest. One of the best ways to do this is to personalize the gifting note. Showing that your brand sees the influencers as more than just marketing tools, but as people, will help build lasting relationships with influencers.
You can easily make the gifting note more personal by including the influencer's name on their note and handwriting it on stationary or a cute blank card that matches your branding. You can take it to the next level by including a little tidbit that references something unique about the influencer or something they're known for.
Give Insights On the Products
You want your consumers to know all the details about your product. From the way it's manufactured, to the best way to use it. Whatever makes your product unique, or anything that may need clarification should be included. You wouldn't want an influencer to give your product a bad review because they happened to use it incorrectly. The makeup company Beauty Blender ran into this problem when they first released their now-famous makeup sponge. Some influencers initially gave the tool a bad review because they were using it dry, instead of wet like the company suggests.
To have your product properly showcased by the influencer, you need to give them clear instructions and suggestions. These influencers usually have other brand collabs that they divide their time between and you can't expect them to do heavy research on every one. If you don't tell them your product is made in a nut-free facility, or that part of the proceeds go to a special cause, they won't know to mention those in their post and you could potentially end up with a generic post. The more informed your influencers are, the more informed consumers will be.
Thank Them
Of course, you need to add a thank you note. Yes, you are technically the one providing the gift, but the influencer is also providing exposure for your brand and products if they decide to post it.
Something along the lines of "Thanks for posting such great content! We hope you enjoy our products and feel free to get social!" can go a long way in making the influencer feel excited about posting instead of feeling like your gift was just sent as a marketing ploy. It can serve as a subtle hint that you want them to post the gift you sent without the pressure. (Don't forget to include your social handles!)
The key here is to make influencers feel appreciated, not like gateways to potential new customers. Influencers know genuine brands when they see one, so do your best to show you care. If you're interested in building relationships with influencers and running an influencer marketing campaign for your brand, contact Statusphere!