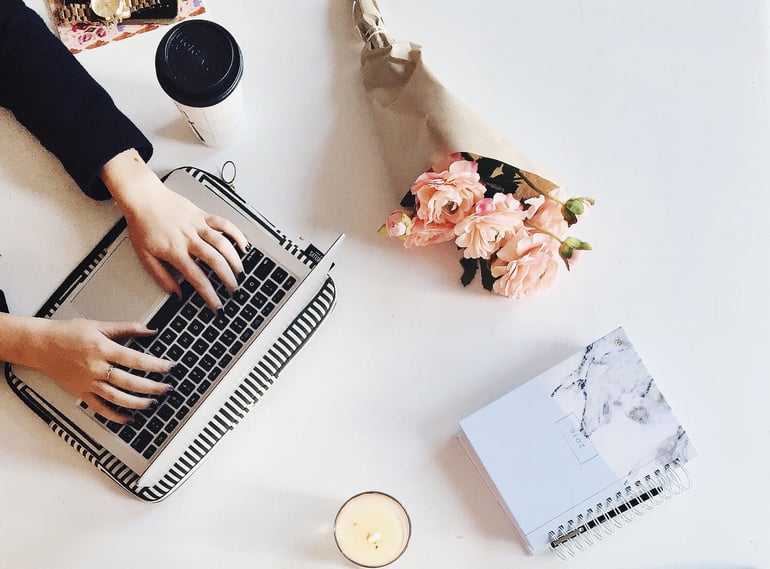 Social media has entirely changed the way brands approach digital marketing. Now more than ever before, companies are using brand influencers to promote their products and services on platforms such as Instagram. Like any new thing, mishaps are bound to occur. While these examples were unfortunate, they carry valuable lessons that every brand can learn from.
Mistake #1: Following Instructions Too Closely
-Scott Disick and Bootea
Reality star Scott Disick had a sponsored post to share from Bootea, a diet tea that relies heavily on celebrity endorsement. Instead of just posting the pre-planned caption that Bootea had sent him to copy and paste, Disick posted the detailed sponsorship instructions from the brand.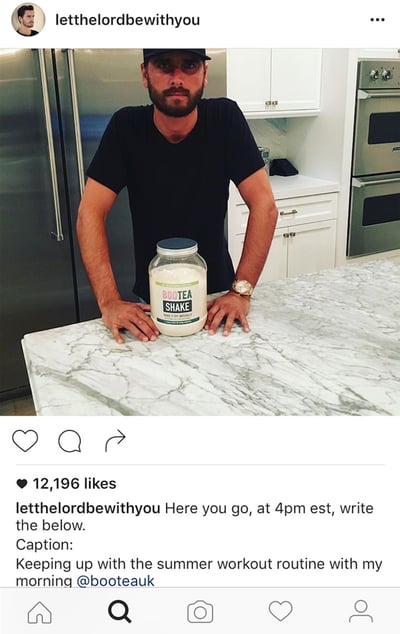 -Naomi Campbell and Adidas / Ramona Singer and Rodan + Fields
This may seem like a one-time occurrence, but this happens more often than you'd think. Naomi Campbell posted her email sponsorship instructions from Adidas which included a scripted caption with pre-planned emojis. When Rodan + Fields worked with Real Housewives of New York City's Ramona Singer, she pasted an extensive brand email filled with posting instructions into her caption.
The Fallout:
After seeing how much control companies have over sponsored posts, people stopped trusting the authenticity of those brands and influencers.
How to Avoid It:
Give your brand influencer guidelines for their post instead of a perfectly crafted caption. It's also important to choose influencers who will pay attention to the guidelines you provide. Align your brand with influencers who fit your products, not just those with high follower counts. Choosing brand influencers who care means you are choosing people who will value making quality, carefully curated content for your sponsorship over making easy money.
Mistake #2: Off-Brand and Inauthentic Choices
-Chriselle Lim and Volvo
When high-fashion, beauty and mommy blogger Chriselle Lim switched up her glamorous Instagram aesthetic for an eco-friendly Volvo sponsorship, her followers didn't take kindly to the poorly matched brand sponsorship and miscommunicated caption. Lim's followers assumed she was riding an eco-friendly high horse after posting about being "perfectly" eco-friendly when promoting Volvo's toxic-free car cleaner.
The Fallout:
Volvo wanted the post to encourage people to make changes in their lives, but Lim's jet-setting lifestyle conflicts with that message. This took the focus off the product and put the spotlight on the influencer. Without Volvo allowing Lim to publicly recognize her own footprint, the sponsorship's purpose was lost.
How to Avoid It:
When talking with an influencer about promoting or reviewing your product, you should always allow them to speak candidly about how your product fits into their lifestyle, otherwise the partnership seems inauthentic. If you're promoting an eco-friendly product, find someone who has been out-spoken about sustainability and whose followers already love that.
Allowing your influencer creative freedom is always a plus for authenticity, but too much freedom can result in poorly timed, off-brand content for your product.
-The California Fires
During the devastating California fires in 2018, some brand influencers used the tragedy for promotional gain. Raline Shah, an Indonesia-based influencer for luxury sportswear brand Miguelina Gambaccini, promoted an outfit using the location tag for Malibu and used keywords related to the fire in her caption for the post to trend.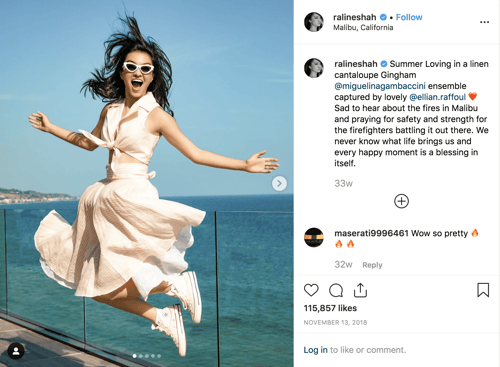 The Fallout:
Many of these influencers experienced major backlash for their insensitivity to the loss of many peoples' homes and the destruction of the area. This reflected poorly on the brands they represented and looked like an insincere cash grab to followers.
How to Avoid It:
Create social media guidelines that include how, if ever, your brand and influencers should post regarding tragic, political or controversial topics. This ensures your content is sensitive and consistent during any situation.
Mistake #3: Not Following Disclosure Guidelines
-Kim Kardashian and Diclegis
In 2015, Kim Kardashian posted an Instagram picture promoting a morning sickness pill, Diclegis. In her initial post, she failed to mention any of the medication's side effects.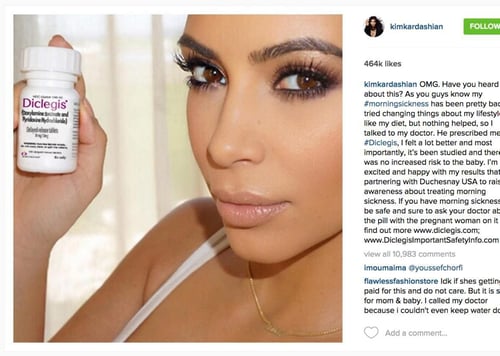 The Fallout:
According to FDA guidelines, prescription promotions must state potential side effects. Not only did Kardashian and Diclegis get in trouble with the FDA, they also got backlash from her followers. Kim is known for promoting an array of products, but by promoting a medication without listing the side effects, it appeared that she didn't care about the health of her followers.
How to Avoid It:
While you may know the regulated guidelines to follow that protect consumer safety, your brand influencer may not. Provide a list of details that need to be included in the post to avoid putting consumers at risk and your influencer in an awkward situation. If you want to know all the ins and outs of legal guidelines while working with brand influencers, we wrote a whole guide on it!
While these social scandals were public and embarrassing, they're something all brands can learn from. Brand influencer marketing is an incredible tool for reaching your target audience, but only when used correctly. Statusphere can help you connect and communicate with influencers who align with your brand. Chat with one of our influencer marketing specialists to learn more!