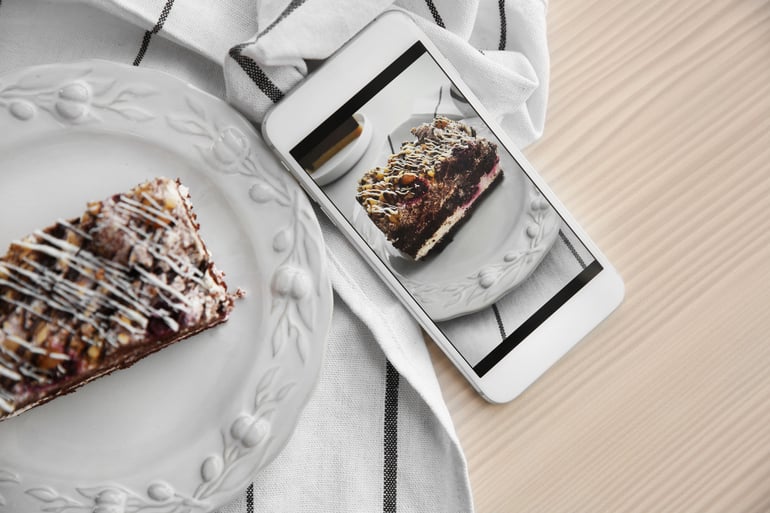 When you've been consistently posting on your Instagram for a long time, you'll probably reach a point where you need to try something new in order to keep your content fresh and interesting. Getting creative with your Instagram posts not only keeps your followers engaged, but it also helps establish your brand as fun and innovative. There are a ton of different ways to spice up your feed, but here are a few of our favorite creative Instagram photo ideas to make your brand memorable and help you build your brand's online presence.
1. Pick a Theme and Stick to It
This may seem like a simple tactic, but it's easy to neglect when you are just focusing on promoting your content and not utilizing Instagram as a marketing strategy. Try having a consistent theme or aesthetic by keeping a consistent color scheme that aligns with your brand's colors. This will make your feed look cohesive and further establish your brand identity. One app that we like to use is UNUM. It allows you to plan out your grid before you post.
You can notice in the screenshot below that we use teal as our primary color, with peach/pink as our secondary color. If you can decided on your color scheme it will help you bring your grid together right away.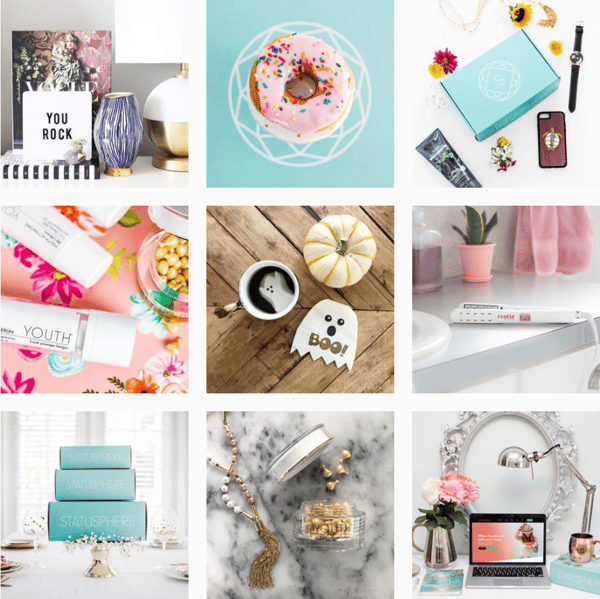 2. Plan a Photoshoot Once a Quarter
Identify key holidays each quarter and spend a day creating a bunch of photo assets. If possible, hire a professional photographer and make sure they understand the aesthetic that you are going for. By planning ahead a taking a bunch of photos is one day, you will save yourself time in the long run and it will give you time to get creative.


3. Show Behind the Scenes Pictures
People love to get a behind the scenes look at what it takes to make the magic happen at a company. Showing fun pictures like models dancing in between shots during a photoshoot or the not-so glamourous struggle it takes for your social media team to get the perfect product shot gives your brand a relatable and fun personality. Keep in mind that if these photos are high-enough quality to fit into your grid, then you can put them.


4. Get a New Perspective with Aerial Shots
Taking pictures from an aerial view always makes the shot look clean. This technique (also called a "flat lay"), is incredibly popular on instagram. With this angle you can play around with different backgrounds and incorporate numerous visual elements to make your products pop. This technique is also one Instagram influencers love because of how versatile it is. If your brand partners with influencers, you're likely to get some amazing aerial photos that you can use on your own website and social media accounts.


5. Partner with Instagram Influencers
Social media influencers are experts at creating amazing content. That's why it can be so powerful to get your product into their hands (or getting them to use your service). Also, Instagram influencers don't have to break the bank. Instead of partnering with influencers with millions or hundreds of thousands of followers, you can find influencers with a smaller amount of followers that are just as good (or better) than famous influencers at creating content. If you need help partnering with influencers, contact Statusphere. We have influencer packages for brands of all sizes!
There you have it: 5 creative photo ideas to help you build your brand on Instagram. Remember to always post consistently and try new ideas to keep your followers engaged. If you're interested in partnering with Instagram influencers, click here to learn more about how Statusphere matches brands with influencers to help them achieve their marketing goals.