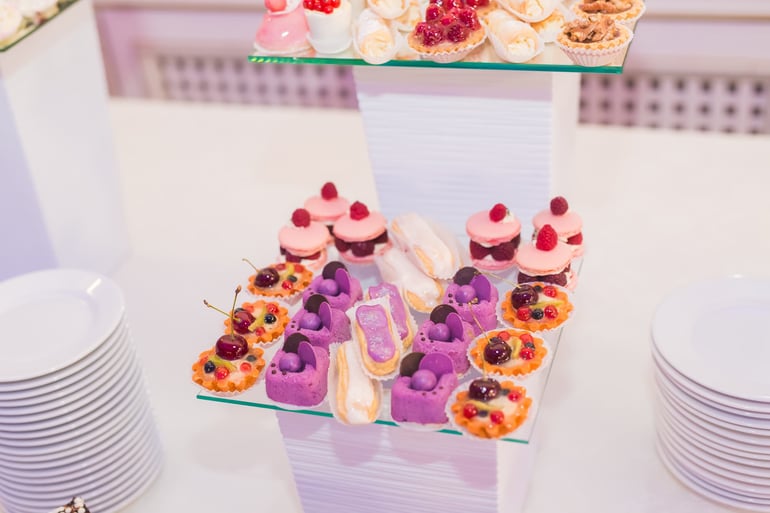 If you're a CPG or food brand, trade shows are the perfect opportunity to introduce your brand and have potential retail buyers get a taste of what makes you special. When you exhibit at a food trade show, you're able to get in front of national, regional and specialty grocers and retailers. You can also connect with press and influencers to generate buzz about your brand.
With that in mind, it's important to note that these shows are designed for consumer packaged goods, not foodservice. Although many foodservice professionals do attend, the focus of these shows is primarily for CPGs. Luckily, there's a trade show perfect for every CPG brand, and one of these nine trade shows is bound to be the right fit for you!
1. Natural Expo West | March 3-7 \ Natural Expo East | September 23-26
Both Natural Expo West and East focus on exhibiting natural, organic and healthy lifestyle products. This is the perfect trade show for brands in that market as thousands of retail buyers attend looking for quality products for their stores. Known for featuring new trends and innovative ideas, if you've got a unique product Natural Expo is a great opportunity to meet buyers and distributors.
If you plan on attending, note that Expo West is known for being much larger (and overwhelming) than Expo East. Expo West is great for connecting with national buyers, but Expo East might be better suited to make a splash as a first-timer.
2. Fancy Food Show | San Francisco January 19-21 \ New York City June 28-30
At their winter event, Fancy Food Show in San Francisco features 1,400 exhibitors and 80,000 new specialty food and beverage products for attendees to sample. The trade show offers networking events and education opportunities for attendees and exhibitors to learn from industry experts with the show's talks, workshops and tastings.
As the larger, east coast Fancy Food Show event, the New York convention hosts 2,600 exhibitors and features over 200,000 specialty food and beverage products. Attend educational sessions offered by leaders in the specialty food, sustainability, commerce and food tech industries. If you're up for the challenge, enter the specialty food pitch competition event and prove your product is the next big thing.
If you're ready to get your product into specialty retail stores, we have a great blog for that here!
3. BevNet | New York City June 10-11
BevNet caters to beverage brands and places importance on educating beverage business owners on bringing innovation to the industry. Learn about best practices, research cases and business lessons for getting your brand to the next level. Sample bars showcase products in front of potential buyers, making this a trade show for brands to attend as an exhibitor or a guest. If you are going to be exhibit at this show, make sure your booth is on point and stocked with samples.
4. Consumer Discovery Show East | New York June 24
Consumer Discovery Show focuses on discovery and growth for beauty, wellness and food brands. The event connects over 100 consumer brands with retailers, distributors, investors and influencers. It's a great place to scale business, network and tap into influencer marketing as well. Don't count this trade show out just because it doesn't focus solely on food and CPG. The opportunity to connect with decision-makers in the industry makes this event worth the trip.
5. National Restaurant Association Show | Chicago May 16-19
The National Restaurant Association Show is the ultimate trade show for professionals in the restaurant and culinary industries. Learn about what's happening in the industry including the latest info on equipment, supplies, technology, food and drinks. This is the perfect opportunity for food and CPG brands to mingle with restaurant owners and seek out possible partnerships.
6. Philadelphia National Candy, Gift & Gourmet Show | September 13-15
The Philly Candy Show is an event dedicated to the specialty confectionery industry. It serves as an opportunity for retail, wholesale and manufacturing professionals to get a look into new trends and items offered in the candy industry. All types of candy, equipment and packaging are featured at the show, so if your brand delivers sweet treats, don't miss this trade show.
7. Nosh Live | New York June 8-9
Nosh Live is an annual conference for the natural food industry. You'll find 300 natural food professionals attending to see experts talk about their past experiences and the future of the industry. This trade show is known for fostering conversations about innovation, investment knowledge, branding, marketing and more in the natural food industry. Attend if you're looking to network with industry leaders or learn how to grow your business.
8. Grocery Shop | Las Vegas September 14-17
As the leading event for grocery and CPG products, Grocery Shop is a can't-miss event. With 2,200 startups and established brands, supermarkets, drug stores, e-commerce players and grocery retailers attending, this trade show is one of the best places to meet buyers. Grocery Shop offers attending brands knowledge of new trends, technology and business strategies to advance their company. If you're in the growth stage, this is the perfect place to learn about marketing, technology, merchandising, supply chain and store operations.
9. Nourished Festival | Denver October 17-18 \ San Diego December 5-6
As a gluten-free, allergy and specialty diet event, Nourished Festival celebrates a niche part of the food and beverage industry. With over 100 brands attending and providing samples and discounted gluten-free products, this trade show is suited for any brand that caters to individuals who prioritize finding new products that meet their specific needs. This is also a great way to meet retailers and businesses in need of allergy-friendly products to provide for their customers.

As you can see, no matter what kind of food or CPG brand you are, there's a trade show for you. Not only will you be able to introduce your brand to new audiences, you shouldn't miss out on all the free food samples! We've been to quite a few CPG and food trade shows and it's definitely a must-have experience for brands of all sizes. But don't just take our word for it, see for yourself!

Need help growing your network and reach? Click here to check out how Statusphere can help!