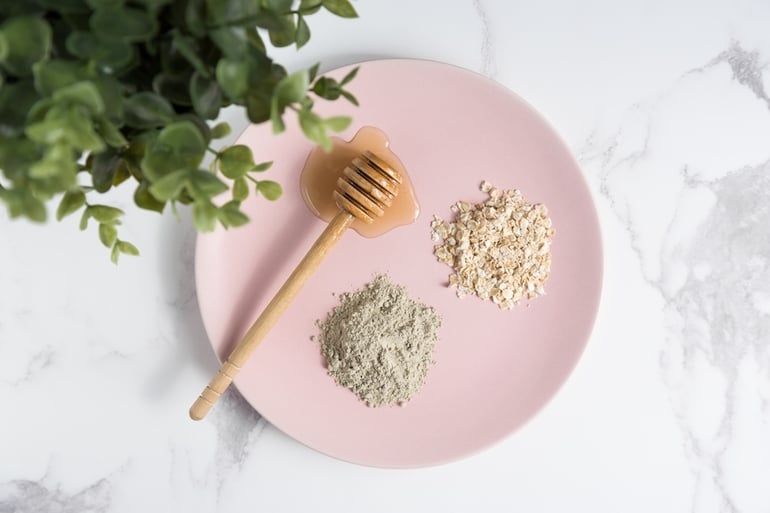 Making the move to specialty grocery stores is just as exciting as it is terrifying. Specialty grocery stores that only focus on one product category attract customers with a vested interest in that category. This offers a great opportunity for your brand to reach a highly targeted audience. Here are some of the best ways to catch the attention of specialty grocery stores and get your product on their shelves and in front of your shoppers.
Build Your Social Presence
Keeping your social strategy up to date and consistent is essential for building your brand's reputation. If you can build a loyal following on social, you can use that as a data point when negotiating shelf space at specialty grocery stores.
Influencers are a great way to spread the word about your product without spending heaps of money on paid ads that might not perform well. Odwalla, a vegan and keto-friendly protein smoothie and juice brand, has done a great job of increasing brand awareness with the help of their on-brand influencers.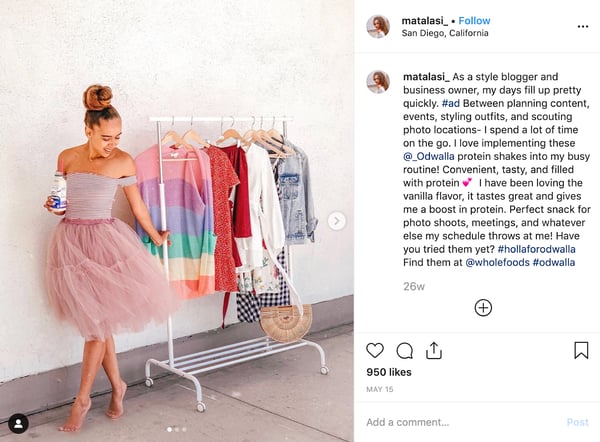 The right influencer can do wonders for your brand's social media reach. Think about it - if your healthy lifestyle blogger is interested in trying your product, so would their niche following.
Attend Trade Shows and Expos
Getting your product in front of store buyers can be difficult, and cold calling people without a connection can sometimes come off as cringe. By attending trade shows and expos you can open yourself up to new buyers and opportunities. Some trade shows may be more expensive to exhibit at than others, especially when you factor in travel costs, accommodations and marketing materials.
Here are a few things to look for when determining whether or not a trade show will help your brand get onto specialty grocery store shelves or not:
Look at the previous attendees list. Seeing who attended in the past will give you a good idea of who your audience will be if you attend now.
Look at the presenters and see if the topics align with your goals or the goals of your target audience.
Look at the cost of attendance versus prospects. If you only go to one trade show, make it one worth the visit.
Start Contacting Local Grocers & Distributors
Don't try to go nationwide or even statewide all at once. Start localized and build your empire out. We recommend compiling a list of local specialty stores with their contact information - be sure to include the name of the store manager or buyer. Give the store a quick call to see where to send your inquiry if you can't find the appropriate email or contact.
Don't be too disheartened if someone doesn't get back to you immediately. We recommend following up about a week or two after your initial contact. If you still haven't heard back, it might just be that your product isn't the right fit at that specific time.
If you want to go above and beyond calling local distributors, you can add some hustle to your strategy. We spoke with Hector Saldívar, Founder & Owner of Tia Lupita Foods, and he emphasized the importance of hustling to make connections: "If you know that the buyer attends a farmers market, go to the farmers market and set up a booth." Showing your face is a great way to create a positive association with your product in the minds of buyers and distributors. For more tips regarding specialty food stores from an industry expert, be sure to check out this blog!

Follow-Up with Samples
If you get in contact with the correct channels and continue to maintain that line of communication, you will have a much better image in the eyes of the retail buyers. If possible, ask for insights on what they look for when stocking their shelves. If you meet with distributors in person, make sure you have samples to offer so they can see what makes your product right for specialty grocery. Your job is to make that store feel like their shoppers need your product.
If the specialty grocer you are pitching is a larger chain, suggest doing a few market-level stores to start as a product test. If things go well the store will likely request more inventory on subsequent orders.
Many stores will be more receptive to buying smaller quantities of your product to do market testing. This will show them if your brand is able to perform in the market and it will show you what kind of adjustments you need to make to improve sales. This low-risk strategy could be just the in you're looking for.
Get Featured in Publications
A feature in a publication can be a prime opportunity to increase brand awareness and get your products in front of potential customers. Trade magazines, online shareable content and consumer magazines offer many opportunities for featuring all kinds of products year-round.
Taste of Home Magazine wrote a blog earlier this year where they featured the best snacks of 2019. Many of the products were found via trade shows or submission. In their blog, they featured Classic Peanut Frittle produced by New Fangled. This feature came close behind the launch of their product and placed them next to big names like Kit-Kat and Cheez-Its.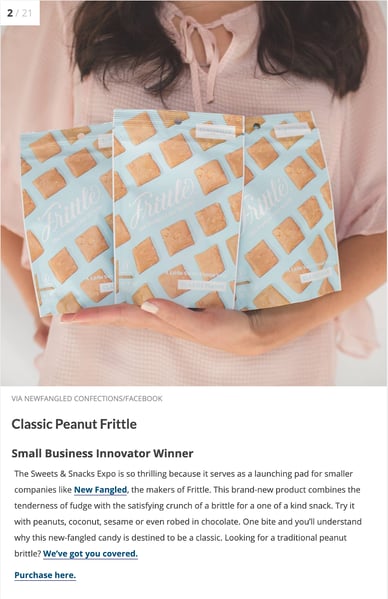 Getting a spot in a publication can be hard to come by but it can really help your visibility. Being able to show your product is successful with reviews and readership when you try and sell it to specialty grocery stores can be a big helping hand. Here is a brief guide to give you an idea on timelines for how far in advance to contact publications for a feature and what to say!
Making it on the shelves of a specialty grocery store isn't going to happen overnight - but with these strategies - you can breathe a little easier. Once you're in, you can focus on maintaining your retail sales success. If you're ready to learn more about launching an influencer campaign to generate brand awareness or you have any questions about getting your product in stores, contact us here! Our team at Statusphere loves partnering with brands that are ready to take their marketing to the next level.