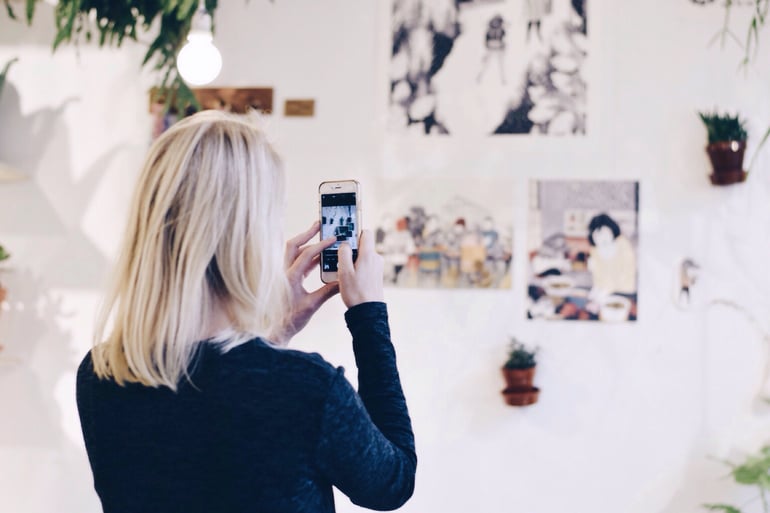 At Statusphere, we look for particular qualities when recruiting new influencers and maintaining those already in our network. One of the most valuable things you can offer brands as an influencer is an authentic Instagram following. A large number of followers isn't enough anymore, you need a community that is genuinely interested in your posts and interacting with them to back it up.
Unfortunately, finding the right formula to make the Instagram algorithm happy can be tough. It might seem like following all the steps you're supposed to isn't getting you anywhere. This can no doubt be frustrating, but getting your engagement to remain at a consistent and steady rate is doable. Consider some of these tips below:
Post High-Quality Photo + Video Content

Common photo editing apps that our influencers love are Lightroom and VSCO. You're going to want to pick a theme and stick to it, this makes your overall look more aesthetically pleasing. We love using UNUM - it helps you keep your feed aesthetic cohesive and allows you to plan out your captions!

Always avoid posting low-quality or out of focus photos – this is unappealing to the audience and with all of the steps you have to take in order for your posts to be seen, you should make sure it's the best content possible. Also, don't underestimate the power of video content, some followers might actually prefer it.


Create Interactive Stories

Stay up-to-date with new Instagram Story features to keep your content fresh. Using stickers, polls and multiple-choice questions are fun ways to keep your audience involved. You can also use Stories as a chance to ask your followers what type of content they'd like to see more of in the future. If you need some apps to get started with, we recommend Story Art, Unfold or Canva!


Reply to Comments and DM's

No one ever got anywhere by being a one-(wo)man island. By liking and replying to comments on posts or DM's, you're not only acknowledging your followers, but also providing insight into your personality. Your followers will feel a more personal connection to you and will continue to interact with your content.


Post When Your Followers Are Most Active

Schedule content to go live when your followers are most active. By checking your account's 'Insights' you can ensure you are posting when your followers are more likely to see and engage with your content. You'll also want to find a posting frequency that you can stick to. Lately, we've found that if you post more than once in a day, Instagram will show both of your posts to fewer people (almost as if they split your reach between the two posts). So if possible, we recommend posting 3 - 7 times a week, but never more than once a day.


Engage with Other Users' Posts Daily

Finding other bloggers who are posting similar content as you can be another great engagement opportunity and helps widen your audience. Not only will these influencers be more likely to engage with your posts as well, but it will get your name out there for other people who follow their posts. Set a goal for yourself on how many posts you will engage with each day, and leave authentic comments that show you've read their captions.


Avoid Bots and Fake Followers

It's pretty noticeable when users have bots and fake followers populating their accounts to try and boost engagement (whether it's intentional or not). Report any suspicious messages, flag and/or delete spammy comments and block any inappropriate accounts. Otherwise, this could harm relationships with brands and platforms like ours. If you feel like this might be your case - check out our blog post on how to get rid of fake followers.


Put Calls to Action in Your Captions

Including a call to action is one of the easiest ways to engage your audience. You could ask them questions like, "Where are you planning your next weekend getaway to?" on a photo of a packed suitcase. Prompting your followers with simple questions or topics that they'll want to discuss will easily drive up your engagement rate while keeping them interested.
Update Your Hashtags

Having a few staple hashtags that you can always use helps, but updating some out-of-date ones is key. Your hashtags help both brands and followers find and engage with your content. Always try and be as specific as you can. If you're a beauty blogger, #skincare won't be enough. Consider a handful of hashtags specifying what kind of beauty products you buy such as #cleanbeauty and #kbeauty.


Partner With Other Bloggers

Instagram is a platform that fosters communities, so don't be afraid to reach out to other bloggers and influencers. When you connect with people that do what you do, you expand your community and grow your authentic following. Consider attending events together, hosting Q&As, photoshoots and giveaways.


Cross-Promote Your Content

If you have other social media apps that you're active on, make sure to share any new posts there, too. You may have different followers on these other platforms that you can drive to your main account. Including your handle/link to your Instagram profile on your other social apps (like in bios) will encourage people to follow.
More than anything, Statusphere is looking for influencers who constantly strive for improvement and want to keep doing what they do. This helps us ensure that the brands and influencers will have a successful relationship and that our network stays comprised of elite content creators. We're always eager to make this family of dedicated influencers bigger and better than ever! If you're interested in applying to join our network, click here to get started!