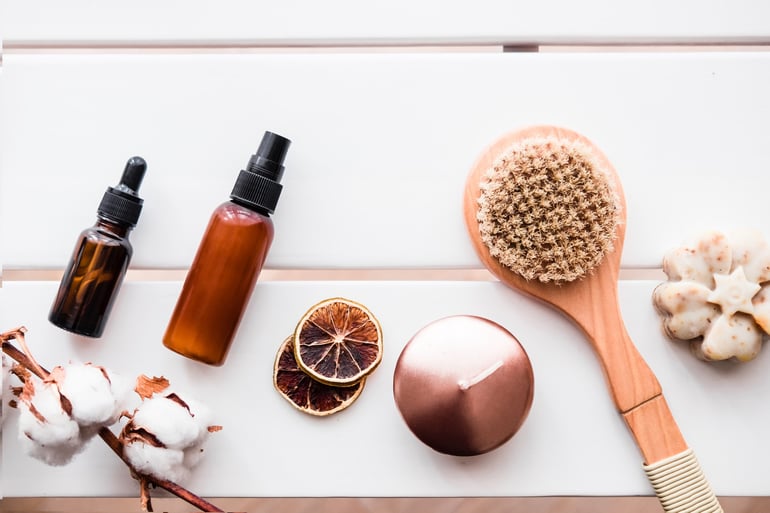 To say the health and wellness industry is booming would be an understatement. In fact, according to the Global Wellness Institute, it currently represents 5.3% of global economic output and has grown to be worth $4.2 trillion — growth which shows no signs of slowing down in 2020.
For wellness brands, capitalizing on this growth should be a no-brainer business move. But to do so, it's important to keep in mind the trends that will affect health and wellness brands in the new year. That's why we broke down the most significant of these trends along with how your brand can best position itself to take advantage of them.
Mindful Snacking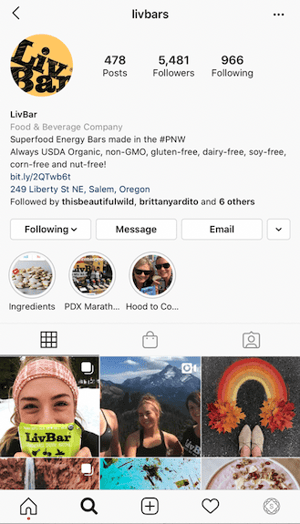 Social Granola predicts that in 2020, mindful snacking will become much more prevalent. Although this trend sounds buzzwordy, mindful snacking is legit: the International Food Information Council Foundation states that this method of snacking can help you feel more satisfied and nourished throughout the day. Foods that fall into the category of mindful snacking usually have a signature health benefit, such as being dairy-free or preservative-free.
If your wellness brand focuses on products that fit the niche of mindful snacking, now is the time to start promoting them! Consumers that practice mindful snacking are looking for snacks that have a signature health benefit, so emphasize that benefit when promoting your product. If your product boasts more than one health benefit, take a cue from LivBar and go all in! They list all of their health benefits in the bio of their social media accounts so that their followers (and potential consumers) know right away how to incorporate LivBars into their mindful snacking routine.
If you're a food or CPG brand looking to boost brand awareness by attending a trade show in the new year, check out this blog for a list of our favorites!
Personalization Prioritized
Consumers have shown an increased preference for personalized products in recent years, and that preference will only grow in 2020. From customized vitamin regimens to personalized beauty products, wellness brands that prioritize the needs of individual consumers will reign supreme. In fact, research conducted by Epsilon indicates that 80% of consumers are more likely to make a purchase when brands offer personalized experiences.
This emphasis on personal experiences and relationship-building between customers and brands is one that wellness brands can capitalize on in a variety of ways. Care/of, a vitamin and supplement brand, puts customization at the forefront of its branding and mission. Customers simply fill out a survey and receive personalized recommendations for vitamins and supplements to support their needs. This personalization goes all the way down to the package design - every package of Care/of vitamins is customized with the customer's name.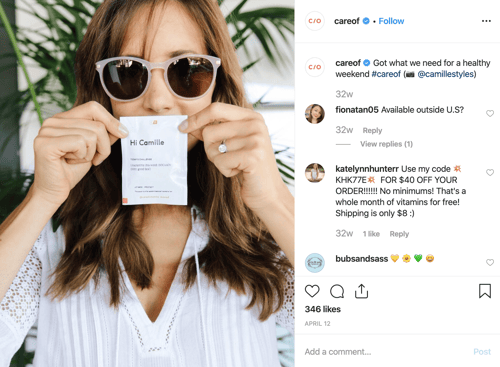 The Rise of Virtual Wellness
Harper's Bazaar predicts that in 2020, virtual wellness options such as fitness and meditation apps will be as essential to our daily lives as social media. In today's fast-paced world, focusing on your wellness while on the go is more important than ever. Fitness and meal tracking apps are on the rise, and breathing apps have seen a 219% increase in searches.
This wellness trend doesn't mean you should rush to get a custom app for your brand in the app store. (Although that wouldn't be a bad idea — research from Distimo finds that 91% of the world's top brands have mobile apps!) In fact, a simple way to capitalize on the virtual wellness trend is to make sure your brand has an established social media marketing strategy. Consider activating micro-influencers to make sure you're reaching the on-the-go consumers looking to interact with wellness brands on social media.
At Statusphere, our team of influencer marketing specialists can help you use micro-influencers to tap into all of the trends affecting wellness brands in 2020. We simplify the process and ensure that your brand is connected with influencers that align with your brand's specific needs and audience. Click here to learn more and chat with a member of our team today!