Product gifting campaigns are a great way to gain exposure as a brand and get hundreds of people posting about your products. Influencers are posting on Instagram and making unboxing videos on YouTube, and the comments on these posts are flooded with "How do I sign up?" to "I'm on my way to buy these now!" These product posts hold a lot of weight in the eyes of consumers and can be an amazing way to kickstart any campaign. Ranging from beauty products to accessories to hair tools, these six brands are killing it with their product gifting:
1. Too Faced
Too Faced has had extravagant product gifting for their PR list for years now, and it only gets bigger and better. They send the influencers on their list their full collections without expecting anything in return - but they are too large to not post about. (Watch a full unboxing video here!)

YouTube is a unique way to showcase product gifting because of how in-depth it can get, check out our guide on YouTube influencers to learn more!
Mejuri has a Fine Crew program where they personally reach out to influencers to accept or deny an offer into the program. Then, every time they release a new line or product, they send them a full list of the products and the members are able to choose one item, completely free. Mejuri gets tons of user-generated content (UGC) to use on their grid and influencers are getting free product, that's a win-win! Brands should also keep in mind UGC is 20% more influential than any other type of media.

The Colourpop ambassador program gifts influencers monthly boxes filled with their latest collections, and also provide them a unique, non-affiliate code to give their audience $5 off. See an example below! Fans of your brand end up being your biggest sales tool since they have genuine trust and love your products enough to come back for a re-purchase.

Being a Glossier rep means getting first pick at new products and getting to try them out before their launch, a monthly $30 credit and a percentage of the purchases made through the affiliate link given to you - 10% off for whoever uses it. Product reviews lead to consumer trust, which in turn will influence readers to try something new for themselves.

Conair recently launched a gifting campaign called #UnboundBeauty. They gifted products to influencers to announce the launch of their cordless line - including an auto curler, flat iron, curling iron and multi-styler. They're sending out these tools for FREE, and have already generated over 800 unique posts.

Ulta's affiliate program offers connections with several beauty brands, one of which being OPI. They released their newest line of polishes and sent them out to hundreds of influencers, using the campaign #opiobsessed. Building some hype prior to your product launch is a great opportunity to include influencers!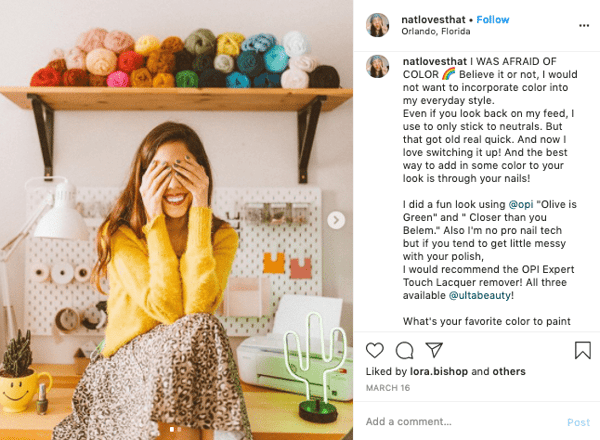 Drawing inspiration from these brands is a good start, but keep your influencer gifting campaign unique to your brand! Contact our team of influencer marketing specialists if you have any questions. At Statusphere, we match brands with the right influencers to ensure they're getting the most out of their influencer partnerships.