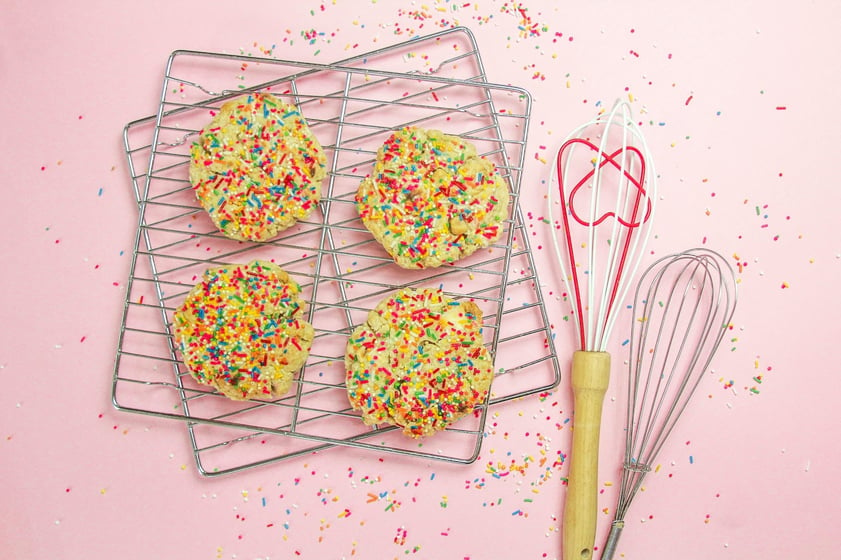 In 2021, U.S. retail social commerce is predicted to increase by 34.8%. As brands and customers continue to adopt the use of social commerce platforms, like Facebook and Instagram Shops, it's clear to see that social commerce is here to stay. Understanding how social commerce works and keeping up with its fast-changing trends can help your brand drive sales in this relatively new territory. In this blog, we discuss 4 social commerce trends that drive sales so your brand can execute social commerce effectively.
What is Social Commerce?
Social commerce refers to buying and selling products directly from social media, such as Facebook, Instagram and Pinterest. Because product discovery and purchase take place in the same place (on the social platform), social commerce allows brands and sellers to reduce friction from the customer's online shopping experience.
Social commerce turns social platforms and social content into the point-of-purchase, empowering social media users to buy directly from the social post or platform that convinced them of the product to begin with. This eliminates the effort and time it takes to track down items users have seen on social media -- time and effort that could prevent the customer from making a purchase.
It's important to note that social commerce is different from social media marketing, in which brands redirect consumers to their website to purchase products, and different from e-commerce, which takes place on a brand's website.
Here are 4 social commerce trends that drive sales to keep an eye on:
1. Conversational Chatbots
Chatbots on platforms like Facebook Messenger allow brands to interact with customers, making their experience more personalized. After a personalized experience, 44% of consumers become repeat buyers, and with 69% of people in the U.S. who message brands saying the ability to do so helps them feel more confident in that brand, it's clear that this feature has the power to influence purchase decisions and drive sales. This tool is essentially message-based shopping, allowing consumers to chat with a bot that will recommend products to them and provide them with the ability to purchase the products in just a few clicks. This helps consumers shop faster while providing them with quick access to customer support.
An example of a brand using this tool is Pizza Hut, which uses Twitter Bot, Facebook Messanger and Alexa bots to provide consumers with a streamlined way to order pizza for delivery or carryout from the apps they're already active on (without having to hunt down Pizza Hut's website). Consumers are also able to reorder their favorites, ask questions and even see current offers.
2. Goodbye QVC, Hello Livestream!
Brands have started adding live streaming to their marketing strategy as a platform to host new product launches, product demonstrations and even interviews. Brands, like Sephora, actively conduct live streams on Instagram to garner interest and sales. Live streaming allows viewers to ask questions in real-time and creates an authentic brand experience. With platforms like Instagram integrating their Live feature to help brands sell their products and TikTok actively working on a live-stream shopping feature, live streaming is here to stay. In fact, it's predicted to be a $70.5 billion industry by 2021!
3. Turning User-Generated Content into Shoppable Content
People rely on recommendations from other, real people when making purchases. Ninety-two percent of people say they trust recommendations from people over brands (even if they don't know them). This makes user-generated content a powerful tool for brands. Brands can utilize user-generated content (with the creator's permission) to provide social proof and create shoppable posts on platforms like Instagram Shop. These shoppable posts allow users to click the products tagged in the brand's post, and browse and purchase products directly through Instagram's in-app browser, or on Instagram Checkout. One brand who does this regularly is Aerie. They "regram" posts from their Aerie ambassadors and consumers alike and add product tags to the posts so their followers can shop directly from the content itself.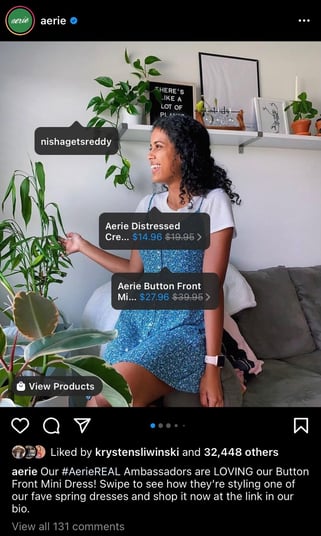 4. Influencers Using Instagram Checkout
Instagram Checkout allows users to make a purchase without having to leave the app. Consumers are heavily influenced by influencer recommendations, 8 out of 10 having purchased something after seeing it recommended by an influencer. This feature allows influencers to tag products on their posts, giving consumers direct access to purchase it from the brand's Instagram Checkout. In order for them to do this, they will first need to be added by the brand as an "Approved Account." Because influencers have built-in communities, collaborating with ones who share your target audience and niche is a great way to get new consumers considering your products. Kylie Jenner is an example of a big name celebrity influencer using this feature to promote her business on her personal Instagram account.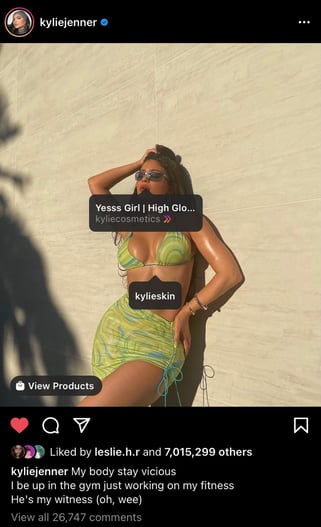 Using influencer content to drive sales to your brand is a highly effective way to get new users interested in trying your products, and features like Instagram Checkout only make their shopping experience easier.
With younger generations increasingly using social media to make purchase decisions, social commerce will only continue to emerge as a powerful way to drive sales. Interested in partnering with influencers to promote your products and drive more social commerce sales? Statusphere can take the entire process out of your hands. Contact us today to talk with one of our influencer marketing specialists!