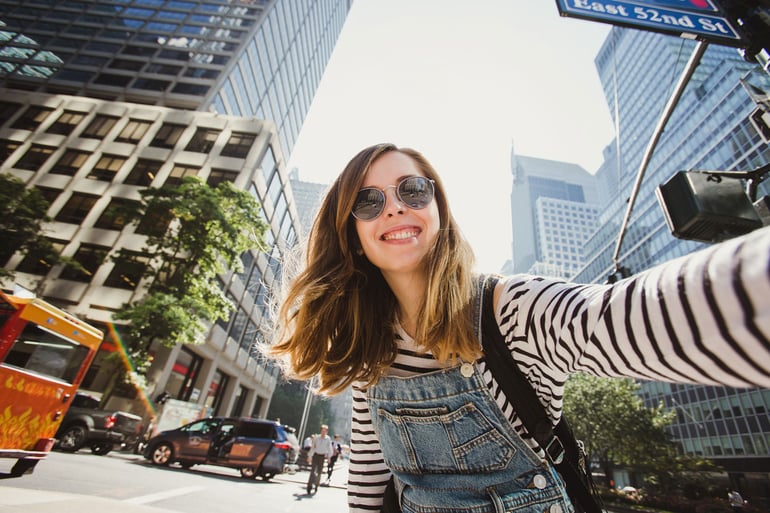 I can't tell you how many people come to me and say "I totally want to do influencer marketing, but I need to see direct ROI – if I spend $1,000 I better be making at least $2,000." Not only is the unrealistic for most types of marketing (think billboards, TV ads, and social media), but there is so many ways that influencer marketing contributes to your ROI indirectly. That's why I created this post – to show you how to properly calculate influencer marketing ROI, and figure out if an influencer marketing campaign is right for your brand.
1. Content
Probably one of the biggest and underrated pieces of ROI from influencer marketing is content creation. Content creation is hard and expensive. When you run an influencer marketing campaign, you will receive high-quality, creative content from expert content creators. You can then use this content to repost to your own social channels (with their permission). You can also negotiate into terms that you can use their photography and content for other ads and your website. In my opinion, the content alone provides tremendous ROI for a brand.
2. Social Proofing
In this day and age it is imperative to have a social media presence, but what has become more important than just having an account is showing REAL engagement on these social media channels. This is where influencer marketing campaigns can provide a huge benefit. When people search your brand after you run an influencer marketing campaign, they see tons of recent content from people talking about your product. This might just be the thing that pushes a potential buyer to actually buy.

3. Brand Awareness
Although potential customers may not buy your product as soon as the influencer posts about it, they are now aware of it, and may buy it in the future. This is why it is so difficult to calculate direct ROI. Studies show that it can take on average between 6 to 15 touches before someone decides to buy your product. This statistic actually makes influencer marketing even more effective if you run a campaign working with many influencers at once.
Potential buyers will be scrolling through their feed and see your brand pop of several times over a short amount of time, making them more likely to convert. If the main goal of your influencer campaign is brand awareness, make sure that you are working with at least 10 to 25 influencers within a short window of time. If you are having trouble securing that many influencer posts be sure to contact Statusphere and we will see how we can help.
4. Revenue
There should be some lift in sales if you targeted your influencers properly, but keep in mind that you may not see it immediately. One way to help see a better correlation is having your influencers include a call-to-action with a special deal to purchase your product (like a coupon code or special deal for a short period of time). This will give people some urgency to buy it if they are interested.
When putting together a strategy for any form of marketing one of your top goals should be ROI. But it is important to understand that ROI comes in many forms. Before setting your marketing strategy and goals be sure to identify the different types of ROI and how they will directly and indirectly affect your bottom line. If you need any help putting together your influencer marketing campaign or want to get influencers posting about your brand quickly, check out the Statusphere process here.