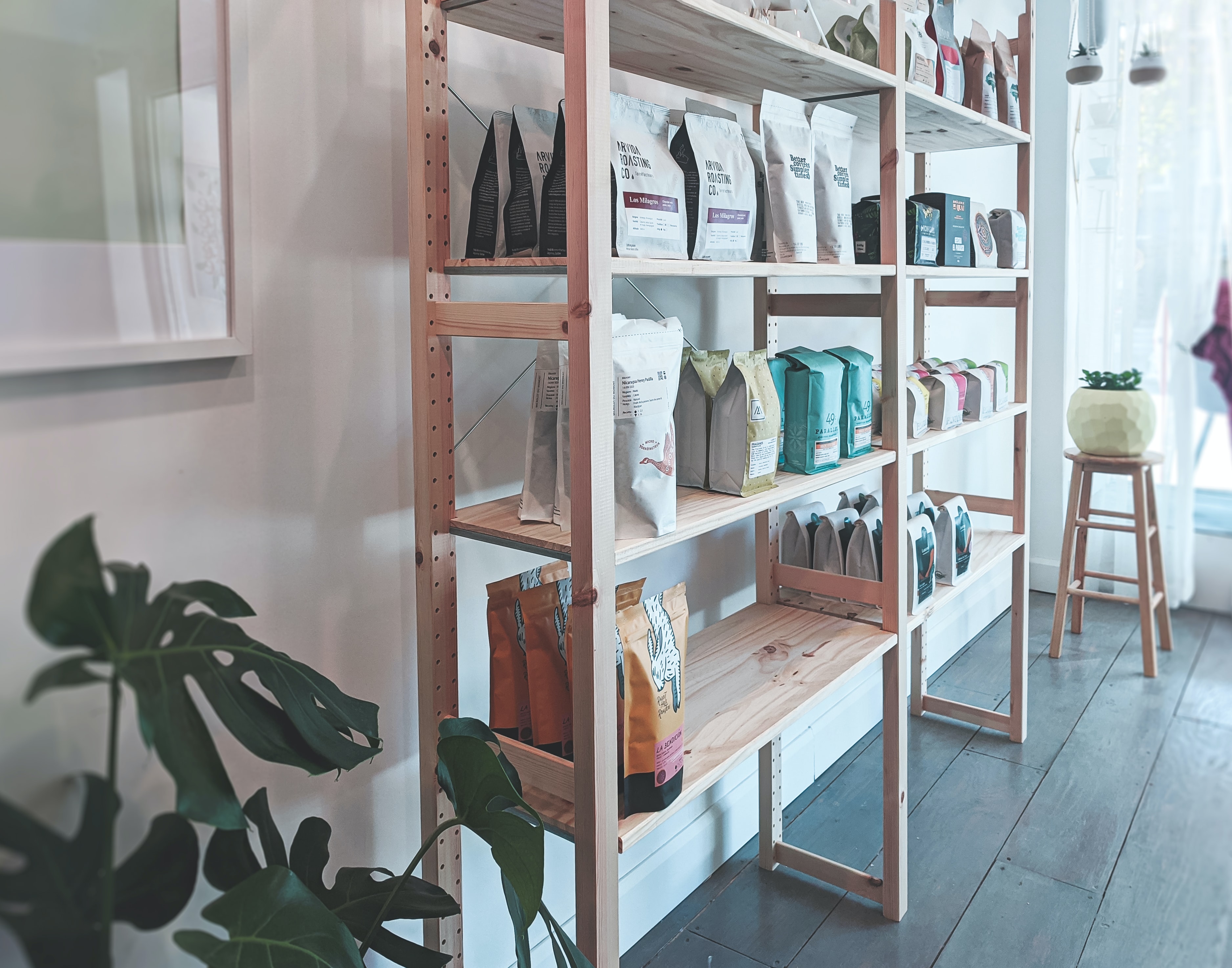 Making sure your end cap display is unique enough that it's not overlooked and convenient enough to make purchasing decisions easy can be a challenge -- but it's not impossible. The end cap is the perfect chance to convince shoppers to purchase your product, and even get them telling their friends about it. How do you do that? You create an end cap display so eye-catching that it keeps shoppers interested and engaged.
Here are 8 end cap display ideas for every season to grab shoppers' attention and help you sell your in-store products.
Winter
Winter is the season of gift giving, and that means in-store competition will be at an all-time high. In order to promote your products during the holiday season, you'll want to focus on making your products stand out and giving consumers convenient gift options.
Build a One-Stop-Shop
Showcasing a variety of products and what they have to offer in one location makes it easier for shoppers to find holiday gifts for their family and friends (and for themselves). Benefit designed an end cap display with an array of eyebrow products along with a mirror and testers which encouraged shoppers to stop, take a look at the products and test them out. This interactive element is great for grabbing shoppers' attention and allows them to explore all of your products in one stop. This not only prevents shoppers from walking down the aisle to your competitors but also allows them to seal the deal with your brand. Shoppers enjoy having the liberty of trying out a product before buying it, that's why stores like Sephora and Ulta are so popular!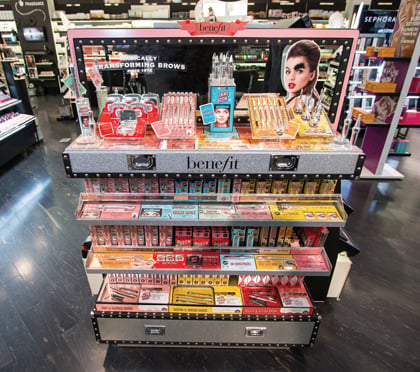 Bring Your Brand to Life
With this end cap, Harry's does an amazing job of creating a captivating display that will make any holiday shopper do a double-take, while seamlessly showcasing how their products will be used by their customers in their daily lives. By creating a life-sized example of your product in-use, you're also creating an "Instagram-worthy" display for prospective, new and loyal customers -- which can lead to user generated content on social media. This can garner interest even outside of the in-store shopping experience and expand your reach exponentially!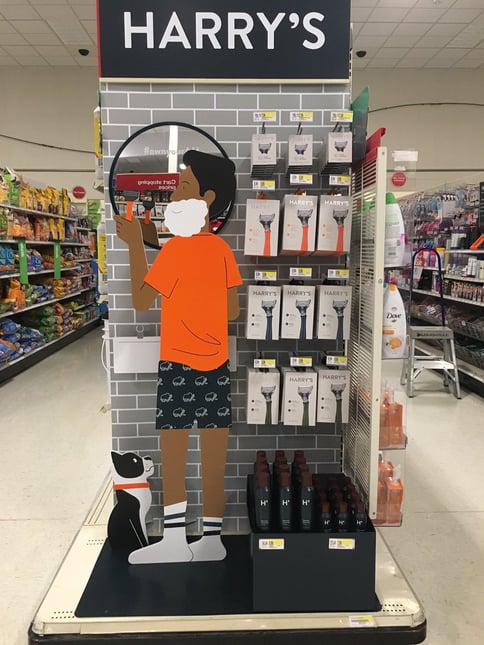 Spring
Between St.Patricks Day, Mother's Day, Cinco de Mayo and more, Spring is filled with holidays and events that your brand may be considering building an end cap display for. Use these Spring end cap display examples to come up with ideas:
Stick to a Theme
This isn't an end cap specifically, but rather a conceptual design for a 'Spring' theme for CVS Pharmacy -- but you can apply the same idea to your end cap! Picking a familiar color scheme and a theme to build your end cap from can make your display stand out and signify to shoppers that your product is perfect for Spring time. If you're a food brand, incorporating Spring colors can get shoppers to consider purchasing your product for their Easter or Mother's Day celebrations. The same idea can be applied to St. Patrick's day promotions. CVS also does a great job of utilizing all of their vertical space to really grab shoppers' attention, in this example.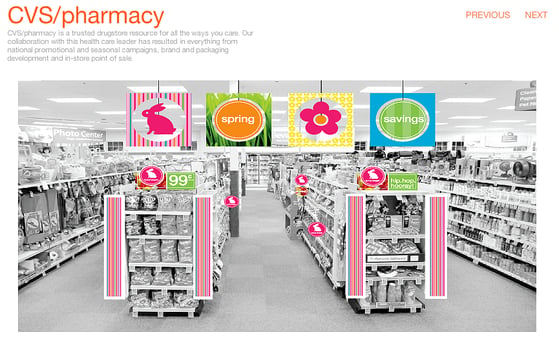 Make Mother's Day Shopping Convenient
Shoppers can easily get stressed, especially when it comes to shopping for their families or significant others. By writing in big, bold letters to whom your products are perfect for, either above or on your display (in this case, "Mom"), could guide them in the right direction. TJ Maxx made Mother's Day shopping simple by pairing ideal gifts for moms on end caps throughout the store. Not only does this help cross-promote items to drive sales together but it also alleviates gifting stress. This goes for any gifting holiday, no matter what the season -- so incorporate it into any and all of your holiday marketing promotions.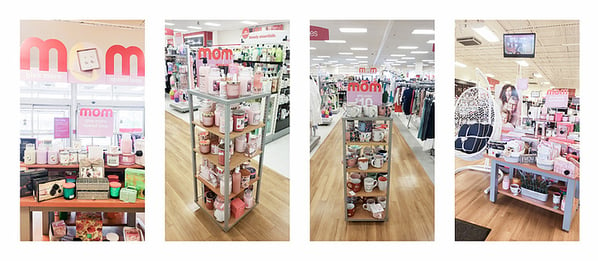 Summer
Creating your summer end cap display is all about helping shoppers prepare for vacations, parties and summer activities outdoors -- making it a great opportunity to promote food, beverages, skin-care products, clothing, accessories and more. Incorporate summer themes into your in-store marketing materials, or make try-on stations available to get customers exploring your products. Here are some examples:
Remind Customers Why Yours Is the Perfect Summer Product
Pepsi set a good example of how to display an array of products targeted at encouraging summertime purchases still staying on brand. Pepsi stuck with their trademark blue color, came up with a clever slogan to check off the summer theme and let the products speak for themselves. Using marketing text like "Catching Rays" and "Grab Summer by the Bottle" reminds shoppers of the outdoor summer activities they have planned and positions Pepsi as a refreshing solution to beat the heat. Sometimes making an extravagantly themed display isn't the right fit for your brand, and it can still be effective.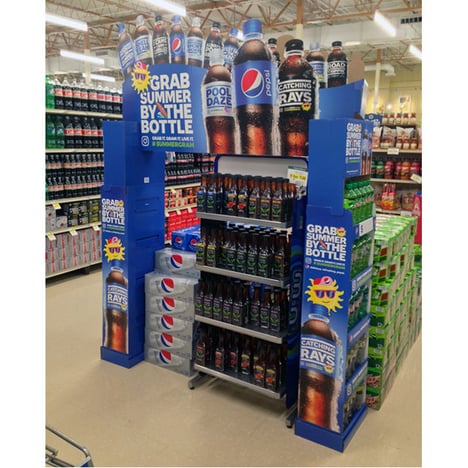 Incorporate Try-On Displays for Skincare and Beauty Products
Summer is all about sunscreen, eyeglasses, and skincare -- making try-on stations the perfect addition to your summer end-cap display. Neutrogena showed off different skincare products in a wall-papered display along with a mirror, giving shoppers a familiar, homey experience while trying on their products.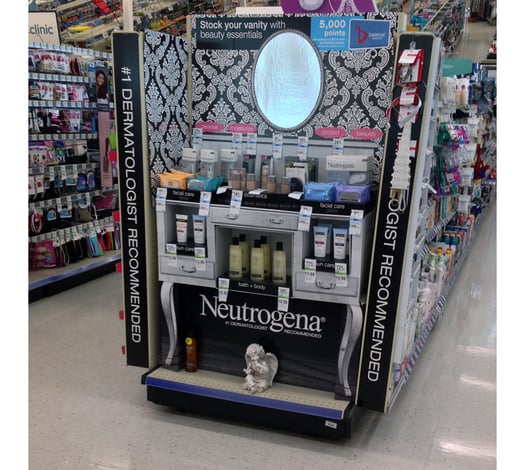 Fall
Between back-to-school, football season, Thanksgiving and more, Fall is a busy time for shoppers -- which makes it a busy time for brands. Here are some Fall end cap display ideas to get your brand thinking ahead:
Go Big or Go Home for Back to School
This in-aisle display is a great example of a brand kicking off back-to-school season right. Here, Kroger set the scene by making a school bus/school zone display that promoted back-to-school essentials. Think about how you can display your product visually to grab shoppers' attention, signal to them they're in the right place for the items they need, and even provide cute photo opportunities for parents.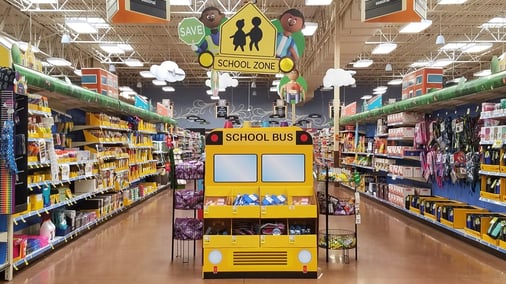 Kick Off Football Season With Cross Promotion
Looking to cross-promote items to drive sales together? Football season is a great time to do it. In light of the Super Bowl, Walmart put Skittles and Snickers against each other along with other candy items like LifeSavers and Starburst as spectators. Displays like these make shoppers stop in their tracks and serve as a grab-and-go for eager shoppers on their way to watch a game.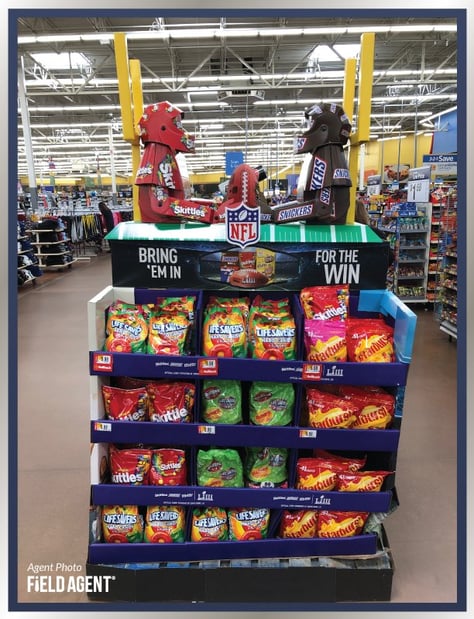 End cap possibilities are endless and serve as an opportunity for your brand to shine creatively, increase sales and even lead to user generated content on social media. From extravagant attention grabbers to simple yet effective displays, you can take many different approaches to grab customers' attention.
If you're ready to expand your social media marketing efforts to drive retail sales while activating influencers, contact Statusphere today.