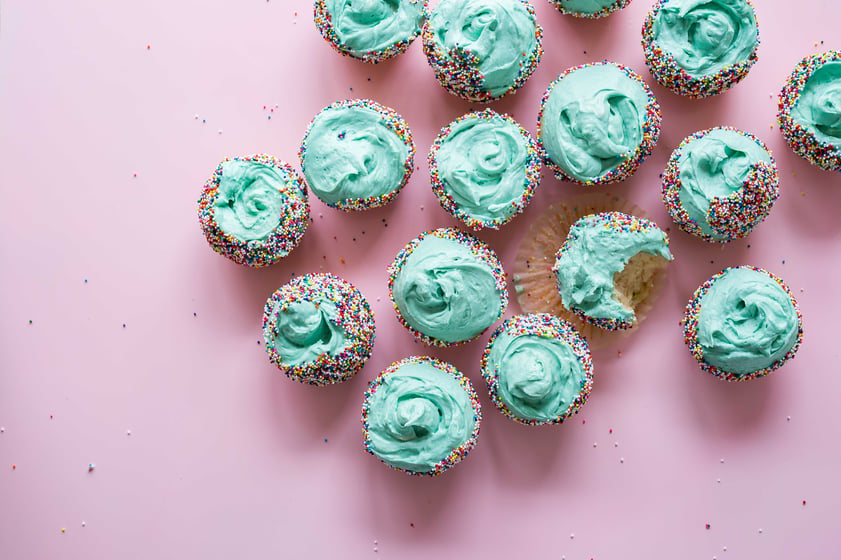 Retargeting ads have many uses, from helping you advertise to people who have previously visited your website but haven't yet made a purchase, to helping you increase sales from returning customers. They are an effective way to keep leads, as well as potential and existing customers, interested in your products so you can maximize your marketing efforts. Below, we highlight 7 retargeting ad examples that convert so you can create a successful retargeting campaign for your brand.
1. Sign Up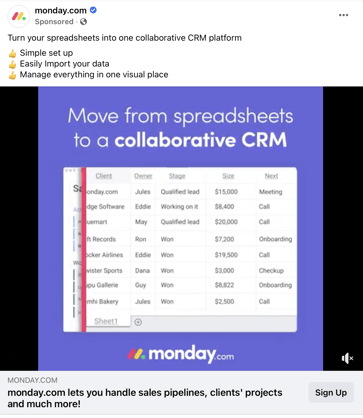 If your goal is to get more sign ups, take a look at this retargeting ad example from Monday.com. They created a video retargeting ad on Facebook to prompt previous website visitors and leads to sign up for their platform. Sign-up focused retargeting ads are a great way to seal the deal with leads who are further down your sales funnel and have previously considered purchasing your product or service. Use this form of advertising to remind potential customers of your brand and what you have to offer.
2. Free Trial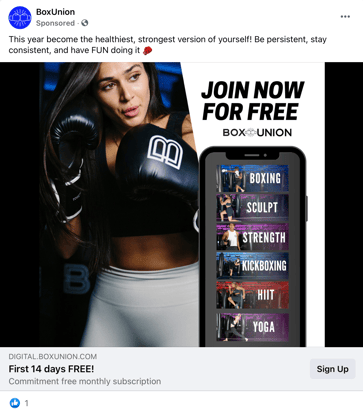 Free trial retargeting ads are a great way to incentivize sign ups. They are especially useful for subscription products and services, which may require more consideration before buying. They work well because they allow potential customers to give your product/service a try before fully committing. Here's an example of a 14 day free trial retargeting ad that BoxUnion displays to anyone who has visited or interacted with their website. The goal of this ad is to get them to come back and sign up for a free trial. Remember, 92% of first-time website visitors leave without making a purchase, with some research indicating it can take 9.5 visits before a purchase is made -- so it's important that you make your ads compelling enough to get potential customers to return to your website.
3. Upselling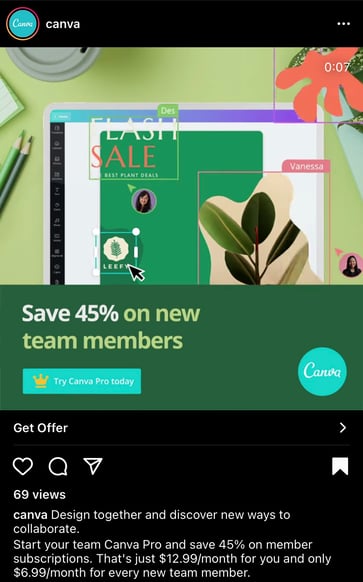 Advertising your products to users who have already purchased and are satisfied with your product can help increase your sales. Research has shown the probability of selling to an existing customer is between 60-70%, compared to 5-20% for new prospects. So, if you want to capitalize on your existing customer base, upselling retargeting ads are key. Take a look at this Canva ad. Their goal with this retargeting ad is to get existing users to join their Canva Pro service (upsell tactic!) and incentivize the action by offering a 45% discount for new team members (customer growth and upsell tactic combined).
4. Learn More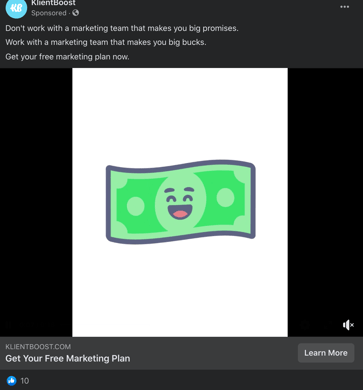 In this example, KlientBoost encourages previous website visitors to "learn more" about their service by displaying a video retargeting ad on Facebook. Once the user clicks on the learn more button, they're taken to KlientBoost's homepage.
Using a "Learn More" button to promote your products can encourage potential customers to continue increasing their knowledge of your brand, product or service so that they'll move further down your sales funnel. Be sure to offer something of value, like KlientBoost did in this example by offering a "free marketing plan."
5. TikTok Retargeting Ads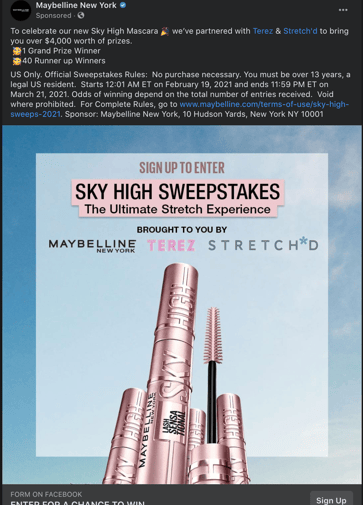 Giveaway retargeting ads can be used to increase brand awareness and impressions.
Maybelline New York used this strategy for its "Sky High" Mascara that's trending all over TikTok. This sweepstakes retargeting ad prompts previous website visitors to sign up for a giveaway by providing their email, address and date of birth. After signing up, the user is shown this thank you page which links to Maybelline's website and features as a way to keep the website visitor on the website longer.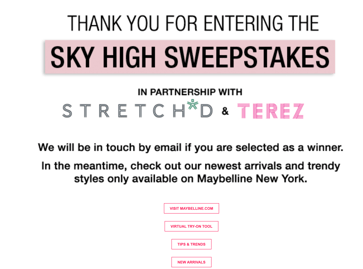 6. Promo Code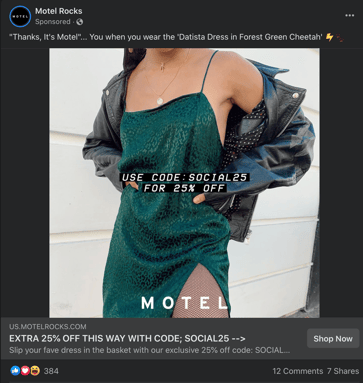 Promo code retargeting ads can be used to get potential buyers to re-consider a product they were previously considering, or had in their shopping cart, and then abandoned. This is the strategy Motel Rocks chose to retarget website visitors, along with a 25% off promo code to incentivize purchases. By using a dynamic ad, Motel Rocks was able to target previous website visitors with the products they had viewed, in this case, the 'Datista' dress.
Typically, the shipping cost is what triggers consumers to leave their shopping carts, 25% of people leaving their cart because of this. So making sure you retarget them by providing them with a promo code could help your brand make the sale.
7. Influencer Testimonials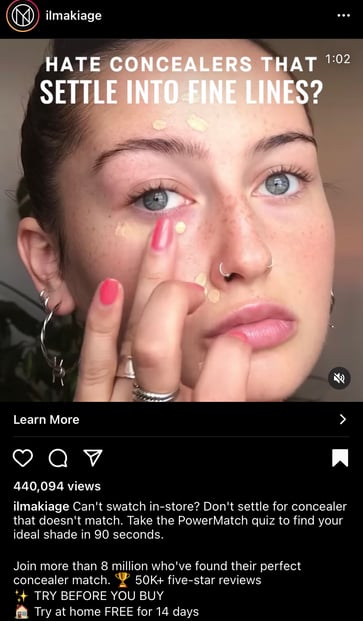 II Makiage creates powerful retargeting ads by featuring influencers using their products and talking about their results. Adding influencer testimonials into your retargeting ads can carry a lot of weight -- studies have shown that influencers can, and do, influence purchase decisions. One study revealed that 45.4% of micro-influencer followers have tried a product after it was recommended to them by a micro-influencer, and 26.9 made a purchase after seeing a post.
II Makiage made their retargeting ad even more engaging by adding an interactive element -- a quiz that points users to a product that is customized for them. Influencers featured in the ad also took this quiz in order to find their perfect match and create their testimonial. This is a fun and strategic way to retarget and convert people who have previously shown interest in your product, without feeling like an ad.
Creating retargeting ads that convert is all about being engaging, providing value, personalizing your content for your target audience and adding social proof. Utilizing influencers in your retargeting ads is a great way to add social proof and get interested prospects to convert -- but only if you're involving the right influencers. At Statusphere, we specialize in connecting brands with influencers in their niche and managing their influencer marketing campaigns from start to finish. Click here to learn more about how we can get influencers in your niche posting about your products, and attract more of your target audience to your brand.