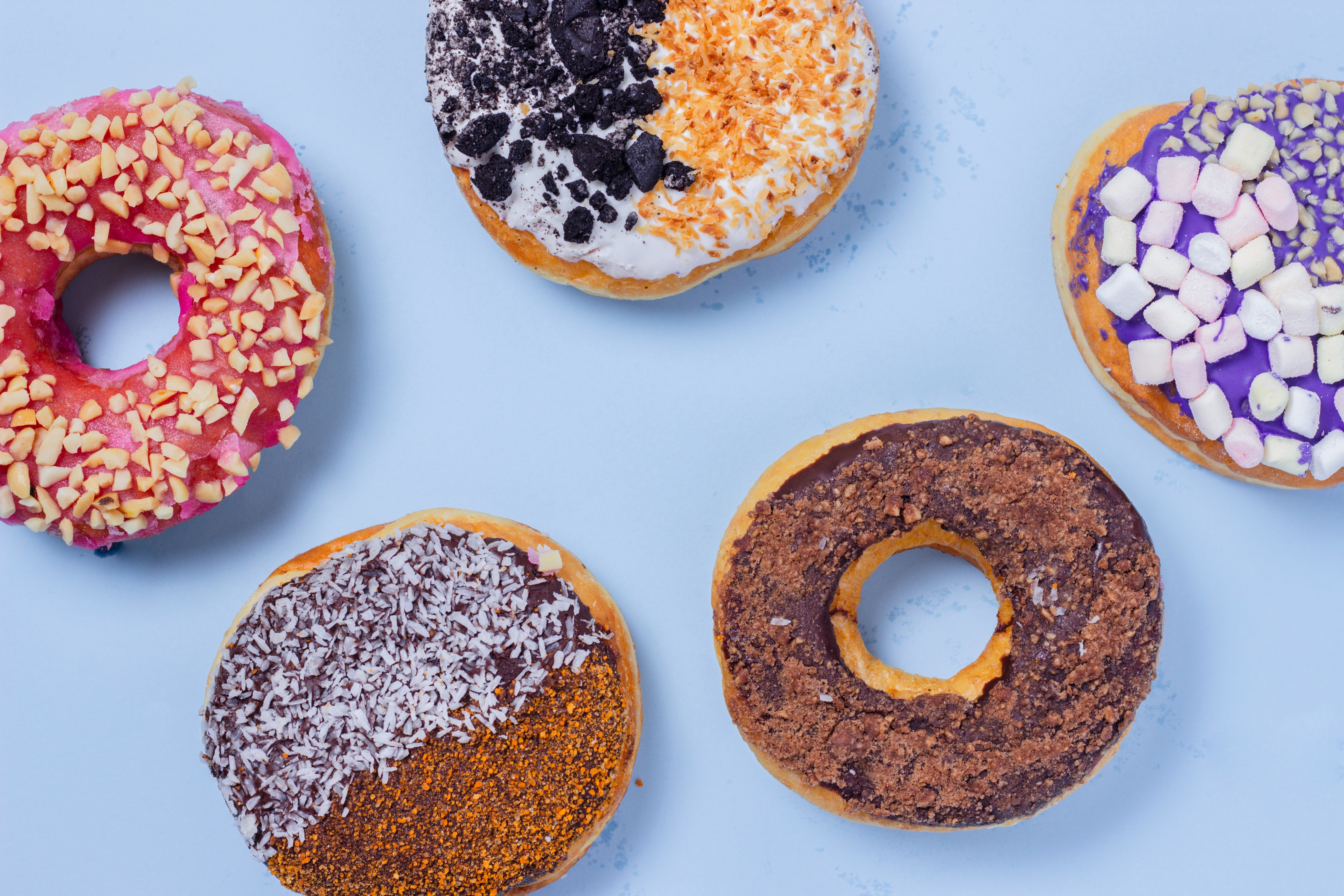 Whether you've downloaded it or not, you've probably at least heard of TikTok. Reaching up to 2.6 billion downloads worldwide, this social media platform has taken the world by storm. More than just being a popular social app for funny videos and dance challenges, TikTok is being used to discover new products and brands -- and its influencer content even drives sales. Below, we highlight 6 types of TikTok ads and how they work so you can plan your brand's TikTok advertising efforts accordingly.
In-Feed Ads
These types of TikTok ads appear as the user is scrolling through their For You Page (FYP). They can be up to 60 seconds long (although TikTok recommends 9 to 15 seconds) and the user is able to like, comment on, and share this advertisement. They are also full-screen and skippable. Brands that create this type of ad are also able to include a call-to-action button which links to a landing page -- a beneficial feature if your goal is to increase website traffic and sales.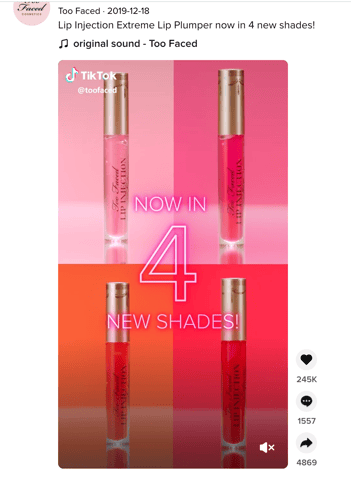 Too Faced utilized this advertising type in a seamless and eye-catching way with their Lip Plumper Extreme In-Feed Ad.
TopView Ads
These "video first format" ads are 60 seconds long and appear immediately after the user opens the TikTok app. They are full-screen, with sound and auto-play. Advertisers can also include a call-to-action button in the ad. These ads are a great way to guarantee reach, as the user will see them quickly after they open the app.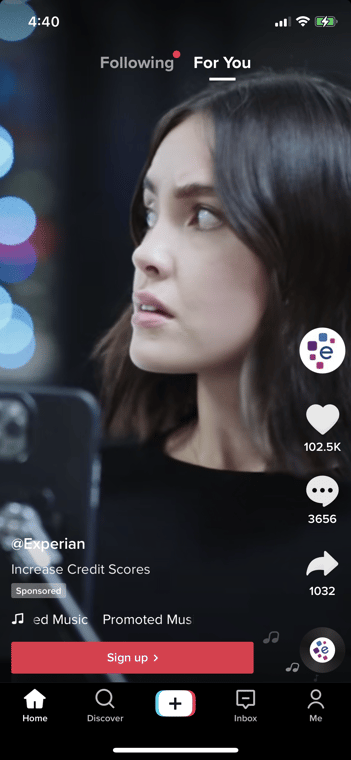 Experian used this ad format to promote their app and drive users to their FICO Score landing page.
Brand Takeover Ads
These full-screen ads appear on the FYP immediately after a user opens the app. They can be created using 3 to 5 second videos or 3 second images and can be used to direct users to a Hashtag Challenge or landing page (depending on the brand's campaign goal). Users only see one Branded Takeover ad per day, which means less competition, but also makes them a bit pricey.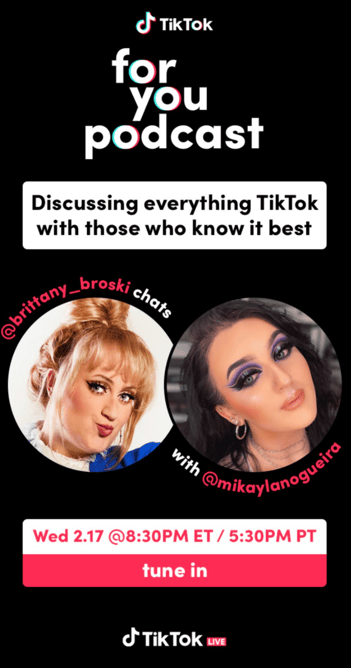 TikTok used this ad type to promote its For You Podcast. Upon clicking on it, users are directed to the pages of the influencers featured in the ad.
Branded Hashtag Challenge Ads
These are sponsored hashtag challenges that are featured at the top of TikTok's Discover Page. This form of advertising helps advertisers achieve more engagement (averaging at 8.5%) and encourages user-generated content.
Here's how they work:
The user clicks on the branded hashtag challenge ad
They're taken to a

Brand Challenge page

containing a description of the challenge/challenge rules, brand logo and a link to the brand's website
Users create their own TikTok content based on your challenge, using your hashtag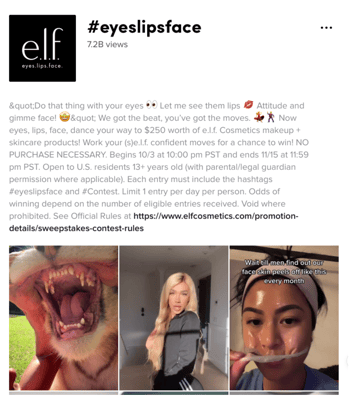 An example of this is the #eyeslipsface challenge created by e.l.f. Cosmetics. You can see their user generated content above. Users showed off their natural beauty and used a song named "Eyes.Lips.Face." to enter for the chance to win $250 worth of e.l.f. Cosmetics makeup and skincare. This campaign ended up being the most-viral campaign ever on TikTok, with nearly 5 million users contributing to the challenge and garnering up to 6 billion views.
Branded Effects
Think Snapchat and Instagram! Similar to these platforms, brands are able to create sharable stickers, filters and special effects on TikTok to promote themselves. Brands will often combine this ad format with other TikTok ads. The benefit? Filters and special effects are popular among TikTok users, which means creating them for your brand could drum up more user-generated and increase engagement.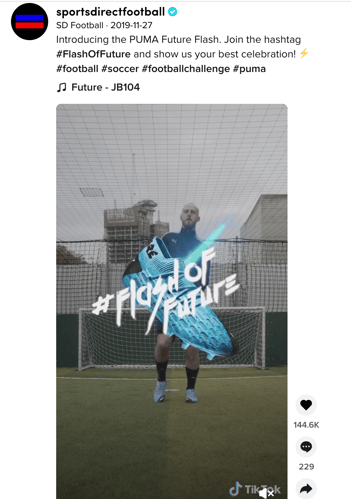 PUMA created a Branded Effect, combined with a hashtag challenge to promote their Future Flash collection under the #FlashOfFuture. This campaign garnered 587.5 million views.
Influencer Collaborations
Last but not least, influencers! While this is not specifically a TikTok ad type, your brand can most certainly partner with influencers to create TikTok ads and reach your advertising goals. TikTok influencers specialize in creating quality, engaging content for their niche and their followers go to them for the latest trends, tips and product recommendations. If their niche aligns with yours, it creates the perfect opportunity for collaboration.
From helping your hashtag challenge gain popularity, to creating highly visible user-generated content, influencers are the perfect way to draw more attention to your brand on TikTok. If you want to learn more about how to leverage influencers for your next TikTok campaign, our marketing specialists can help. Ask us how!