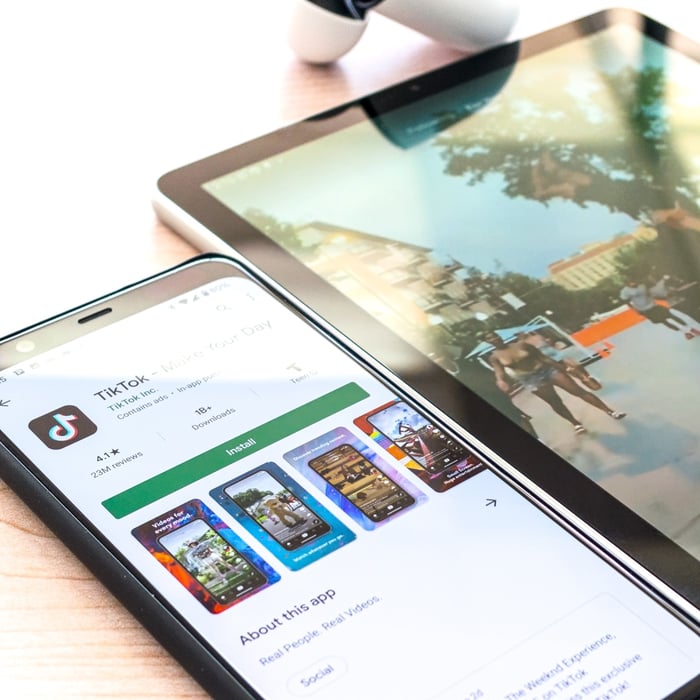 TikTok continues to grow as a video-sharing platform, with 79.6 million users forecasted to use it consistently by the end of 2022. Over the last two years, more and more brands began to leverage this social media platform by creating TikTok campaigns. These often consist of special hashtags, instructional content, fun videos and more. Whether you have experience with previous campaigns or are new to the platform, there's no better time than now to start promoting your brand on TikTok! To get you started, here are some ideas you can use to take your TikTok promotion to the next level, plus examples to help you get your creative juices flowing.
1. Post Often and Consistently
One of the best ways to expand your reach and promote engagement is to share content often! The TikTok algorithm rewards consistency by pushing your content to more users. Keeping a schedule when it comes to content creation and posting can be a great way to ensure that you are keeping a consistent schedule and getting the best engagement possible.
Gymshark is a great example of a brand that shares consistent TikTok content once daily. This content ranges from funny videos to workout tips and their own take on the current TikTok trends - which we'll talk about more later! This allows them to build their brand awareness and increase their follower count so they can get more eyes on their content.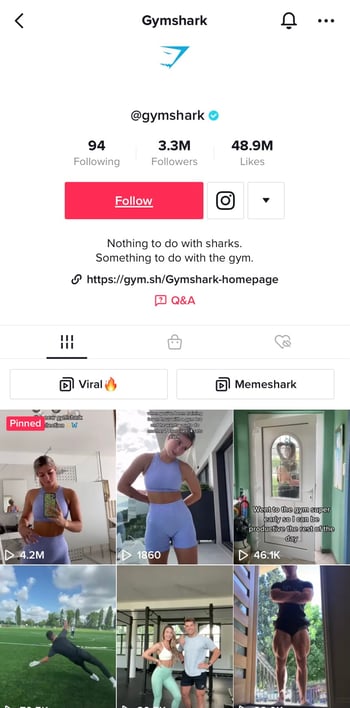 They do a great job at striking a balance between promotional content and engaging content. The majority of their posts are funny, inspirational, entertaining or motivational. Typically, they'll work their apparel into their videos naturally so they aren't spamming their followers with purely promotional posts. But, when new product launches roll out, Gymshark also uses TikTok to announce these new releases to their current 3.3 million followers.
2. Take Advantage of Popular Features, Like Sounds
TikTok is known for its trendy sounds, which can go viral quickly! In fact, according to Vamp, 68% of users will recall a brand better when the brand uses music they like. Your brand can (and should) leverage sounds when creating promotional posts, campaigns or content for brand awareness. When doing so, make sure you are aware of TikTok's rules regarding sounds. In order to avoid copyright issues, business accounts should stick to either creating their own original sounds or picking royalty-free sounds from TikTok's Commercial Music Library.
Ole Henriksen, for example, partnered with Statusphere to create a TikTok influencer campaign for the launch of its Lemonade Smoothing Scrub. They created a unique TikTok sound for this campaign and encouraged influencers to use the sound in their content when showing off the product, accompanied by the #YourMainSqueeze.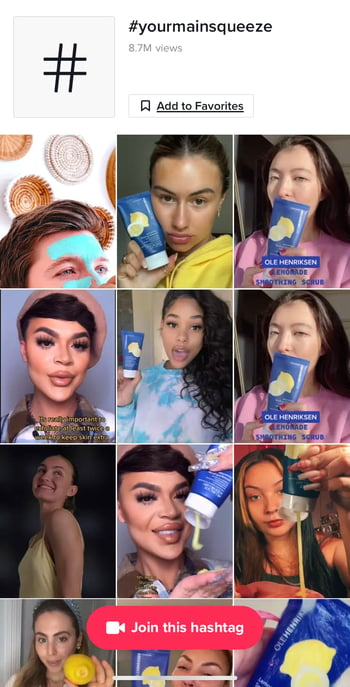 Today, the audio has been included in 191 videos and the hashtag currently has 8.7M views. This is just one example of how a TikTok promotion can take off when the platform's unique features are used strategically!
3. Create Your Own Trends
There is no better way to promote your brand than to become a trendsetter! And when it comes to TikTok, you have all the tools you need. Brands have done this by creating custom hashtags, short dance routines and even challenges.
Target did this when they created the #TargetChallenge. This is a simple game where a couple (friends, significant others, family members, etc) would shop for each other and then reveal their purchases. The fun part? They had to follow specific prompts such as "favorite snack," "favorite color," or "something that you need." Currently, this hashtag has over 446.3 Million views. Here's one example of a TikToker taking the challenge.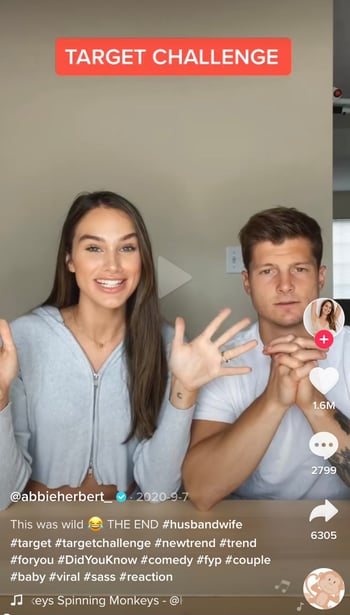 Looking for more information before creating your own trends on TikTok? Check out our TikTok Brand Guidelines: Dos and Don'ts!
4. Don't Look or Sound Like an Ad
TikTokers aren't big fans of promotional content. They come to the platform to be entertained and engaged, and ads disrupt that experience. For that reason, when it comes to creating effective an TikTok promotion, brands have to walk the line between promotional and entertaining carefully.
Check out this case study from TikTok for Business on Bumble! They embraced the "Don't Make Ads, Make TikToks" mantra by asking creators to make fun and relevant content that users would appreciate. Some examples of this include videos demonstrating different opening lines to use on the app, and funny dating storytimes. For their TikTok promotion to be successful, they partnered with creators, such as Brittany Broski, to create original content with their signature appeal.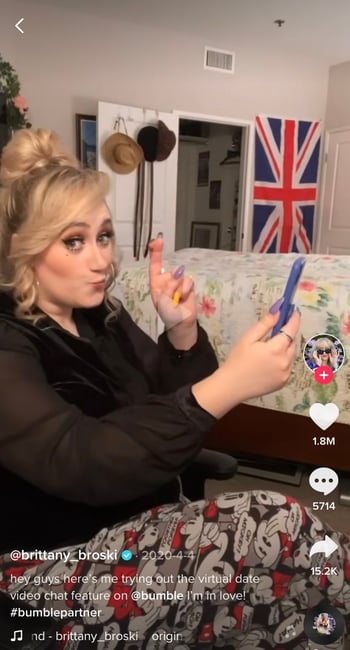 By combining this tactic with In-Feed Ads, the campaign resulted in a 5X increase in App Install Volume and a 64% decrease in cost-per-registration.
5. Partner With Creators
When it comes to knowing what TikTok's audience likes, there's no better expert than creators themselves! And collaborating with them is a great way to give any TikTok promotion a boost. Micro-influencers (smaller creators), especially tend to have good insights on what kind of content performs best and already have built-in audiences that engage with their content consistently. On TikTok, micro-influencers receive a 17.96% engagement rate while mega-influencers measure in at 4.96%. You can learn more about TikTok micro-influencers vs celebrity influencers here.
Halara is a newly popular athleisure company that works with micro-influencers and then repurposes this user-generated content by reposting it to their own TikTok account. The brand partners with creators of all ethnicities, shapes and sizes to show off their products on their personal TikTok profiles. And they don't limit themselves to partnering only with creators who have tons of followers - one of their currently pinned videos is from a creator who has just 79 followers (the post has gained more than 624 likes in just a few days).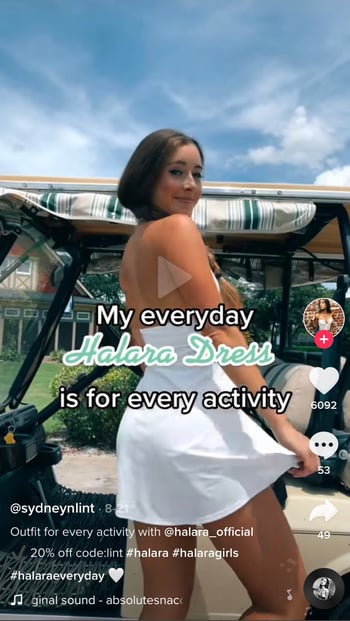 Inviting content creators to post about your products on their personal accounts is a great way to leverage their built-in following and expertise to help increase your social mentions, gain new followers and promote new or existing products.
Wondering where to start forming these partnerships? The TikTok Creator Marketplace is one way to find them, but there are a lot of different options and they all have their pros and cons. Check out our blog on Ways to Find TikTok Creators for more details!
6. Re-post Creator Content on Your Brand's TikTok Page
Re-posting user-generated content on your brand's page is helpful for so many reasons. Reason one: it's quality content, which can help boost engagement with those who follow you, and two, it's content you don't have to spend time creating internally! UGC can also help encourage engagement from the audience of the creators you are partnering with, and from anyone else who sees the content on their For You page. Why? Because user-generated content offers powerful social proof.
Wondering if UGC is a smart move? Just take a look at Amazon's TikTok account. Their verified brand account reposts videos from creators they partner with, featuring Amazon boxes, Amazon Alexa and more, in order to promote the Amazon brand. Taking this approach brought them 2.5 millions of likes and 387.75K followers.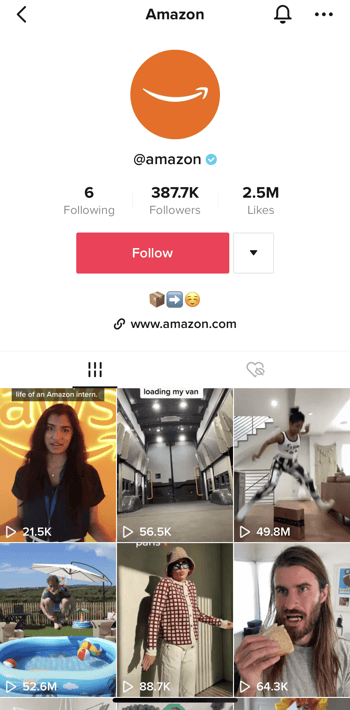 Following these examples is a great start to making your next TikTok promotion a success. Looking for an easy way to start adding creator content into your TikTok promotion strategy? Contact us for a stress-free process, from finding the right creators to handling the campaign, product shipping, reporting and more. We can get the right TikTokers promoting your brand and manage the process for you every step of the way.