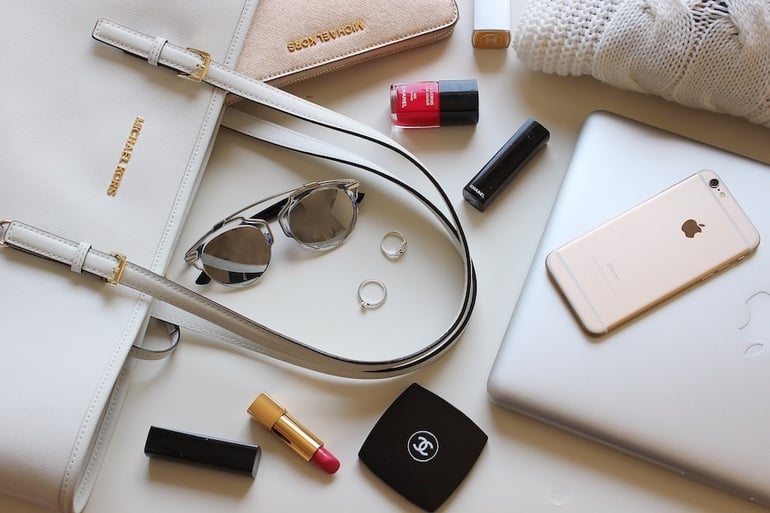 Getting the attention of your target audience in retail can be harder than putting out a few sponsored advertisements. Given the amount of sponsored content on the web, it's no surprise that users tend to tune it out. Influencers might be just what your brand needs to find the retail support you're looking for. Their relatable voice and active following can cut through the noise of often oversaturated platforms and bring their audiences' attention towards your brand. Here are four brands that successfully use influencers to support retail sales.
Meller
Meller is a trendy sunglasses and watches brand born out of Barcelona. You may have seen them once or twice if you're active on Instagram because their influencer program is off the charts. The main thing to look at here is the way they integrate their influencers into their brand, even giving them a full page on their website with influencer photos that link out to their personal pages.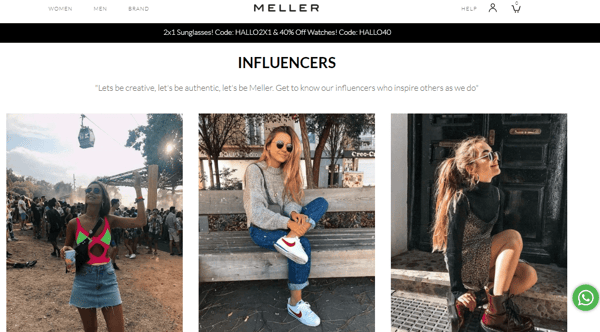 When you click on a product, you'll see examples of how their influencers have worn the item to inspire you. This also continuously reminds their buyers that they aren't just buying sunglasses, they are buying Meller sunglasses. In an interview with Cross Border Magazine, the Head of Digital for the company was asked about how the brand achieved its fame. He said, "Social media is very important for our brand, especially Facebook and Instagram. Right now, we are collaborating with many micro-influencers. We tried to do more than a thousand collaborations with micro-influencers last year."
Conair
This hair care and hairstyling brand is a household name that has worked with influencers to increase awareness about where to find their product in retail locations like Ulta, Sally Beauty and even Walgreens. This has lead to an increase in consumers seeking out Conair products instead of just going to any store to look for a hairdryer.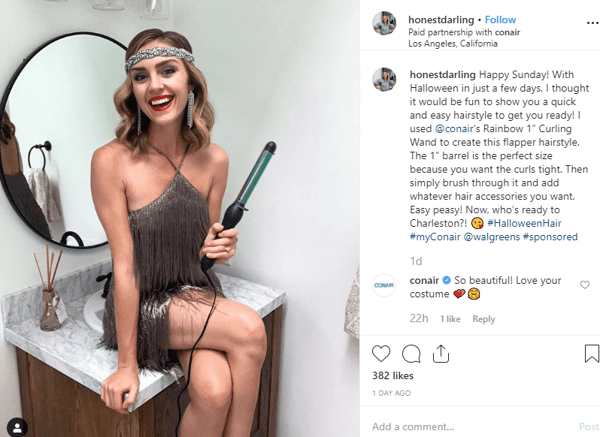 Conair does a great job of engaging with their social following and interacting with influencers, as you can see in the above post. This gives their followers the opportunity to ask Conair questions directly and creates a sense of community among the world of beauty and hair care enthusiasts.
Aerie
This women's fashion brand recently won a Glossy for the Best Influencer Campaign in the fashion category. This award is based on their #AerieReal campaign, for which they've advocated for unretouched images and chosen influencers as 'Role Models' to showcase real women wearing their clothes. These women go on tour with Aerie where they give talks and do meet and greets, and the digital engagement they've gardened in response is staggering.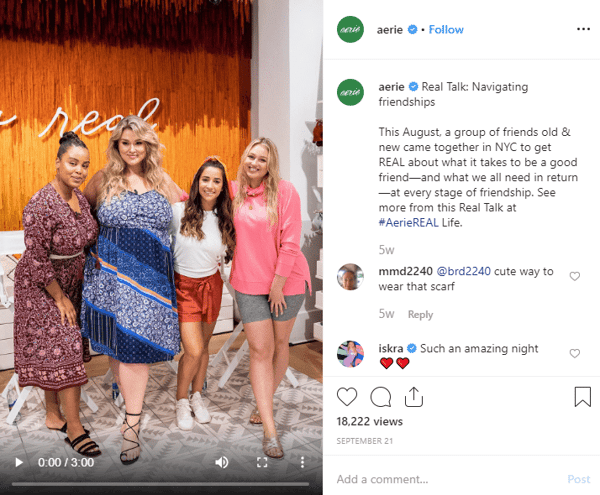 This next year will be more of the same for Aerie, as they have now expanded their Real Role Model line-up to include a few more big names including Busy Philipps. The big takeaway here is that Aerie is appealing to everyday women. They're telling the girls that don't feel perfect that they don't have to be perfect—proving that keeping it real with your followers using genuine influencers brings big results.
Health-Ade
Health-Ade Kombucha wanted to drive sales towards the everyday shopper by creating brand awareness in seven key retailers, including their Target and Walmart shoppers. They specifically wanted to target consumers that already drink kombucha and make them aware of where to find their product to increase market share.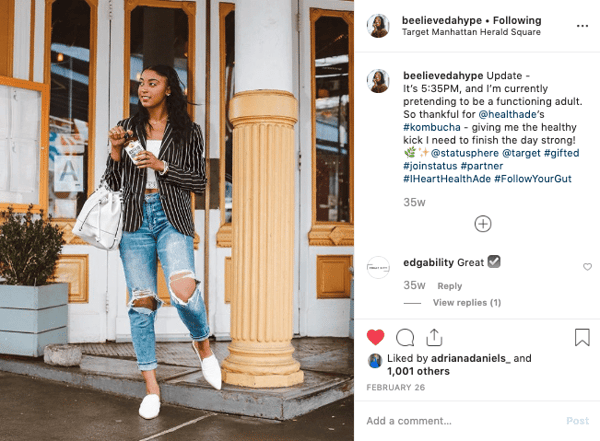 The game plan came down to choosing 30 influencers to post over 90 days. After 95 unique posts, Health-Ade saw high engagement rates. With over 60,000 likes across the life of the campaign, they reached over 1 million consumers in their target audience. Getting these amazing results helped to solidify their place in the kombucha market and keep their sales on a growth trend. If you'd like to read more about how Health-Ade slayed their influencer campaign with Statusphere, check out our case study.
Following in the footsteps of these influencer marketing examples can feel like a lot to take on. If you need any more inspiration or just want some help getting your retail support campaign underway, contact us here! Our team here at Statusphere loves to work with our brands to build the best influencer campaign out there.