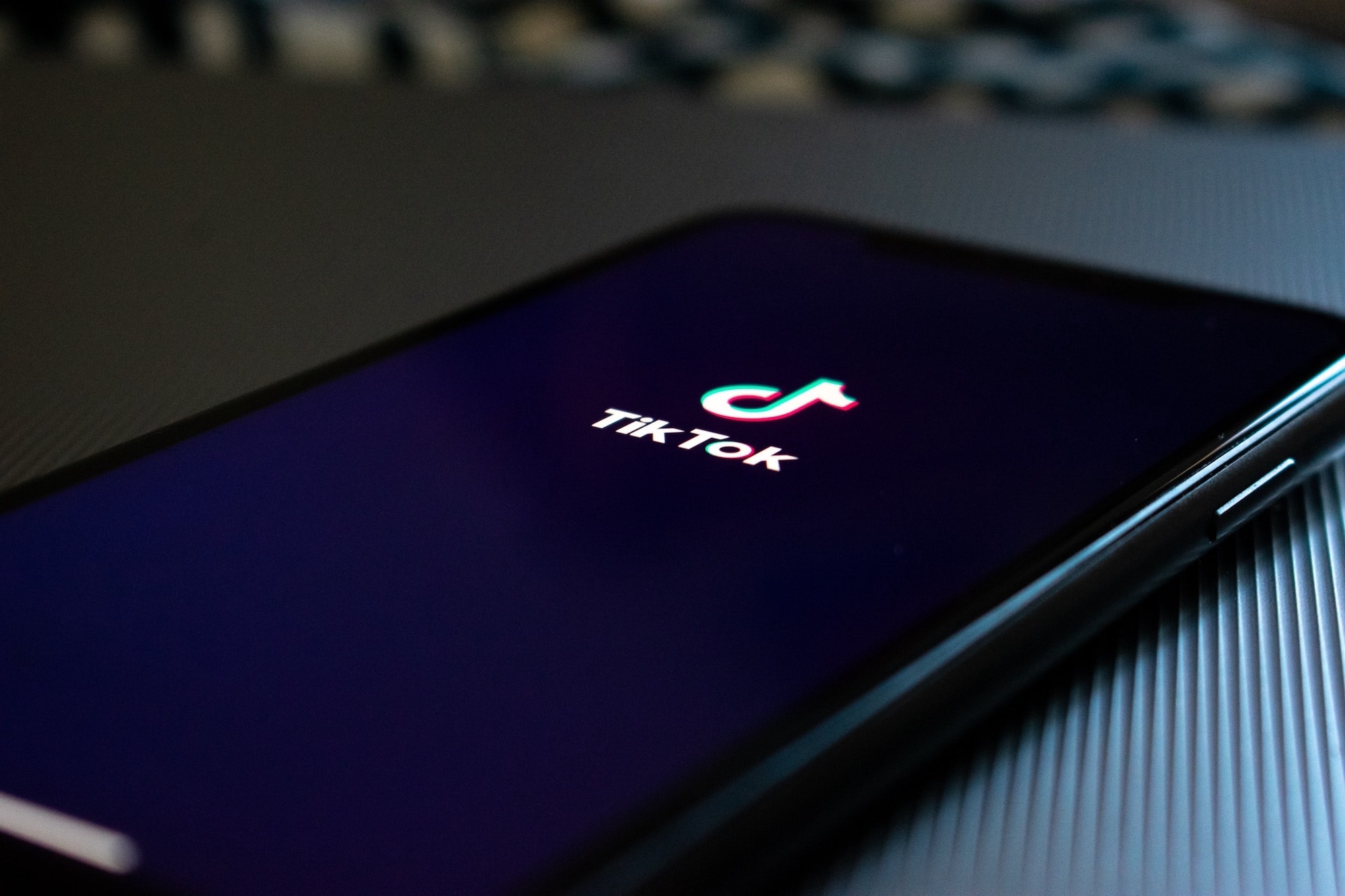 TikTok has been taking the social media industry by storm, reaching up to 1.65 billion downloads from the App Store and Google Play. Gen-Z has been one of the first to hop on this platform by using it to show their creative side, but some brands are also beginning to experiment with the app. Right now, TikTok is like the Wild West—leaving many marketers wondering what this platform can do for them and what possibilities it holds. We've got you covered on any questions your brand may have about TikTok influencer marketing and why your brand should get started today!
What is it?
TikTok described in a few words is simply, really short videos. (RIP those gold ole Vine days.) TikTok video creators can share looping videos between 15 and 60 seconds long and have access to editing tools, a massive music library, along with many filters and effects. These tools let TikTok users create content that ranges from lipsyncing and dance to comedy and vlogs.
Why Your Brand Should Use TikTok
Understanding the benefits that TikTok provides will help your brand determine the right strategy to put into place. Here are just a few of the reasons you should tap into this platform:
TikTok's 800 million monthly active users (according to a leaked deck straight from TikTok themselves) means being present on this app is a must. The platform's algorithm is unique in the way that your feed can already be filled with content without following any accounts - that's half the work taken care of for you!
43% of TikTok users outside of China are between 16 to 24. Even if Gen-Z isn't your target audience, this demographic has a knack for picking up the latest trends. This could help to keep your brand "in the know."
Work with TikTok Influencers
TikTok influencers have huge followings and can interact with their audiences more due to the dynamic video format of the platform—allowing them to easily demonstrate the brands they represent. Think of them as the happy medium between creating your own content and paying for an expensive TikTok ad (more on that later). The trick is finding influencers that have your brand's target audience!
How Your Brand Can Use TikTok
Now that you know why your brand should be on TikTok, it's time to decide what content you will create. Creating content on this platform can be done in a variety of ways—check out these methods to see how you can get started!
Create Your Brand's Own Channel
Promote your products in short videos using the endless music library options. Whether you're going with light-hearted, shareable content utilizing visual filters or keeping it educational, you can get creative with how you want to showcase your brand to the world.
Using the raw, unedited videos on TikTok can highlight how people can use your brand in their everyday lives. In the example below, Lush demonstrates how to use their products in fun videos set to music. This engages followers of your brand and keeps them interested in the products you have to offer.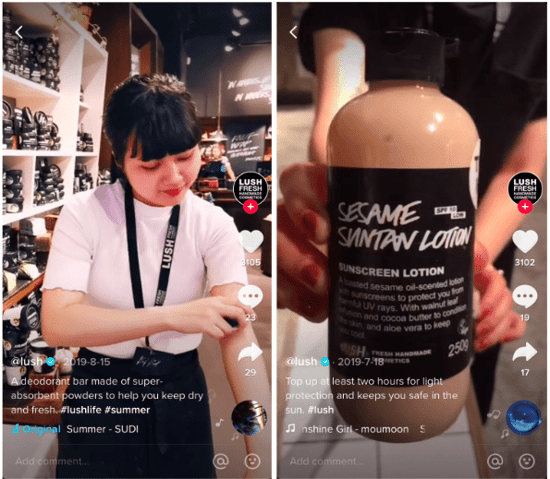 Jumpstart Creative Campaigns
Create a hashtag campaign! For example, the clothing brand Guess was one of the first companies to launch a hashtag challenge. They encouraged TikTok users to create content wearing Guess' new denim line with the hashtag #InMyDenim that yielded millions of views.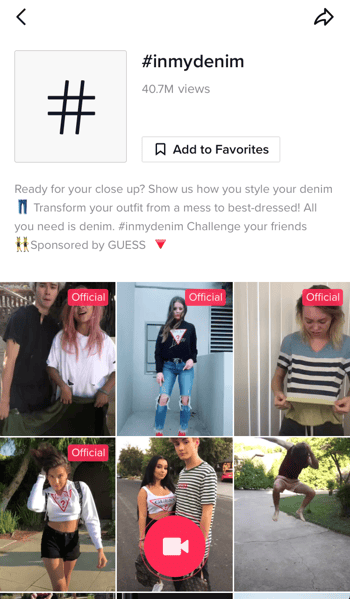 Incorporate the Latest Trends
Keep up with what songs are trending to create relevant video content. Chipotle posted on National Avocado Day a popular meme reference by posting The Guacamole Song's music video with the caption, "TFW guac is free."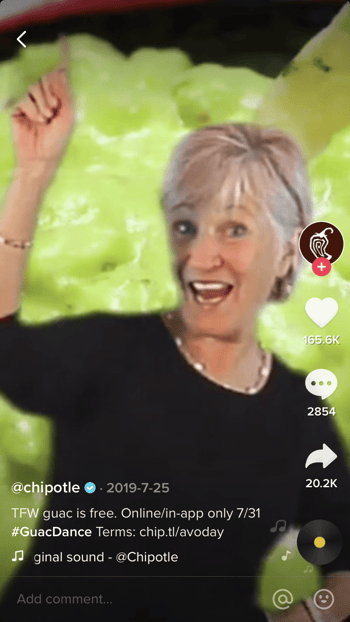 For more ways to use TikTok for your brand, check out our blog on it here!
Advertising on TikTok
Currently, this option is only available in certain countries and comes with a hefty price tag. You have a couple options with paid TikTok ads:
Pre-roll ads: Start as soon as the app is opened
In-feed ads: Appear as users are scrolling
Promoted hashtag challenges: Encourage user submission through a custom hashtag
Branded effects: Used in videos as a custom effect–think Snapchat and Instagram-but featuring branded info
In TikTok's earliest days, it wasn't uncommon to see a price range of $50k-100k. Companies like Universal Studios, Mcdonald's and Google were reaping most of these ad benefits.
Things to Note
Like with all new things, it's important to know a couple of things upfront before diving headfirst into a new platform or campaign. Keep these things in mind:
It's harder to spot bots and fake followers: As we've seen with platforms like Instagram, some people will try to boost their follower counts to try and seem more desirable. The prevalence of bots or fake followers isn't helped by the inability to track account creation and video posting dates—so proceed with caution.
Influencer ad restrictions: Clickable URLs in TikTok video captions are not allowed so it's not always easy to direct traffic from videos to the websites. You can try to work around this by having influencers link to your brand in their bio but this may disrupt the follow-through.
Although TikTok still has a while until it becomes a key channel for influencer marketing, it definitely is a great platform to add to your 2020 campaigns. Jump on the trend before you miss out! To learn more about influencer marketing and how you can get content creators on TikTok posting for your brand, check out Statusphere!