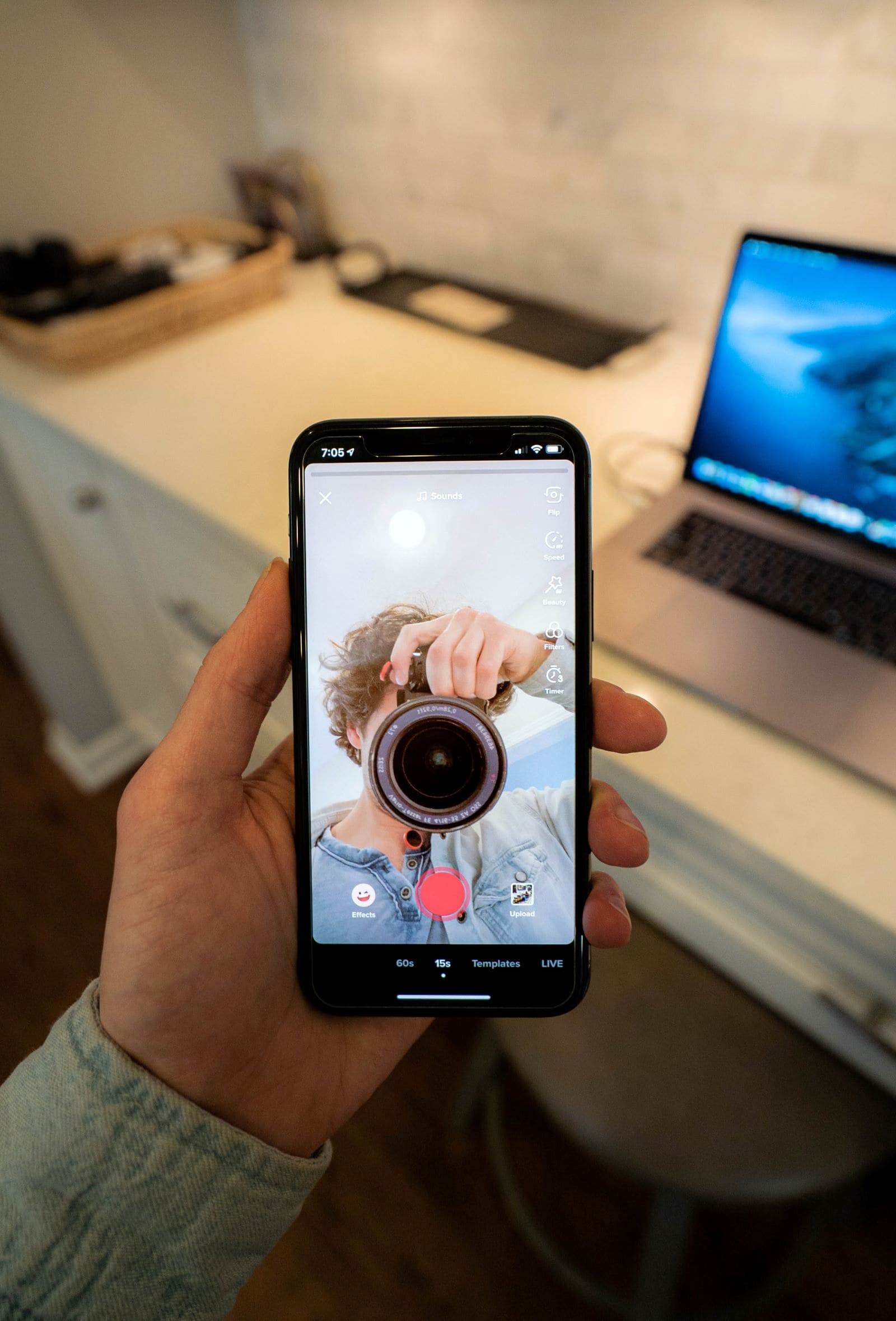 Looking to elevate your brand's TikTok game? From paid advertisements to participating in trends, there are so many options to choose from. Today we're diving into two popular ways to encourage engagement and drum up earned media on TikTok: Branded Hashtag Challenges and TikTok challenges.
At first glance, they might seem identical, but there are some key differences to keep in mind! Here's everything you need to know to about what separates them.
Branded hashtag challenges are hashtag challenges that are sponsored by brands. If you've spent any time on TikTok, you've probably seen them displayed as a banner ad on TikTok's Discover Page, or clicked on a hashtag and been taken to a challenge page (like the #TheSplashDance page below).
Branded hashtags challenges are paid advertisements that prompt other TikTokers to post videos of themselves performing a specific action or "challenge" using the sponsored hashtag.
When a TikToker comes across a branded hashtag challenge ad and clicks on it, they are redirected to a challenge page containing a description of what creators need to do in order to participate in the challenge. Videos of other TikTokers who have completed the challenge can also be seen from this page, similar to a regular hashtag on TikTok.
Nestle created a Branded Hashtag Challenge that yielded great results for the launch of their new flavored water line: Splash. Here's a look at their challenge page: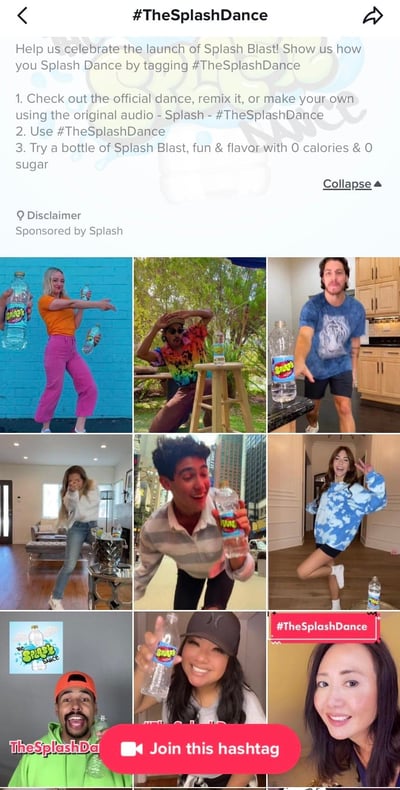 This sponsored challenge encouraged TikTokers to replicate their official dance to a specific sound the brand created and to try their favorite flavor of Splash Blast. Nestle initially partnered up with a few creators by offering them incentives to get this challenge going (those videos have the #ad in their caption) and then thousands of people followed. Currently, the #TheSplashDance has 3.9 Billion views and hundreds of videos recreating this challenge.
Pros
Creates engagement - These challenges urge TikTok users to engage in a specific action or activity, which gets the TikTok community engaged and helps create buzz. Since consumers are interacting with your brand, it's also an opportunity to connect with them on a human level.
Builds brand awareness - Since Branded Hashtag Challenges are paid ads, TikTok will sponsor them in such a way that they will reach more users than an organic challenge might on its own. In doing so, you can introduce your product to new potential customers and keep your brand top of mind for when people are ready to buy.

Boost earned media

- Branded Hashtag Challenges get other TikTokers creating content about your brand, based on the instructions that you specify. This is a great opportunity to amplify your brand message, boost social media mentions and get tons of earned media. Take the example of Guess and their

#InMyDenim

campaign, which resulted in

1,629 user-generated videos

by the end of the 6-day challenge.
Cons
They're not always budget-friendly - As we mentioned before, Branded Hashtag Challenges are paid ads, which means that you would need a decent budget allocated to your campaign. This additional ad spend might not be make budgetary sense for smaller brands.
Lack of authenticity - Since these challenges are paid ads, people might perceive them as less authentic which could hurt participation or views. If you go this route, be sure to consider and appeal to your audience's interests when building your challenge.
What are TikTok Challenges?
Similar to Branded Hashtag Challenges, TikTok challenges also aim to get TikTokers participating in a specific action or activity. However, they are organic (aka not sponsored ads) and they can originate from anyone, whether a creator or a brand.
While they're not always promotional in nature (unlike Branded Hashtag Challenges), brands can create them with the intention of bringing attention to promotions, without paying to sponsor them.
Challenges can range from asking TikTokers to follow a specific dance combination, to asking them to buy surprise presents for their significant others, to showing off how they wear a product to asking them to follow a specific exercise, and more.
The latter was the case with the #plankchallenge which encouraged people to do planks with different levels of difficulty to the rhythm of a specific song.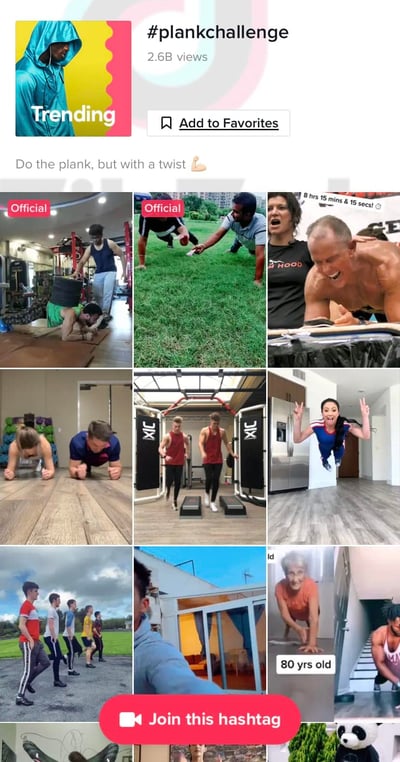 This trending hashtag now has over 2.6 billion views and countless videos of people participating. In this case, people of all ages, shapes, and sizes jumped into participating in this challenge, turning it into a viral trend by uploading their videos with the hashtag.
Here are some pros and cons of creating TikTok challenges as a brand:
Pros
Free to create - Unlike Branded Hashtag Challenges, TikTok challenges are free to create. You can start one by filming an official challenge video that shows viewers how the challenge is done and let it snowball from there. On the other hand, if you have some promotional dollars set aside, you can invite your favorite creators to participate to get the ball rolling. Even if you only have free product to offer them, this can be a great way to get content coming in to help your challenge take off.
Anyone can get involved - Similar to Branded Hashtag Challenges, TikTok challenges seek to transform consumers into active participants of your brand's objective which can have a positive impact on your business. This fosters engagement and creates brand awareness within possible customers for free.
Generates UGC organically - By incorporating your brand's products into your challenge, you can facilitate the creation of user-generated content featuring your products. This could mean increased brand awareness, product discovery, followers and more. In order to get the most people participating, make sure your challenge is entertaining and aligned with your brand and your target audience.
Pro Tip: Loving all the UGC you're seeing? Ask for permission to repost it! UGC can make great content for your brand's social media accounts, website and more. But be sure to get permission first. Just because someone participates in your challenge does not mean that they consent to be featured on your website, social media, etc.
Shows off your brand's personality - TikTokers like to see brands participating in the culture of TikTok. When a brand creates fun and engaging content in this way, they can impress the TikTok community with their personality and build connections from that.

The perfect opportunity to partner up with creators

- You can opt to partner up with TikTok creators, who already have an engaged audience, to help promote your challenge. Micro-influencers and power-middle influencers will often create content in exchange for free product, so if you're worried about the cost of working with influencers, this form of promotion may be more accessible than you think.
Cons
Less reach - Due to the nature of organic challenges, your brand might not have an expansive reach and it can take longer to get a response from other TikTokers compared to sponsored alternatives. This may especially come into play if you don't have an engaged follower base. However, there are ways to scale your reach outside of TikTok ads. For instance, you can get more people involved by offering free products to your top customers, brand ambassadors or authentic influencers in exchange for their participation. The more people you can get participating, the faster you can get the ball rolling and increase the number of eyes on your challenge.
Higher competition - There are tons of challenges going on on TikTok, not to mention content in general, so you will face a lot of competition for attention. However, with the right promotion tactics, you can achieve great engagement rates, views, and success for your brand.
No matter which challenge you use to promote your product on TikTok, make sure it's in alignment with your brand and your audiences' interests. With the right strategy in mind, you can drive a successful campaign no matter which route you take!
Launching a TikTok challenge and finding creators to participate to get the ball rolling can be very time-consuming. Thankfully, we're here to help! Contact us today to chat about how we can get creators posting about your brand on TikTok!