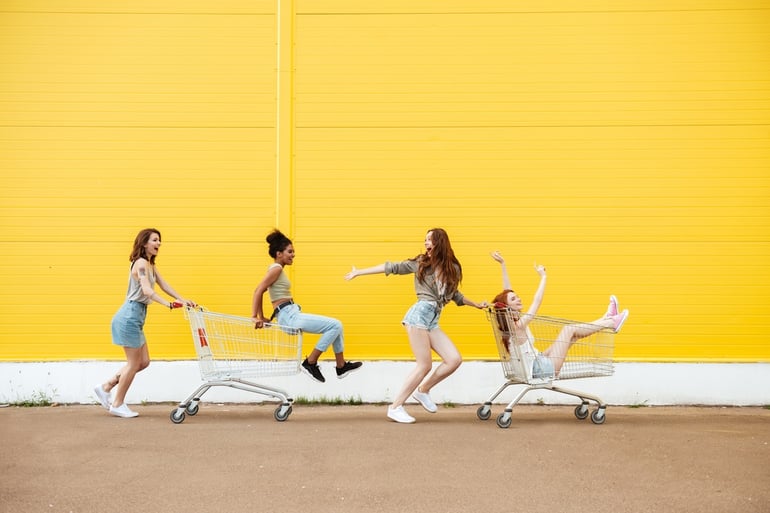 Marketing can be expensive, and sometimes stretching the budget can be difficult. With all the different avenues you can go down to get your product in front of your target market, you can only reach so many before the budget dries up. Working with brand ambassadors can not only bring new life to your marketing strategy, but also optimize your efforts. No matter what kind of brand ambassador program you run, these influencers can help you get the most bang for your buck.
1. Creative Minds Come Up with New Campaigns
The time it takes to brainstorm new ideas within a company can be draining, and after enough time passes, you can find yourself repeating old ideas or drawing a blank. It's like writer's block, but worse. And then once you finally get that spark of an idea, the campaign can take forever to roll out. Having brand ambassadors on your side can be a great way to get a fresh perspective for marketing ideas and execute a new fun idea in a fraction of the time. Ambassadors are like low-cost employees, so let them work for you and help you out of that creative funk. Who knows, maybe that catchy Instagram caption can be a new slogan?
2. Expand Reach to New Audiences
Your marketing budget for a campaign will dwindle quicker than you think, and by the time the campaign is launched, a substantial amount of money can already be expended. This makes it difficult for many businesses to take risks marketing to new audiences. It is 25 times more expensive to gain a new client or customer than to maintain the relationship with a pre-existing one. That's where a brand ambassador can come in. When your company is looking to expand its reach to new markets, you can either invest a lot of money in a campaign you are unsure will hit its mark, or you can test the waters by finding an influencer already in touch with that market base. This minimizes risky investments and helps to generate feedback that can be used in future campaigns.
3. Building Relationships with Customers Based on Trust Can be Much Quicker
Personalized marketing is the way of the future. With the internet being loaded down with generalized marketing, consumers have learned to tune it out. Even with targeted marketing, like on social media, it's hard to captivate an audience and gain their trust as a brand. With a brand ambassador it is easy to create personalized marketing since their followers trust their opinions and feel like the ambassadors are talking directly to them. The personalized experience helps their following be more trusting of your brand, making it easy to create a positive relationship with an already solid foundation.
4. Track Success Through Social Media Analytics and Create a Feedback Loop
Harvesting qualitative and quantitative data can be a nightmare. Sending out surveys and polls to understand where your business can improve, or even what you're already doing right, can be exhausting. The amount of feedback you need to to provide an accurate representation of where your brand stands can be costly. By using a brand ambassador, your company can generate valuable feedback in the way of quantitative analytics and qualitative comments. Since brand ambassadors have a genuine relationship with their followers, the comments they leave often feel candid and conversational. They can be the most telling and honest feedback a customer (or potential customer) can give because they feel they are talking to a friend and not a company.
5. Positive Interactions Create Free Advertising
We've talked a little bit about using brand ambassadors' followers as a new market base, but that's not the final extent of their reach. The followers can also share the brand ambassadors' content on social media and through word of mouth with their own friend groups. This further diversifies your market reach from those that follow you, to those that follow your ambassador, to those that follow their followers - I think you get the point. This snowball effect can lead to a moment of recognition in many different markets that your business can tap into to establish a hold and trust in those marketplaces. This also helps to increase brand recognition outside of your preferred demographics.
6. Get New Photos and Video Content for Free
Photo shoots and editing for new products, or even updating previous products, can be pricey. Cut down on that cost by letting brand ambassadors create content with your products front and center. From flat lays to nature shots, these trend-savvy influencers know what people find appealing in their market right now. Let them be your photographers. Use their images on your website for a nice update and link to their accounts where they are bound to have more shots and opinions of your products further influencing potential buyers to try your brand.
If you are interested in starting a brand ambassador program
contact Statusphere
and we will set you up with everything you need to stretch your dollars. At Statusphere, we have our experienced team ready to get your program up and running.